Under Armour, Inc. (NYSE:UA) develops, markets and distributes performance apparel, footwear, and accessories for men, women and youth worldwide. It offers products made from moisture-wicking synthetic fabrics designed to regulate body temperature.
Under Armour has seen explosive growth. Over the last five years, the company has grown revenue 31% annually. There is still plenty of opportunity for growth ahead as well. The stock trades at a forward P/E of 31 meaning that the market has recognized its future growth potential. However, I believe the valuation may still be cheap. This is because UnderArmour still has yet to fully enter its core market. While Under Armor primarily makes shirts, it has begun to gain market share in shoes, which would allow it to effectively compete against Nike (NYSE:NKE).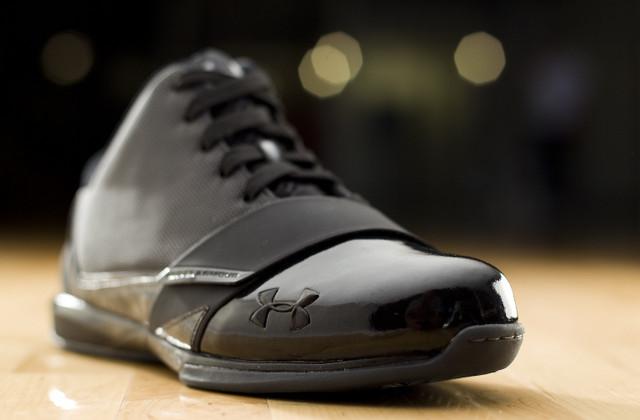 Click to enlarge
Under Armour's Micro G shoes line up will allow the company to compete against Nike's Air Jordans. While Air Jordans are a much more established brand, Nike already controls 95% of the market. There is little room for growth in this area for Nike. On the other hand, Under Armour could easily enter this market and grab some share from Nike.
In September there were rumors that Nike was trying to buy Under Armour for $100 a share. So it seems that Under Armour could be seen as a potential threat to Nike if the company keeps growing.
My reasons for giving Nike a sell are multiple. Nike currently has a forward P/E of 16.7. Unlike Under Armour, Nike's growth is very low. For the previous five years, the company has grown revenue 6% annually, which is nothing spectacular based on the current valuation.
Under Armour's market cap is 3.8 billion compared with Nike's 45 billion. With this being said there is not much future growth for Nike. Under Armour, however, is just entering the athletic shoe market. This is a market that sees $18 billion in sales annually.
At Nike's current price, the risk-reward is nothing special. While the company does offer stability, it offers minimal growth. One last thing that makes Under Armour a better buy is its European exposure. Under Armour generates a small portion of its revenue from Europe. The company is still growing in the United States so it has been unable to fully expand into international markets yet. Nike saw sluggish European sales and a decrease in revenue from Japan. Nike is hoping that emerging markets such as China outweigh countries in the eurozone. Under Armour does not have to worry about this scenario since its exposure is much less. With Under Armour, you get more growth potential and a lack of European exposure. While Nike does offer stability, I believe Under Armour will return more to shareholders over the long run.
Disclosure: I have no positions in any stocks mentioned, and no plans to initiate any positions within the next 72 hours.