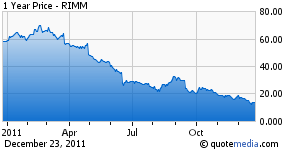 Research In Motion (RIMM) has been under significant pressure this entire year. The company has had a difficult time competing with Google's (NASDAQ:GOOG) Android phones and Apple's (NASDAQ:AAPL) iPhone. The stock is down almost 80% YTD.
Currently, RIM's valuation stands at a forward P/E of 4.7. While this is low, there is a significant chance that the company will continue to guide down as earnings fall. However, I do believe that after sometime the earnings will stabilize. This is due to multiple reasons. While this past quarter, RIM beat on bottom line they still gave a poor outlook EPS and revenue for their next quarter. The one thing the market fails to see is that the company is still making a significant amount of cash. The market is already discounting a massive drop, but the drop that is expected may not be that likely.
The BlackBerry subscriber base is now almost 75 million, which is up 35% from 1 year ago. The base is expected to grow by millions each quarter as newer customers arrive. Another thing that RIM has going for them is the future release of their QNX O/S system, which is expected to revolutionize the way customers use smart phones.
While I do not like the dual-CEO structure of the company, the one thing that I liked that both CEOs are doing is collecting a $1 salary until they turn around the company. This does show that the CEOs are committed to the company rather than themselves.
RIM still has plenty of value. Goldman Sachs analyst Simona Janiskowski believes that the break-up value of the company is $18 per share. This valuation considers patents, distribution, branding, and cash on hand. I believe this estimate is fair and even if RIM does not break-up, there are still plenty of suitors out there that are willing to acquire the company. Let's look at some potential candidates.
Potential Acquirers
Many investors know that Microsoft has been late to the game in the smart phone market. They missed out on a major trend, but the company is trying to play catch-up and it turns out they are doing a pretty good job. Reviews have been positive for its lineup of Windows phones. Microsoft also paid Nokia $1 billion in order for exclusive rights, which would make Nokia drop its Symbian O/S for Windows O/S. There are rumors that both Microsoft and Nokia were trying to make a joint bid to acquire RIM.
It was also recently announced that Amazon was interested in acquiring RIM over the summer. If Amazon went through a deal like this then they would be able to move away from solely being an online retailer to competing in the smart phone market. Although an acquisition of RIM would not yield a whole lot of synergies for Amazon, the company will be able to widen its arsenal of patents. These patents could help protect Amazon from major competitors.
A few months ago, the British wireless carrier Vodafone was rumored to have made a bid for RIM. This scenario is fairly unlikely as a service provider purchasing a handset maker would mean that Vodafone may not be able to provide other phones to customers. However, it is still good to see that there are plenty of potential suitors out there.
Both CEOs have stated they do not wish to sell RIM, rather they want to turn the company around. If QNX O/S does not end up grabbing market share, then the company would be forced to sell itself. The nice thing about all these potential acquirers is that it creates a floor for the stock. When Amazon was thinking about acquiring RIM, it was trading around $30 per share. RIM's stock is almost half that now. The risk-reward at this price is great. If RIM can truly turn itself around, then the stock will shoot up. If RIM fails, the company will sell itself for a decent sum of cash. I would expect them to sell for a minimum of $10 billion, which is almost 40% higher than its current market cap. At this price, RIM is worth a buy as the market has been extremely negative to a company that still generates plenty of free cash flow.
Disclosure: I am long MSFT. I have sold RIMM Jan 2012 $11 puts.