At its current valuation, Bank of America (NYSE:BAC) is a buy, with an attractive risk/reward for the long-term investor. The bank trades with a market valuation of $55 billion, with $682 billion in cash and $228 billion in book value, of which $144 billion is tangible book value.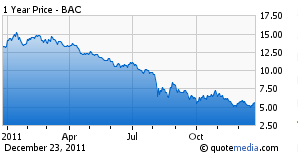 But the downside risks are significant and real: there is markdown risk of the $1.3 trillion investment portfolio if the economy worsens and potential litigation expenses related to Countrywide lawsuits. While many analysts focus on bank earnings, let's focus on assets, liabilities and their sensitivity to an economic downturn.
The Upside: Comparable Valuation
Book value is a good way to compare banks because most financial assets are marked-to-market or marked-to-model. Here is a comparison of Bank of America to other money center banks: Barclays (NYSE:BCS), Citigroup (NYSE:C), JP Morgan (NYSE:JPM), and Wells Fargo (NYSE:WFC). In addition, I include other investment and custodial banks: Bank of New York (NYSE:BK), Goldman Sachs (NYSE:GS), Morgan Stanley (NYSE:MS), and State Street (NYSE:STT).
| | | |
| --- | --- | --- |
| | P/B | 1Yr Return |
| Bank of America | 0.25 | -60% |
| Barclays | 0.40 | -34% |
| Citigroup | 0.43 | -44% |
| Morgan Stanley | 0.48 | -45% |
| Goldman | 0.68 | -45% |
| JP Morgan | 0.70 | -23% |
| Bank of New York | 0.70 | -35% |
| State Street | 1.05 | -14% |
| Wells Fargo | 1.11 | -13% |
| Average | 0.69 | |
(Source: Yahoo! Finance)
Over the last year, Bank of America declined 60%, compared to the average 35% decline of its peers. Market sentiment became bearish as we shifted from a QE2-driven rally to real concerns about European sovereign debt and its potential to trigger a global economic crisis. Fears of a double-dip recession motivated many investors to reduce their exposures to banks.
At a P/B of 0.25, investors are getting Bank of America's assets today - assuming they are conservatively marked-to-model - at 25 cents on the dollar. It appears that the market is (overly?) concerned about Bank of America's credit quality. If it could trade at Wells Fargo's multiple, that represents more than 400% upside. If it rises to peer average, that is a 277% upside, an increase of $175 billion in market capitalization. So Bank of America represents a potential 3-4 bagger.
Risks
Mark-to-Model Risk
The $1.3 trillion in long-term investments is an estimate based on mark-to-market and mark-to-model accounting. Customized derivative and securitized products generally do not trade on an exchange, so Bank of America and its peers estimate the value of the security using their own assumptions. Mark-to-model risk created issues during the sub-prime crisis:
Mark-to-model assets essentially leave themselves open to interpretation, and this can create risk for investors. The dangers of mark-to-model assets occurred during the subprime mortgage meltdown beginning in 2007. Billions of dollars in securitized mortgage assets had to be written off on company balance sheets because the valuation assumptions used turned out to be inaccurate. Many of the mark-to-model valuations assumed liquid and orderly secondary markets and historical default levels. These assumptions proved wrong when secondary liquidity dried up and mortgage default rates spiked well above normal levels.
Banks' balance sheets are opaque, and investors do not receive adequate disclosure to assess the risks independently. The book value can be very sensitive to economic variables, such as housing prices, inflation regime, GDP growth and so on. Ultimately, we have to rely on the banks and the regulators to perform a good valuation. Investing in banks requires trust that the model assumptions are conservative. Many investors sit on the sidelines due to this informational asymmetry between the bank's management and investors.
Double-Dip Recession Risk
As the economy weakens, loan losses generally rise, as does the likelihood a bank has to raise additional capital. To give investors and counter-parties more transparency about the downside of bank's balance sheets, the Federal Reserve mandated that Bank of America and its peers perform a stress test that models a severe European recession: a 6.9% decline in Eurozone GDP that causes US unemployment to rise to 13%. This is a severe recession, and few expect the situation to deteriorate to this level.
With $683 billion in cash and tighter lending standards than in 2008, Bank of America has a significant cushion to weather a significant recession. This stress test models a fairly severe recession, but not as severe as in October 2008. Nonetheless, few currently expect the situation to deteriorate to this level. Banks are set to announce their results shortly. But the stress-test announcement in a few weeks will give us more color about the bank's stability. Expect the share price to fall significantly for any bank that is required to raise additional capital.
Litigation Risk
Countrywide is a source of headaches for the bank. The numerous litigations have the potential to cost the bank up to $6.1 billion in settlements and legal fees. Recently, the bank settled claims for unfair loan practices for $335 million, removing considerable legal uncertainty.
Conclusion
Bank of America's market value declined by $40 billion in 2011 alone. Investors have concerns about the sensitivity of its fairly opaque balance sheet to potential economic downturns.
Much of this downside appears to be discounted in the current price. If the economy improves, Bank of America valuation can rise to its peer average, a 300%-400% increase from the current price. If the economy worsens more than the Federal Reserve currently expects, Bank of America can fall considerably further from its current price. A 3-to-1 upside/downside ratio makes this an attractive play for a diversified long-term investor.
Disclosure: I have no positions in any stocks mentioned, and no plans to initiate any positions within the next 72 hours.