Online shopping has pummeled brick-and-mortar stores: Amazon (NASDAQ:AMZN) has thrashed Best Buy (NYSE:BBY) and Barnes and Noble (NYSE:BKS); Priceline.com (NASDAQ:PCLN) and Expedia (NASDAQ:EXPE) has torched tourist agencies.
And maybe, we're seeing the inevitable slowdown in the only supercharged physical retail store left: the Apple (NASDAQ:AAPL) store.
Flagging Sales
You won't read that anywhere else, but it's sadly true. While arguably still the most exciting store out there, sales have flagged. This has been the mecca of brick-and mortar growth: During the first half of FY 2011, the stores increased revenue by 90%! Over the last two quarters, sales growth has markedly slowed. Last quarter, retail stores sold the same amount of iProducts as last year despite having 40 more outlets to draw upon.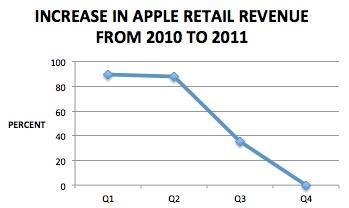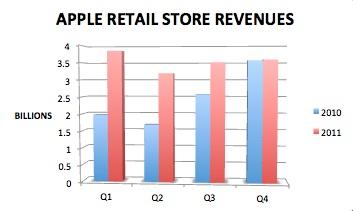 Last quarter, customers held off purchasing iPhones, wisely expecting the launch of a new version. That only explains part of the retail store's plateauing sales: Overall revenue at Apple was up 39%, while the retail division's sales were flat.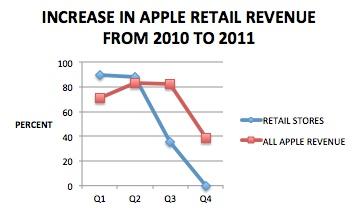 Apple is outperforming its brick-and-mortar segment. In fact, its physical stores have been a drag on overall growth.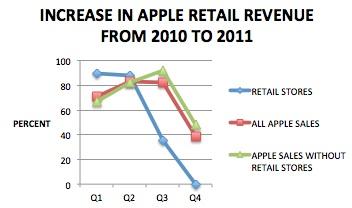 Apple store revenue growth is declining, a trend similar to other brick-and-mortar retail venues. More and more, Apple customers are flocking to the stores and then go online to buy their iProducts. I just did that: I bought a MacBook Pro on the web after browsing at my local Apple outlet.
Time to ditch the store concept? Hardly. The stores give Apple an incalcuable advantage over its competitors' -- DELL, Hewlett-Packard (NYSE:HPQ), Acer (OTC:ASIYF), Research In Motion (RIMM) -- service and brand-building. Get in trouble with a PC notebook or tablet and you endure a maze of frustrating service calls. Pass the warranty date, you are on your own. With Apple, you simply walk into a store and receive expert and reliable help. Moreover, as biographer Walter Isaacson wrote: "by creating buzz and brand awareness (the stores) indirectly helped boost everything the company did."
Additionally, the stores are quite profitable. Its retail segment operating margin for 2011 was 23.4%, down 110 basis points from the prior year, but wildly better than most retail chains.
Increasingly, the consumer is buying on the web. While I am long the stock, I don't expect Apple's brick-and-mortar segment to buck this trend. Apple's growth will come from money changing hands on the internet. And those people flocking the stores--they'll check out the merchandise, and then, buy online.
Disclosure: I am long AAPL.