Is it time to flee to safety? With the economic and political climates only becoming more tumultuous I have been paying closer attention to dividend stocks recently. We all know about the blue chip dividend companies but there are attractive companies with high yields that are going ex-dividend every week. This strategy can work in one of two ways: either you buy before the ex-date to receive the dividend or buy after if the stock declines far below the after-tax amount of the dividend.
Buying the stock to receive the dividend is intuitive but many have contacted me requesting further details on the second strategy. Investopedia has a great example of how this works. To explain this, I will use AT&T (T) as an example. AT&T declared a $.43 dividend to shareholders of record on October 10th, 2011. On the ex-dividend date the stock price should decline by the after-tax dividend amount, with an assumed tax rate of approximately 15% because many dividends qualify for a lower tax rate. As a result, an investor would expect the stock price to decline by $.37 = [$.43 * (1-.15)]. If AT&T declined by more than $.37 in the absence of negative news you might have an attractive opportunity on your hands. Executing this strategy can generate outsized returns over short periods of times.
To focus on these opportunities I ran a screen with a focus on relative safety for the investments. Since this is a high-yield quest I began with a specification of a dividend yield greater than four percent and an ex-dividend date within the next week. To provide some layer of safety I narrowed down the environment by looking at companies with market capitalizations greater than one billion, PEs between zero and twenty, and institutional holding percentage of at least twenty-five percent. While not a precise requirement, I prefer companies that have underperformed the S&P 500 (NYSEARCA:SPY) year-to-date as it indicates limited downside relative to peers. This is summarized below:
Dividend Yield ≥ 4.0%
Ex-Dividend Date = Next Week
Market Capitalization ≥ $1B
PE Ratio: 0-20
Institutional Ownership ≥ 25%
After applying this screen I arrived at ten potential trades. Although I envision these as short-term trading ideas, you still need to be careful. The information presented below should simply be a starting point for further research.
High Yielding Mortgage Real Estate Investment Trusts (mREITs)
Chimera Investment Corporation (CIM): 16.06% - Ex-Dividend 12/27
MFA Financial, Inc. (MFA): 13.95% Yield - Ex-Dividend 12/28
Capstead Mortgage Corporation (CMO): 13.2% Yield - Ex-Dividend 12/28
Annaly Capital Management, Inc. (NLY): 13.46% Yield - Ex-Dividend 12/27
Starwood Property Trust, Inc. (STWD): 9.26% Yield - Ex-Dividend 12/28
National Health Investors Inc. (NHI): 5.73% Yield - Ex-Dividend 12/28
From mreit.com: an "mREIT is a Mortgage REIT ... which is an entity that specializes in investing solely in mortgage products (e.g. purchasing and selling mortgage-backed securities). Like other REITs (Real Estate Investment Trusts), an mREIT can only deal with mortgages and 90% of earnings must be paid out to its investors annually." Since these companies are required to distribute such a high percent of earnings to investors, the yields are much higher than you find with more traditional companies; however, the stock prices and dividends can both be quite volatile.
I have written separately about these mREITs because they require a unique analysis due to the nature of the business so please consult that article for further details.
Prospect Capital Corporation (PSEC): 12.45% Yield - Ex-Dividend 12/28
Prospect Capital is a specialty finance company that operates primarily in the private equity and specialized investment categories. As with many of the companies that appear in my dividend screens it appears that PSEC is depressed solely because it is a financial services company. Private equity companies are attractive dividend producers because they often either turnaround or improve existing companies and are able to return excess cash quickly. These can be volatile companies because their ventures often do fail but once they have successful investments, they can pay higher than average dividends. The firm prefers to make small investments ($5-$50M) in small-to-mid size North American companies. In June 2010 Prospect began distributing dividends monthly rather than quarterly which accounts for the perceived dividend decrease from $.40 to $.10. The dividend has held steady around $.10 per share since then but with such a high current yield dividend growth is not a requirement. Furthermore, Prospect is one of the few companies in the S&P with a dividend yield that is higher than its PE ratio.
The Bank of Nova Scotia (BNS): 4.09% Yield - Ex-Dividend 12/29
The Bank of Nova Scotia offers commercial banking, wealth management, and investment banking related services to customers primarily in Canada but also with an international reach. Across all of their business lines the Bank has nearly twenty million customers, eleven million of which are outside of Canada.
The bank has the dubious distinction as being the bank with the third oldest loans outstanding with the US Fed during the financial crisis at a staggering 798 days (over two years). As for dividend safety, the bank has a storied history of dividends dating back to the 1800s although the dividend rate has been more volatile than you would expect from a large financial institution. There is not a wealth of recent news about BNS but with a 4% yield, 11 PE, and trading below its 200 day moving average, I think the valuation is decent. I believe that there are less risky financials with higher yields available so trade accordingly.
Penn West Petroleum Ltd (PWE): 5.21% Yield - Ex-Dividend 12/28
Penn West Petroleum Ltd. (formerly Penn West Energy Trust prior to 2011) engages in acquiring, exploring, developing and the related activities for petroleum and natural gas in various Canadian provinces. Any company that produces crude oil and natural gas is likely to entail a higher than average level of risk; however, I believe that this sector will reward investors in 2012 and pay a more than satisfactory 5% yield while you wait. Additionally, Penn West was recently initiated with an overweight rating by JP Morgan after trailing he S&P 500 by nearly 16% this year.
PG&E Corporation (PCG): 4.43% Yield - Ex-Dividend 12/28
PG&E Corporation is a utility company servicing northern and central California with approximately 9.5 million customers (55% electric/45% natural gas). I wrote about Portland General Electric Company (POR) last week and it is a similar except PG&E has significantly more customers in a more populous region.
PG&E has been in the news recently as being the unfortunate cause of the blackout at the nationally broadcast San Francisco 49ers vs. Pittsburg Stealers Monday Night Football game last week. Despite being a public relations fiasco, this should have no real financial impact and the stock actually rose 2.5% last week. If anything this is a long-term positive as it could improve the company's bargaining position for future rate increases. I have been a fan of electric utilities for years because of their high yields and low risk. The 16 PE is a little on the high end for the industry but the 4.4% yield is slightly higher than average to compensate for the higher price.
The information presented above has been summarized below:
(Click chart to expand)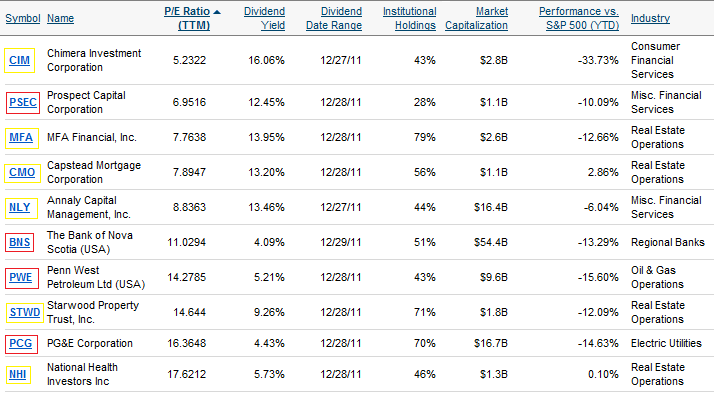 Disclosure: I am long T.