Apple (AAPL) was cofounded by the late visionary Steven Paul Jobs and has completely transformed every industry it operates in. The focus on innovation has made Apple one of the largest and best performing companies in the world. I have recommended option strategies on Apple since 2010 with tremendous results. For reference, please view the first and other articles in the series to fully understand the strategy and its strong potential returns. As we enter the post-Jobs era, it is even more important to keep a close eye on your investment and execute care with your trades: since Jobs has passed the company's performance will be under a magnifying glass.

A brief recap of this week in Apple [Down $20.86 (5.5%)]:
Firstly, I would like to wish all of my readers a Merry Christmas and Happy Holidays! It is always important to pay attention to your investments but remember that this time of year is about friends and family so please take some time to reflect upon all that you have to be thankful for.
With only four trading days left in 2011 my prediction that Apple would return to $400 by year's end is proving to be spot on, especially for such a volatile stock. I have written for the past two weeks that Apple would "see at least a modest pop… related to window dressing." To summarize, money managers sell losers and buy winners before reporting so that they can create the illusion that they owned the "hot stocks" throughout the period. In my opinion this had an effect on the tail-end of the week as investment managers stocked up on Apple before going on holiday.
Apple exhibited very positive momentum after Monday when the company won a substantial battle against HTC and Google's (NASDAQ:GOOG) Android. The actual change required by HTC to work around the patent is relatively minor but the victory is very noteworthy because this is the first time in the mobile operating system legal wars that a company has been required to make changes to the functionality of the system in response to a lawsuit. Some analysts have compared Apple's recent lawsuits with what Microsoft (NASDAQ:MSFT) did near the fall of its empire but there are some key differences. Most notably Apple's lawsuits are unique in that they are resulting in victories. This is not simply litigation for the sake of litigation to slowdown less wealthy competitors with cumbersome litigation. Apple has a strong competitive advantage and is right to protect it, using the courts as necessary.
All signs point to this holiday season being dramatically successful for Apple as web traffic increased and its primary holiday Santa ad was well received. There is always the risk that consumers will delay purchasing technology because the next latest-and-greatest product is around the corner but those fears are often overdone. Yes Apple will release a new iPad in 2012, likely in the first quarter, but will enough people really delay purchasing the iPad 2 during the holiday season? I find it hard to believe that people will tell their friends and family, "sorry, you should wait three months because Apple might release a new product." Given the recent troubles facing Research in Motion (RIMM) [sliding stock price and management turmoil], Amazon (NASDAQ:AMZN) [facing some pushback from initial reviewers, although this has been disputed], and Google [the aforementioned litigation] I think Apple will continue to come out ahead.
Below I present three possible scenarios and the potential returns for the Apple options. The first scenario represents a negative outlook for Apple while the final two scenarios are more reasonable. These scenarios are just projections and there is no guarantee that they will come to fruition. Even if you are optimistic it is important to generate both positive and negative circumstances in order to stress your assumptions. As a general rule, selling calls with higher strike prices has greater potential return but additional risk of loss due to the lower (or lack of) downside protection. For more information on the fundamentals of covered calls, consult Investopedia.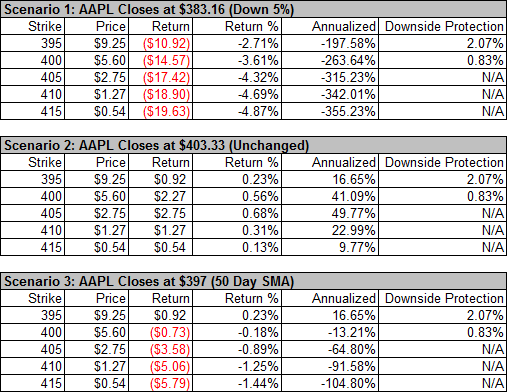 Additionally, if you would like even more information, I have prepared a sensitivity analysis for absolute return and percent returns, respectively. After studying the information above, these two charts make it easy to pick a strike price based on where you believe Apple will close at the end of the week. Estimate where you believe Apple will close and select the strike price with the highest return.

With this information, executing a buy-write on AAPL December 30 (Weekly) 405s is the optimal risk-return strategy. If you are uncomfortable with this strategy I suggest a buy-write 400s or 410s. Even if you are extremely bullish you can still profitably sell covered calls; Apple is volatile enough that you will have opportunities to repurchase on dips. I suggest the weekly options because we face a short trading week with light volume so volatility should be lower than usual. If you would like to expand your horizon to the January 21 (Monthly) options the 415s at $6.70 prevent a tremendous opportunity with minimal potential profit left on the table. An alternative approach is to sell out-of-the-money 395 puts and collect the premium without having to purchase the stock outright. Note that if the stock declines to the strike price, you are obligated to buy the stock (or closeout the position).
Disclosure: Disclosure: Author is long AAPL, GOOG, and T. Short AAPL Dec 30 410 Calls