As earnings momentum will likely slow for U.S. mega-cap equities. Investors can seek stability and growth in mid-capitalization companies. Unlike small-capitalization businesses many mid caps have durable business models.
Screen Criteria
Market Capitalization between $5 billion and $10 billion
Dividend Yield greater than 2.5% - focused on dividend yields greater than the 10-year U.S. Treasury
Beta less than 1.0x
Price to earnings less than 18.5x
(Click charts to expand)

Click to enlarge
After screening for the quantitative metrics outlined above, I looked for strong, durable business models that will likely perform well in another downturn.
American Water Works Company, Inc. (NYSE:AWK)

American Water Works provides water and wastewater services to residential, commercial, industrial, and public customers in the United States and Canada.
Brookfield Infrastructure Partners (NYSE:BIP)

Brookfield Infrastructure Partners L.P. operates in utilities, transport and energy, and timber sectors.
Fidelity National Financial, Inc. (NYSE:FNF)

Fidelity provides title insurance, mortgage services, specialty insurance, and information services. Fidelity provides title insurance, escrow, and other title related services, including collection and trust activities, trustee's sales guarantees, and recordings.
Molson Coors Brewing Company (NYSE:TAP)

Founded in 1873, Molson Coors brews, markets, sells, and distributes beer brands. The Company sells its products in Canada, under the Coors Light, Molson, Rickard's Red, Carling, Pilsner, Keystone Light, Creemore Springs, and Granville Island brands.
The Scotts Miracle-Gro Company (NYSE:SMG)
Scotts Miracle-Gro manufacturers and sells lawn and garden care products.
Wisconsin Energy Corporation (NYSE:WEC)

Wisconsin Energy engages in the generation, distribution, and sale of electric energy and steam.
The Companies' durable business models are borne out by strong earnings performance.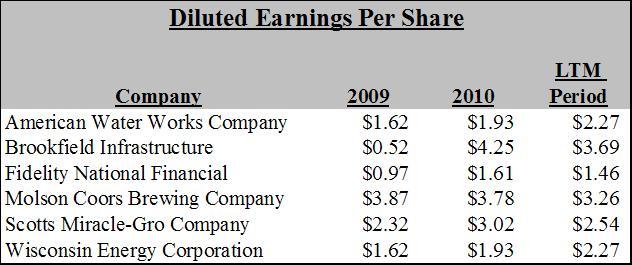 Click to enlarge
Disclosure: I am long BIP.