"The best thing about the future is that it comes one day at a time." - Abraham Lincoln
I have to admit that I find last week's market action rather curious. We saw a fairly sizable "relief rally" on the ECB's more-than-expected lending to banks, sending the S&P 500 up more than most European indices, even though the action taken was for Europe, by Europe. Granted, it was on thin volume and it appears as though everyone wanted to believe in Santa coming to the market. Still, it seems like the wrong reaction by traders. On a Bloomberg Radio interview I did on Thursday, I stated I was surprised more lending was not done, and brought up the very real possibility that all of the newly printed money will simply ease the deleveraging process in Europe, rather than stop it.
But never mind all that - its fairly clear that Europe holds the key to whether the bear market will continue or a new bull will rise. It should also be clear that time is running out and that the market's patience is running thin. With Italy's 10-year yields pushing 7% again (which many consider a danger zone), the directionless move and uncertainty should end given the urgency of the financial crisis and inability of both monetary and fiscal authorities to fully contain it.
Take a look below at the price ratio of the Vanguard Europe Pacific ETF (NYSEARCA:VEA) relative to the S&P 500 (NYSEARCA:IVV). As a reminder, a rising price ratio means the numerator/VEA is outperforming (up more/down less) the denominator/IVV.
Click to enlarge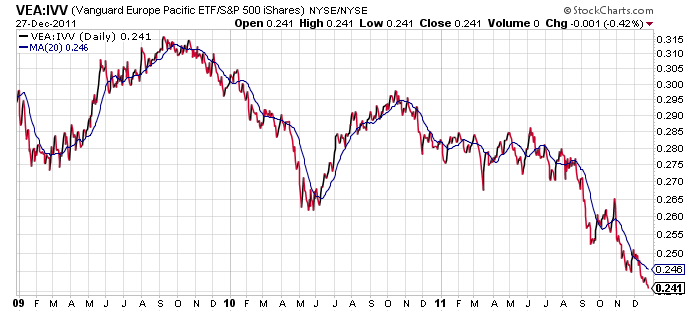 Click to enlarge
Notice the ratio is pushing toward all-time lows despite last week's ECB lending, and the length of time the ratio has been in a downtrend for. The weakness has been both powerful in magnitude and long in duration. The divergence of Europe and the U.S. equity markets cannot persist for much longer. People tend to forget when looking at price ratios that unless the average/ETF is headed literally to zero, weakness cannot persist forever mathematically as cycles of leadership come and go.
Either the ratio will capitulate soon (in which case weakness ends through a European market collapse), or underperformance will resolve itself through a move back up in Europe due to a real change in the eurozone's fiscal future. The good news as I stated in my prior article calling for a Winter Resolution is that we should know soon enough which way the wind will take us.
Disclosure: I have no positions in any stocks mentioned, and no plans to initiate any positions within the next 72 hours.
Additional disclosure: This writing is for informational purposes only and does not constitute an offer to sell, a solicitation to buy, or a recommendation regarding any securities transaction, or as an offer to provide advisory or other services by Pension Partners, LLC in any jurisdiction in which such offer, solicitation, purchase or sale would be unlawful under the securities laws of such jurisdiction. The information contained in this writing should not be construed as financial or investment advice on any subject matter.