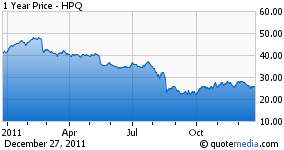 Hewlett-Packard (NYSE:HPQ) had a rough year in 2011 with the bad leadership of Leo Apotheker. At the close of trading on December 23rd, the stock was down 38 percent year over year. However, with Meg Whitman now at the helm, HP looks more promising as shares have risen almost 14 percent in the last three months. In this article, I explain why now is the time to buy HP shares.
About 20 percent of HP's drop in 2011 was from Leo Apotheker's announcement that HP on August 18th that the company would look into selling or spinning off its PC division. Since HP has abandoned that plan, the stock has not fully recovered. Before the announcement which also included a lower future guidance, HPQ traded at $29.51, 14 percent higher than its price of $25.88 at the close of December 23rd.
HP's extremely low P/E ratio of 7.91 also deserves some attention. Unlike other tech companies with low P/E ratios like Research in Motion (RIMM), HP has an upwards earnings trend that is expected to continue in its fiscal year 2013. Adjusted earnings per share in FY 2013 are expected to increase to $4.47 from $4.08. Although revenue is expected to be flat year over year, tech companies with flat revenue trends normally have bullish activity when they can successfully improve margins (see (NYSE:IBM)). If HP can successfully improve earnings or increase its quarterly 12 cent dividend, I believe that HP's P/E ratio could be as high as 9 in a matter of one year. This would mean a stock price of $40.23, an increase of 55.4 percent.
I know my target of $40.23 is very high, especially with analyst targets averaging around $31.13. No stock can make a guaranteed 55 percent in one year and such high potential upside comes with a lot of risk. Other stocks in tech that were considered good value buys like Oracle (NASDAQ:ORCL) have taken big falls in stock price from missed earnings. If HP has one or two more bad misses or if Meg Whitman cannot right the ship, HP could see its price drop as low as $15 per share over the next year.
I feel like HP has had especially bearish activity in 2011 because of fears that they are similar to Research in Motion and will lose significant market share from increased competition. As early as 6 months ago, analysts believed that RIM would also have an upward earnings trend, but now it appears the company risks falling into obscurity. HP's recent strong performance and its ability to make a necessary leadership change show that the company has some bounce back potential. I don't think that shares will come near its 52 week high of $49.39, but amateur investors may be able to grab a nice return on a short-term buy of HPQ.
Disclosure: I am long IBM.