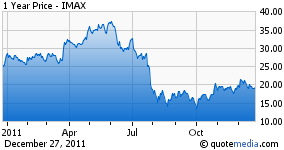 In October of this year I released an article centered around the early release of the fourth installment of the "Mission Impossible" film series being released early on IMAX (NYSE:IMAX) screens. In that article I predicted "Mission Impossible: Ghost Protocol" would earn $11.2 million on Imax screens over a ten day opening period. The results I predicted were surpassed in the film's first three days.
The movie starring Tom Cruise opened a week early at 425 locations around the United States, with 300 of those being IMAX screens. Over its early weekend premiere the movie took in $13 million for an average of $30,588 per screen. The IMAX results were $11 million for an average of $36,667 per screen which was better than "Inception" ($36,548) and "Fast Five" ($32,787), two movies released on IMAX screens around this time last year. As I mentioned before the success of "Mission Impossible" on Imax could lead to more movie companies releasing movies with early premiers. Imax proved successful with its first run at this and will likely have a few more opportunities in 2012.
"Mission Impossible: Ghost Protocol" performed well in all theaters over the Christmas weekend and beat new films "The Adventures of Tintin," "We Bought a Zoo," "War Horse," and "The Girl With the Dragon Tattoo."
Select locations, around 42 IMAX screens, featured a six minute prologue to the upcoming "The Dark Knight Rises" movie. This added intro helped build excitement for what is shaping up to be the biggest movie release of 2012. The current lineup for Imax screens in 2012 is:
01/20 Underworld Awakening
02/10 Journey 2: The Mysterious Island
03/02 The Lorax
03/09 John Carter
03/30 Wrath of the Titans
04/06 Titanic 3D
05/11 Dark Shadows
05/25 Men in Black 3
06/15 Jack the Giant Killer
07/03 The Amazing Spider-Man
07/13 Ice Age: Continental Drift
07/20 The Dark Knight Rises
11/21 Gravity
12/14 The Hobbit: An Unexpected Journey
The 2012 lineup is shaping up nicely with clear blockbusters in "Men in Black 3," "The Amazing Spider-Man," "The Dark Knight Rises," and "The Hobbit." "The Dark Knight Rises" will likely lead all movies in box office revenue for the year and it is a positive sign to see as an investor that it will be on IMAX screens.
Along with the success of "Mission Impossible: Ghost Protocol," Imax has had many positive events happening in December including:
Signing of two theaters in Indonesia, first in the large country. One will be open by May 2012 and the other in 2013.
Two more theater deals signed for China bringing the country's theaters open or in backlog to 207
Signed deals for over 200 total theaters in 2012.
The release of "Flying Swords of Dragon Gate" (released by (NASDAQ:BONA)) exclusively in China Imax theaters: Earned $2.5 million opening weekend on 59 Imax screens for an average of $42,400.
It's no secret that I am bullish on shares of IMAX, which is one of my core holdings in my own portfolio. I began accumulating shares for less than $5 a share over five years ago and have since acquired more shares on two different occasions below $15.
Even though the company has missed earnings three of the last four quarters, I think the $1.06 predicted for next fiscal year is extremely conservative. Imax should have no problem passing this number and could see large run-ups in share price around movie releases and earnings beats in 2012. I am actually hoping shares dip down around $18 again so I can purchase some. I think shares will end 2012 at $35.
When I wrote the mentioned article about "Mission Impossible: Ghost Protocol," shares of IMAX traded at $13.70. In the almost three months since that article, shares have increased 39% and provided a nice lift to anyone who took my advice on buying shares. Even at $19.06 a share currently, shares are trading 50% less than their fifty two week high of $38.00 reached back in June of 2011. I think shares remain a buy given the upcoming film schedule for 2012. Will Imax make my annual Top Ten Stock Picks list? Check back next week to see if Imax made the cut.
*Box Office Figures from boxofficemojo.com*
Disclosure: I am long IMAX. I may buy more shares of IMAX at any time.