I recently shared my views that the January Effect will likely work for the first time since 2006. If you agree with me that January could be strong for small-caps, you can buy the ETF for the Russell 2000 (NYSEARCA:IWM). For stock-pickers though, I think that there are lots of potential bargains worth investigating.
In the previous article, I mentioned that almost half of the stocks in the Russell 2000 have declined by more than 25% from their respective 52-week highs, though the index itself has declined just 14%. In order to narrow the field a bit, I screened for the Russell 2000 stocks down more than 30% from the 52-week high, reducing the list to just under 800 names. To reduce it further, I restricted it to stocks that have failed to rally in Q4 so far, thus lagging the overall index, which is up 16% and suggesting that tax-loss selling and window-dressing by professionals may be at work. I then reduced these 356 names by requiring them to have been profitable (in terms of EPS) over the past four quarters. This left the list at 179.
I eliminated a few more by requiring positive tangible book value and positive 2012 earnings (if there were estimates). This left 139 names, still far too many to include in a single article. Therefore, I decided to split the list into five different posts. Today, I will address the Consumer Discretionary and Consumer Staples Sectors: (Click to enlarge)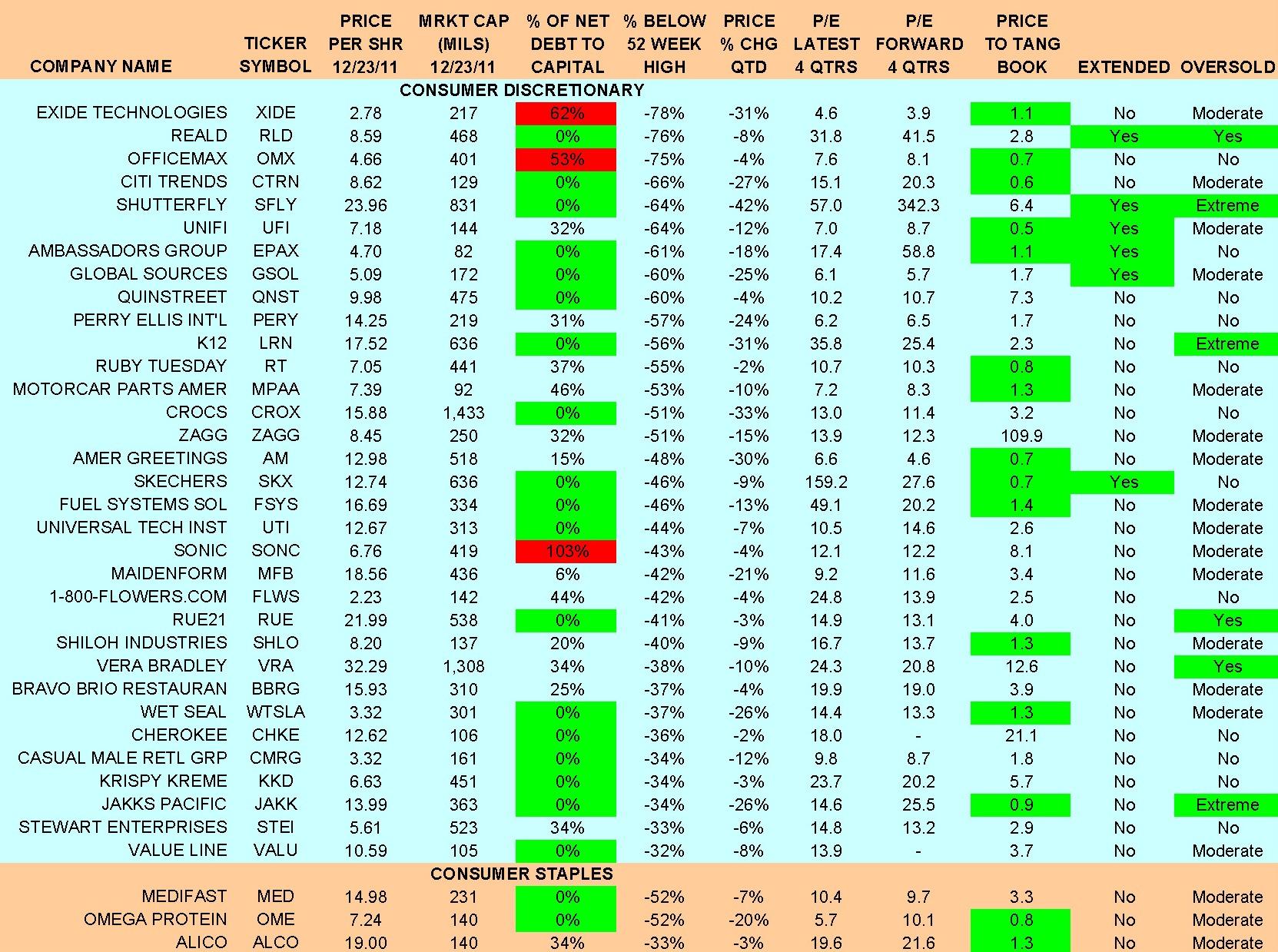 Before I go on, allow me to share that I do not closely follow most of these names. I am sharing this list not as a recommendation but rather as a starting point for you in terms of identifying potential opportunities. With that said, when I do closely follow a stock or have something of note to say, I will.
I included the company name, ticker, price, market cap as well as the net debt to capital, highlighting it in green when there is more cash than debt and in red those that have more debt than equity. The names are sorted on the next column, which is the percentage below the 52-week high. I also included the price change quarter-to-date, the trailing PE, as well as the forward PE (when available). Price-to-tangible book can be helpful for value investors, but TBV is no certain floor. I find it helpful when earnings metrics don't work, due to near-term earnings being below the potential. I highlighted those below 1.5X.
Except for the last two columns, all of the data comes from Baseline. "Extended" is my own observation based upon the relationship of the short-term, intermediate-term and long-term moving averages over the past thirteen weeks. If the stock is overextended, it is potentially more likely to bounce. "Oversold" reflects the old StockVal PMI indicator, which is based upon the distance between the moving averages (it's a complex formula). I believe that the ones that are oversold or extremely oversold could be more likely to bounce as well, but even the moderately oversold names stand out in what is now a slightly overbought market.
RealD (NYSE:RLD) caught my attention due to being oversold and overextended. This is a busted IPO ($16) from July 2010. The company is involved in 3-D for movies and games. Citi Trends (NASDAQ:CTRN), the urban retailer, has seen an earnings implosion this year. With no debt, positive expected earnings and trading below TBV, it seems worth a look.
I used to follow Ambassadors Group (NASDAQ:EPAX), which arranges travel for students, athletes and professional groups. I recall the company having a good reputation, but it makes sense that demand has fallen in recent years. Might this be a strong-dollar play? Ruby Tuesday (NYSE:RT) caught my attention recently due to its very low multiple to Free Cash Flow. The company has bought back a significant number of franchises this year.
I still follow Skechers (NYSE:SKX) closely, though I no longer hold it in my Top 20 Model Portfolio. I got involved last year after the stock plunged on an inventory problem (toning shoes). The company has worked its way out of the mess, preserving most of its tangible book value. On the one hand, it seems to have some interesting expansion opportunities with its own stores as well as internationally, but does anyone remember L.A. Gear?
Rue21 (NASDAQ:RUE) and Vera Bradley (NASDAQ:VRA) both deserve a look, as these fallen angels are still above their recent IPO prices. The valuations have come down from the nose-bleed section. RUE's FY13 estimates have been stable, while VRA's are continuing to rise.
Jakks Pacific (NASDAQ:JAKK) was hammered recently and is one of just three "extremely oversold" names on the list. Seems cheap at less than TBV and almost 3% dividend yield. Finally, Medifast (NYSE:MED), which is a direct-marketing company focused on weight-loss meals, has been under attack for the past couple of years for potential accounting issues. I have liked what I have seen in the past when looking at this. My concern would be saturation of the market. However, I rarely encounter anyone who has yet tried their products, which have some apparently strong data supporting their efficacy.
For all you bottom-fishers out there, I hope that this has been helpful. Please let me know if you have any thoughts on the names discussed in this article.
Disclosure: I have no positions in any stocks mentioned, and no plans to initiate any positions within the next 72 hours.
Note: If you would like an Excel spread sheet of the complete list, email me.