With lower growth as a result of deleveraging consumers and high public deficits and debts, the race is on to lower the cost of the public sector. The nature of the services, like education and healthcare, have made it difficult to gain anywhere near the same productivity increases as industry.
However, new ICT and software has opened up a host of different possibilities of increasing, sometimes even dramatically increasing productivity in sectors that until now, were stubbornly resisting any increases in productivity, wedded as they were to the industrial model.
For-Profit Online Education
Perhaps the biggest opportunities lie in education. The internet opens up vast possibilities here. Where previously start professors had an audience of 1000 at best, now size doesn't matter anymore. In the words of Wuster and Evans, the internet does away with the trade-off between "richness" (the amount of information that can be exchanged) and "reach" (the number of people participating).
For instance, while the books are browsable (richness), traditional bookshops can only stack so many books (limited reach). Amazon busted this trade-off and offers both richness (browsable books) and reach (millions in catalog), and even some nifty new tools to navigate this bewildering world, like recommendation software.
Lectures of star professors previously had a limited reach, but they can now be made available online and have an infinite audience and be seen when it's convenient for the student, even though some of the richness is lost (no direct interaction with the professor or fellow students).
They can also be endlessly repeated and watched from the comfort of the student's home, saving on commuting time and cost. Against these advantages there are a couple of disadvantages. The whole experience might be more convenient, it considerably alters the student's experience. Student 'life,' with all social aspects of joining clubs, making friends, living in dorms, studying together, stuff like that will disappear if education moves completely online.
There are two aspects of this, the cultural (that is, student life) and educational aspects. Let's focus on the latter first. Education is imparting a host of skills, social, disciplinary, verbally, stuff that's difficult to impart with an on-line video of a lecture, no matter how good.
Much knowledge that students acquire in a traditional school or university is tacit, rather than the more explicit information imparted through lectures. Much of this can be reproduced on-line by how-to video tutorials, practicing routines, and exercises, or the institution could make people available on-line for answering questions.
With the advent of Web 2.0 technologies, students can form virtual study groups, or even real ones based on location. But while all of this helps, none of it reproduces the full immersion of a real university (let alone the student life 'experience.') Which is why it's probably good to mix features, having a real 'bricks and mortar' school with a host of online resources available that increase productivity and efficiency of education.
Problems
For-profit education is plagued by some fundamental incentive problems, though. It's difficult to assess the quality of the school or university in question at the moment of enrollment. This provides the institution with an informational advantage and incentives to exaggerate its quality. There is also a rather clear incentive to minimize the cost per student, which has led to huge scandals in the Netherlands where some schools provided a sort of extensive education with very few contact hours between teachers and students on the basis of some really dubious educational reform theories.
Similar trouble has erupted in the US, with the Federal government tightening regulations and financial assistance, which has grown from $1B to $7B in a decade. Since relatively easy-to-get government-backed education loans provide up to 90% of their revenue, the temptation is there to swell the numbers by dubious marketing practices or even paying recruiters by the number (which isn't legal).
According to the US Department of Education, "students at for-profit institutions represent 12% of all higher-education students, 26% of all student loans, and 46% of all student-loan dollars in default."
There are other problems with standards:
Seven of 12 for-profit colleges attended online by undercover U.S. investigators violated school policies on cheating, grading standards and loan counseling, a report by the Government Accountability Office found.
Another curious sign is executive pay, which looks to be rather high in certain cases:
Representative Elijah Cummings, the top Democrat on the House Oversight and Government Reform Committee, sent letters asking to see pay agreements from 13 companies, including Apollo Group Inc. (NASDAQ:APOL), Strayer Education Inc. (NASDAQ:STRA) and Washington Post Co. (WPO)'s Kaplan unit. Cummings cited a 2010 Bloomberg article that showed executives at the 15 U.S. publicly traded colleges received compensation that exceeded traditional colleges and collected $2 billion from selling stock over the previous seven years. Congress and the U.S. Education Department are scrutinizing for-profit colleges, which received almost $32 billion in federal grants and loans in the 2009-2010 school year. Students at those schools are defaulting on government loans at higher rates than those who attend nonprofit and public institutions.
There is a rather depressing Wikipedia article that seems to provide an overview of the main problems. It has to be said though that these problems do not affect for-profit schools exclusively. Dutch universities have seen a proliferation of courses, often of dubious quality as a result of finance being linked to student "throughput." Some argue that this has affected quality as well.
Reputation
Instead of lobbying Washington, the industry could do a lot to restore trust in their institutions. Reputation is one of the most important assets of companies offering stuff that is difficult to evaluate at the point of buying. Reputation clearly helps in the decision making, as can be witnessed from the rankings of MBAs. The top schools command premium prices (although we sometimes wonder whether the education is that much better than in the second tier schools.)
There is no question that there is demand for their services. A proliferation of business models is good for overall industry evolution, but students need protection against opportunistic behavior and wasting their time and money on an education that isn't helpful.
There are two main ways to protect students and restore confidence in the sector: transparency and regulation
Since it's very difficult to assess the quality of the education before actually experiencing it, the industry should do everything to be as transparent as possible. Figures about loan delinquency (one of the main issues in the US), rigorous student evaluation of programs and teaching methods, jobs they land after completion, contact hours, and a host of other metrics should be made available for applicants to compare.
Just like airlines and mobile telecom providers don't like their prices being compared at the click of a mouse, many schools won't like this either, but it is in the interest of the industry as a whole and, more interesting, it's in the interest of the good institutions. How can good institutions command premium prices if potential students cannot evaluate its superior quality?
Regulation could offer rigorous quality standards and public visitations to check whether these standards are adhered to. This seems a pretty good start:
the administration plans to issue financial aid rules this month that among other things would require more disclosure of graduation and job-placement rates and reinforce a federal law that prohibits schools from paying recruiters solely on how many students they enroll [Washington Post]
What we expect is if the industry continues to fight sensible rules like this one they will do themselves more damage than good and they could open themselves up for competition from established non-profit organizations with a sound reputation.
This is already happening. From a recent Pew Research Center study:
More and more colleges are offering online classes. More than 75% of college presidents reported that their institutions are now offering online classes. Nearly half of adults who have attended college in the past 10 years reported that they had taken a class online.
However, for profit education still has an advantage though:
Two-year and for-profit colleges are more likely to offer online classes. 91% of two-year colleges and 71% of for-profit schools offer online classes. The presidents of these types of institutions are also more likely to state that online learning is just as valuable as in-person courses.
In the higher learning sector MIT is just planning to offer a free online course platform MITx with a certificate of attendance (obviously not carrying the weight of the real thing). The new platform builds upon the MIT OpenCourseWare platform which has offered courses for free for quite some time. The new platform also offers some degree of interaction and training routines.
The MIT initiative is really the kind of stuff we're expecting. This is the kind of institution with the reputation and the cloud and resources to do this. For now, the for profit educational sector is not in direct danger from this initiative, as the for profits are more orientated towards practical courses for concrete types of jobs. But the technology is there, the opportunities are there.
However, it does set expectations though. If MIT can offer this kind of stuff for free, students enrolling in the for profits might very well demand many more bells and whistles for their $10,000+ enrollment fees.
We also expect a fair amount of consolidation to take place. Much of the advantage of online education is its scalability (as MITx will show). If little scalability takes place because each school offers their own courses we're missing an opportunity here. We find it a little surprising that accreditation is still voluntary, for instance.
Some in the industry are making sensible noises, though:
Robert Silberman, the chairman and CEO of Strayer Education Inc. (STRA), says that the for-profits should share in the losses when a student defaults. Furthermore, he welcomes a national eligibility test to screen out applicants who lack the necessary skills to attend college.
We think these are good ideas, much better than to fight regulation. The schools have managed to water down new regulation somewhat, but the fact that the battle isn't over means that uncertainty will keep hanging over the publicly traded stocks for quite some time.
Here is a list of for profit universities and colleges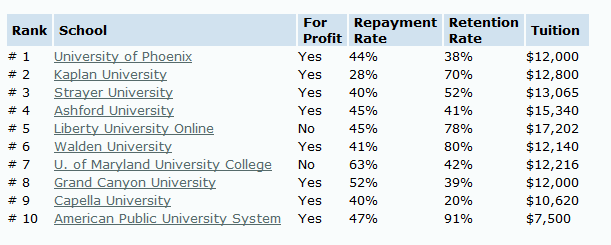 University of Phoenix (APOL)
The University of Phoenix is the biggest online university, and it is a subsidiary of the Apollo Group (APOL), a private equity firm. It has some history of fines and settlements over rather aggressive recruiting practices although it seems to have cleared up its act to some degree. It was one of the three institutions (out of 12 investigated) that declined to admit students based on insufficient credentials.
It also started to allow students to try out classes before they enrolled last year, another improvement.
The shares have been on a tear recently, and we can't see that continuing for much longer. The shares are relatively expensive compared to the rest of the industry with a 2012 p/e of 15. The shares are overbought. They might just rally a little bit more in the face of a year-end rally, but writing out-of-the-money calls seems a good strategy to us.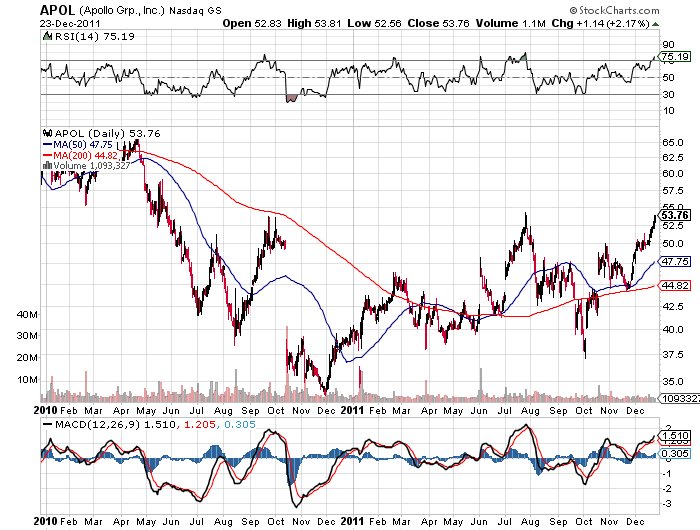 The company still generates good cash-flow though, and its financial position is sound and could absorb a significant deterioration in student numbers.
Capella (NASDAQ:CPLA)
Capella University is a daughter of Capella Education (CPLA). Capella has a $163M share buyback program, and its shares seem to have bottomed out as a result of that and a better outlook. It has zero debt and a good chunk of cash ($138M), to which it adds through substantial ($60M) free cash-flow generation.
Earnings per share are basically flat from last year, and expected to fall 10% next year to $3.18 per share, not quite encouraging, even if it makes the shares somewhat cheap. The shares are a shadow of their former self but are likely to trade with the industry; the two others discussed in this article are already overbought.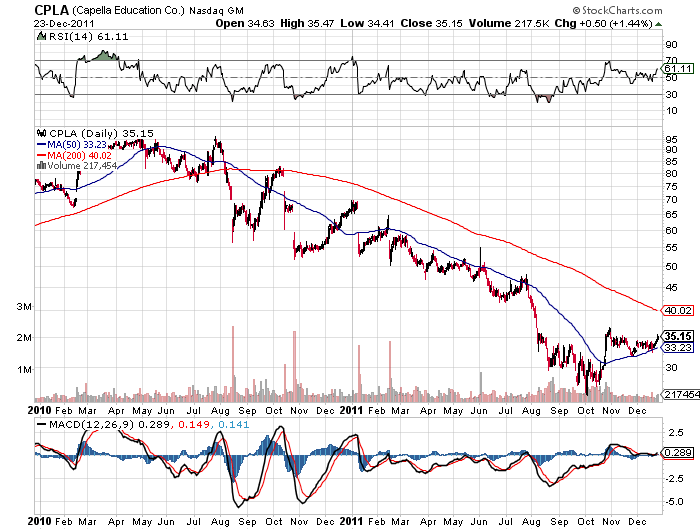 American Public Education (NASDAQ:APEI)
Surprisingly bullish student enrollment numbers make this an interesting play but a look at the graph shows that it already has run its course, at least for now. While it has the same kind of healthy balance sheet (no debt, $107M in cash) and cash-flow generation as Capella, earnings per share are expected to rise to $2.08 this year from $1.59 last year, and further increase to $2.45 next year.
For all these sound numbers, the shares look due for a breather, as they're both overbought and much of the good news seems priced in, at least for now. If the rally after Christmas continues and the shares manage another climb, selling some out of the money short-term calls or shorting the stock looks like a good idea.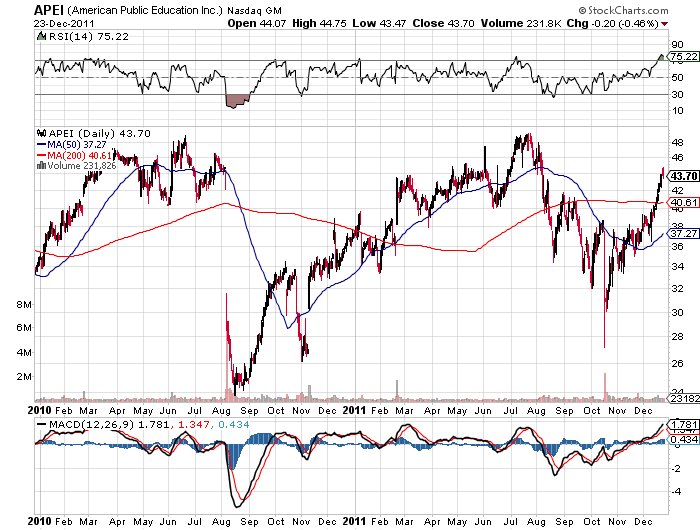 Disclosure: I have no positions in any stocks mentioned, but may initiate a short position in APEI, APOL over the next 72 hours.