I recently shared my views that the January Effect will likely work for the first time since 2006. If you agree with me that January could be strong for small caps, you can buy the ETF for the Russell 2000 (NYSEARCA:IWM). For stock-pickers, though, I think that there are lots of potential bargains worth investigating.
In the previous article, I mentioned that almost half of the stocks in the R2000 have declined by more than 25% from their respective 52-week highs, though the index itself has declined just 14%. In order to narrow the field a bit, I screened for the R2000 stocks down more than 30% from the 52-week high, reducing the list to just under 800 names. To reduce it further, I restricted it to stocks that have failed to rally in Q4 so far, thus lagging the overall index, which is up 16% and suggesting that tax-loss selling and window-dressing by professionals may be at work. I then reduced these 356 names by requiring them to have been profitable (in terms of EPS) over the past four quarters. This left the list at 179.
I eliminated a few more by requiring positive tangible book value and positive 2012 earnings (if there were estimates). This left 139 names, still far too many to include in a single article. Therefore, I decided to split the list into multiple posts. In this post, I will cover financials.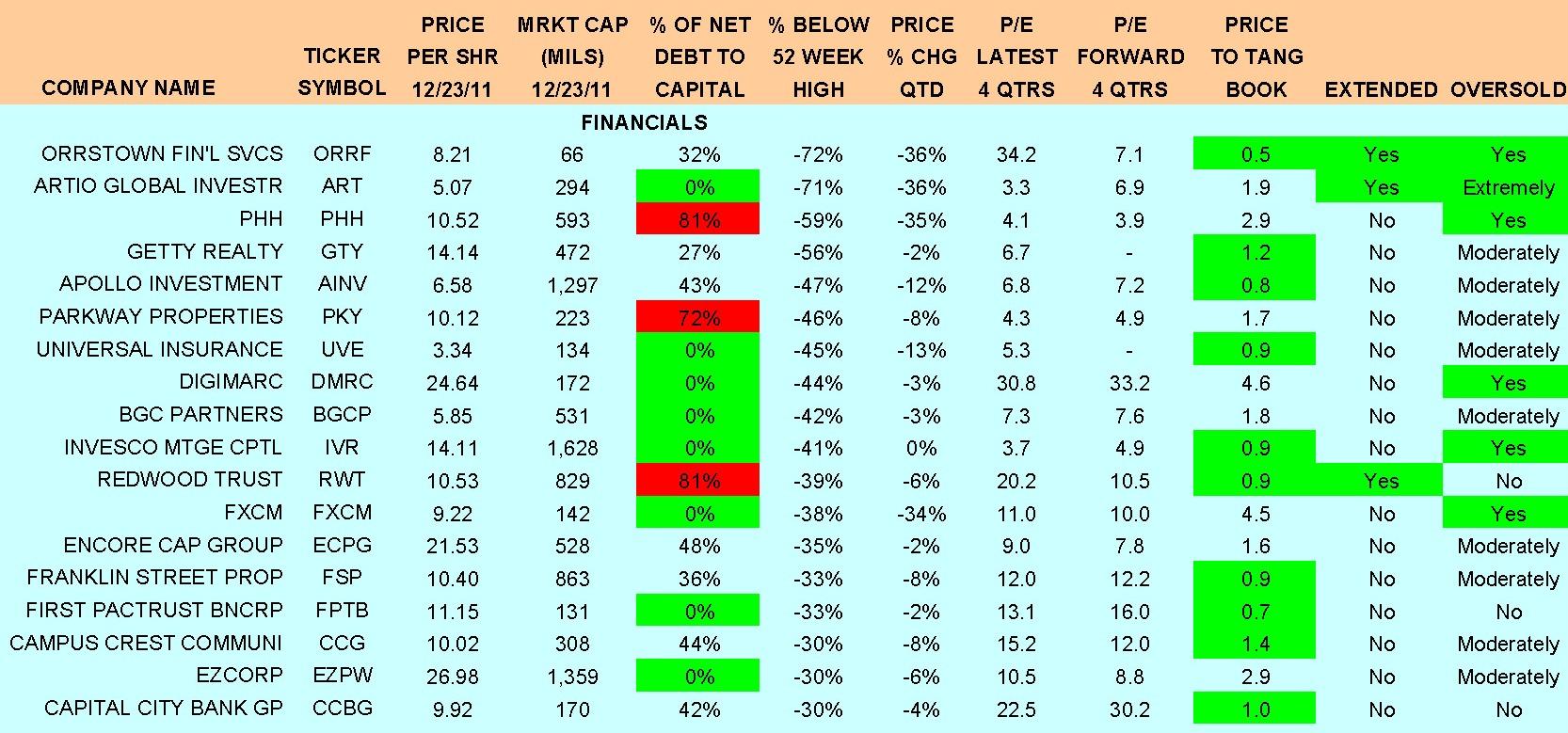 Before I go on, allow me to share that I do not closely follow most of these names. I am sharing this list not as a recommendation but rather as a starting point for you in terms of identifying potential opportunities. With that said, when I do closely follow a stock or have something of note to say, I will.
I included the company name, ticker, price, market cap as well as the net debt to capital, highlighting it in green when there is more cash than debt and in red those that have more debt than equity. The names are sorted on the next column, which is the percentage below the 52-week high. I also included the price change quarter-to-date, the trailing PE as well as the forward PE (when available). Price-to-tangible book can be helpful for value investors, but TBV is no certain floor. I find it helpful when earnings metrics don't work due to near-term earnings being below the potential. I highlighted those below 1.5X.
Except for the last two columns, all of the data comes from Baseline. "Extended" is my own observation based upon the relationship of the short-term, intermediate-term and long-term moving averages over the past thirteen weeks. If the stock is overextended, it is potentially more likely to bounce. "Oversold" reflects the old StockVal PMI indicator, which is based upon the distance between the moving averages (it's a complex formula). I believe that the ones that are oversold or extremely oversold could be more likely to bounce as well, but even the moderately oversold names stand out in what is now a slightly overbought market.
In such a beaten-up sector generally, there are lots of bargains, potentially, in my view. Given the disappearance of one company and threats to others, it pays to be particularly careful, especially with leverage. While I include Net Debt to Capital, often a company has other liabilities that aren't considered debt (like deposits for banks).
I don't follow Artio Global Investors (NYSE:ART), an asset manager, but it is a 2009 IPO that has gone straight down. It's profitable, but the earnings estimates have been coming down for quite some time. The balance sheet seems strong, and the dividend is approaching 5%.
I wrote about Getty Realty (NYSE:GTY), the gas station REIT, earlier this year, sensing that the downside was overdone at the time. Their key tenant ended up declaring bankruptcy, highlighting the risk of singe-tenant assets that are highly concentrated. The stock bounced to my suggested level and then cut through the stop-loss I had shared.
I also wrote recently about Apollo Investment (NASDAQ:AINV), when I reviewed the majority of the Business Development Companies. It ended up having the worst alignment of interests between management and shareholders of the whole group. There are other names in the sector worth considering.
I no longer follow Franklin Street Properties (NYSEMKT:FSP) that closely, but it looks fairly attractive. The office-building REIT yields 7.3%. There are some other REITs on the list, and I would note that smaller REITs have performed very poorly relative to larger ones this year.
EZCORP (NASDAQ:EZPW) is one of my favorite stocks. It was an orginal member of my Top 20 Model Portfolio in 2008, and we added it back recently. After a fantastic 2009 and 2010, it took a breather this year. There have been some management changes that may be weighing a bit, but I like the new CEO and CFO. This pawn lender has significantly reduced its exposure to "payday lending" and is expanding rapidly in Mexico and Canada. The company recently added some debt to finance a U.S. pawn acquisition but remains essentially internally financed. I have a 47 target a year out based on just 13 PE.
Disclosure: I have no positions in any stocks mentioned, and no plans to initiate any positions within the next 72 hours. The Top 20 Model Portfolio at Invest By Model is long EZPW.