I recently shared my views that the January Effect will likely work for the first time since 2006. If you agree with me that January could be strong for small caps, you can buy the ETF for the Russell 2000 (NYSEARCA:IWM). For stock-pickers, though, I think that there are lots of potential bargains worth investigating.
In the previous article, I mentioned that almost half of the stocks in the R2000 have declined by more than 25% from their respective 52-week highs, though the index itself has declined just 14%. In order to narrow the field a bit, I screened for the R2000 stocks down more than 30% from the 52-week high, reducing the list to just under 800 names. To reduce it further, I restricted it to stocks that have failed to rally in Q4 so far, thus lagging the overall index, which is up 16% and suggesting that tax-loss selling and window-dressing by professionals may be at work. I then reduced these 356 names by requiring them to have been profitable (in terms of EPS) over the past four quarters. This left the list at 179.
I eliminated a few more by requiring positive tangible book value and positive 2012 earnings (if there were estimates). This left 166 names, still far too many to include in a single article. Therefore, I decided to split the list into five posts. Here, I will address Healthcare.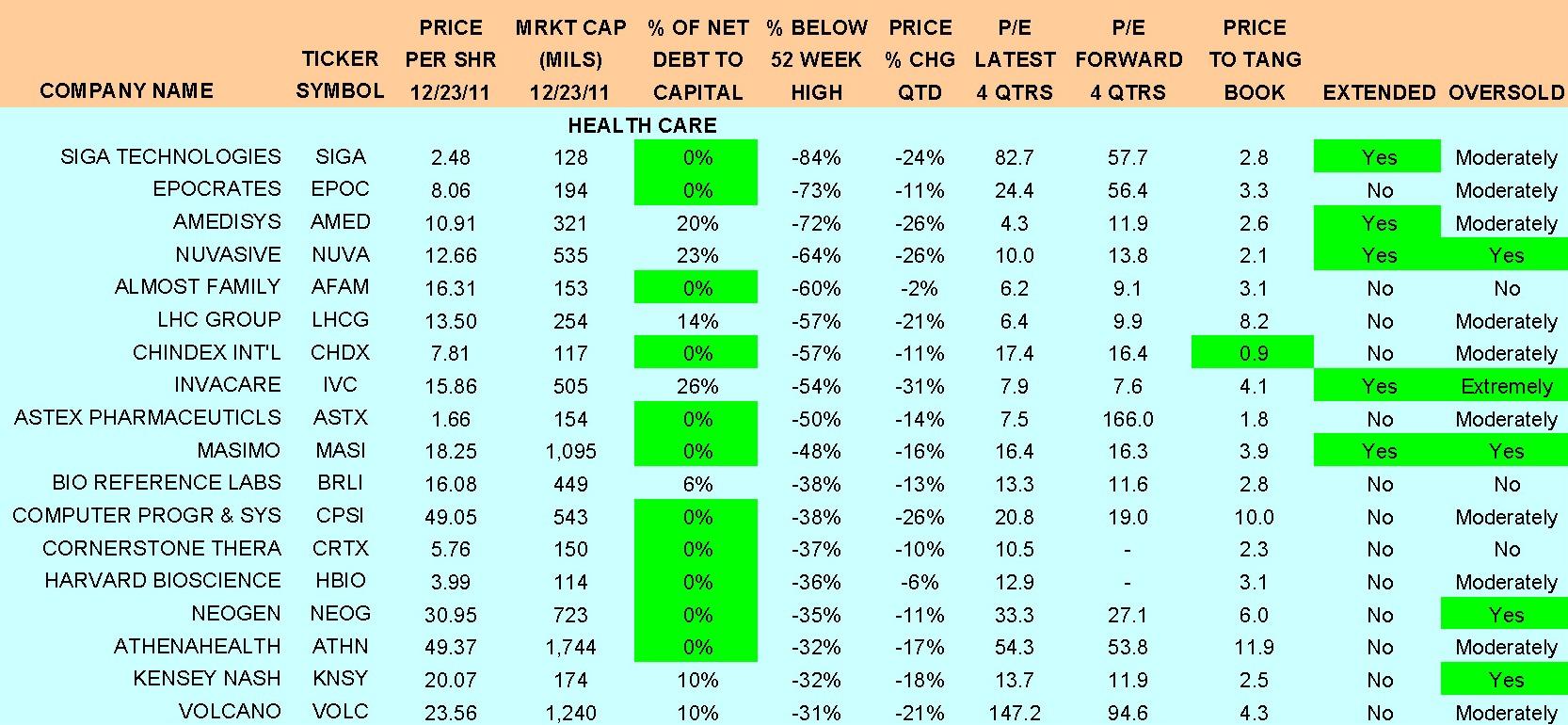 Before I go on, allow me to share that I do not closely follow all of these names. I am sharing this list not as a recommendation but rather as a starting point for you in terms of identifying potential opportunities. With that said, when I do closely follow a stock or have something of note to say, I will.
I included the company name, ticker, price, market cap as well as the net debt to capital, highlighting it in green when there is more cash than debt and in red those that have more debt than equity. The names are sorted on the next column, which is the percentage below the 52-week high. I also included the price change quarter-to-date, the trailing PE as well as the forward PE (when available). Price-to-tangible book can be helpful for value investors, but TBV is no certain floor. I find it helpful when earnings metrics don't work due to near-term earnings being below the potential. I highlighted those below 1.5X.
Except for the last two columns, all of the data comes from Baseline. "Extended" is my own observation based upon the relationship of the short-term, intermediate-term and long-term moving averages over the past thirteen weeks. If the stock is overextended, it is potentially more likely to bounce. "Oversold" reflects the old StockVal PMI indicator, which is based upon the distance between the moving averages (it's a complex formula). I believe that the ones that are oversold or extremely oversold could be more likely to bounce as well, but even the moderately oversold names stand out in what is now a slightly overbought market.
I don't know SIGA Technologies (NASDAQ:SIGA) or Epocrates (NASDAQ:EPOC) at all. SIGA is involved in prevention and treatment of infectious diseases (biological warfare), while EPOC, which last month lost its CEO, is a leading provider of mobile drug reference tools to healthcare professionals and has a small subscription-fee revenue model and a larger services-based business. The stock went public in February at $16 - a big dud.
I have long followed Amedisys (NASDAQ:AMED) but kind of gave up on it. Along with peers Almost Family (NASDAQ:AFAM) and LHC Group (NASDAQ:LHCG), which are on this list, and Gentiva (NASDAQ:GTIV), which is not, the industry, which provides home health services, has been hurt by reimbursement cuts and concerns about over-billing and fraud. I believe ultimately the industry will succeed, as it takes cost out of the system by reducing hospital visits, but these Medicare battles are tough.
I added Nuvasive (NASDAQ:NUVA), the spinal company with a non-invasive procedure, to my watchlist earlier this year and have just watched it, fortunately, as it has plunged to what look like remarkably cheap levels. Management lost credibility with its optimistic forecasts in 2010 and it did an expensive acquisition this year. Additionally, it has had litigation issues with giant Medtronic (NYSE:MDT). This is one that maybe one can just hold one's nose for a trade given the classic set-up of being oversold and extended at year-end.
I don't know Chindex (CHDX well - they distribute MedTech products and also provide patient services directly in China. Invacare (NYSE:IVC) has plunged this year and looks extremely oversold to me. The company provides all sorts of low-tech health products used in the home and in rehab. An FDA issue regarding its wheelchairs caused the 30% drop this month. I didn't recognize Astex Pharma (NASDAQ:ASTX), which changed its name from SuperGen. It is focused on cancer drugs.
I just added Masimo (NASDAQ:MASI) to my watchlist. The company sells what appears to be the gold standard in pulse oximetry, which entails manufacturing consumables and licensing out its technology to other device companies. The stock has been hurt this year by a reduction in royalties from Covidien (COV). The company has about 13% of its market cap in cash, reducing the 15 PE to closer to 13.5. Not bad if the 20% long-term growth rate plays out.
I am going to skip to Neogen (NASDAQ:NEOG), which makes tests for food contamination and animal safety. The recent plunge and recovery is telling. The stock is always expensive, but less so than it has been. After a recent report that was disappointing, the stock dropped sharply but then recovered almost all its losses. On weakness, this one looks interesting for a high-quality growth name.
Athena (NASDAQ:ATHN) is a technology company run by Jonathan Bush. The company does electronic health records but is best known for its billing software for doctors. The company cut its outlook recently. Kensey Nash supplies products to other Medical Device companies and was slammed on a royalty issue with customer St. Jude (NYSE:STJ). I don't detect a lot of innovation at this company.
Finally, Volcano (NASDAQ:VOLC) is a great company on my watchlist. Initially focused just on IVUS (ultrasound guided catheter placement for stenting), it has expanded into another technology that helps determine if stenting is necessary or not. It has leading market share despite facing larger rivals in very limited competition (primarily STJ and Boston Scientific (NYSE:BSX). The company's sales come primarily from single-use catheters rather than capital equipment. The stock is expensive, but less so than normal. I think it can trade to 33 or so over the next year (4X EV/S), and would be a great acquisition target for a company like GE.
Disclosure: I have no positions in any stocks mentioned, and no plans to initiate any positions within the next 72 hours.