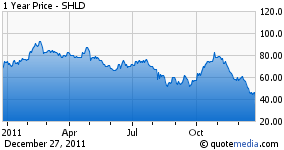 In recent weeks it became all too obvious that initial good sales growth figures in the beginning of the holiday season were only possible by sacrificing margins. Ahead of BestBuy's (NYSE:BBY) warning earlier this month (link) Sears (NASDAQ:SHLD) "surprised" the market with dismal growth numbers and store closures.
Today's news
Sears announced it will close 100-120 stores on a total number of 2,200 it operated after incredibly bad sales numbers. Total sales for the 8-weeks in the holiday season fell 2.6% year-to-date.
As a result of the margin compression Q4 adjusted EBITDA is expected to come in at roughly half of last year ($933 million for 2010). Analyst estimated adjusted EBITDA to come in at $683 million.
Taking pain
As a result of lower operating performance, Sears saw itself forced to take a lot of non-cash impairments for the quarter. As such it impairs $1.6-1.8 billion on its deferred tax assets and another $0.6bn in goodwill. These write-downs in combination with store closures should reduce expenses, lower the asset base and accelerate the transformation process to serve customers online and in the physical store according to CEO D'Ambrosio, but it is just not enough. Making the company lean at such a high cost will produce some prospects in coming quarters but is not a long term solution.
Fundamental problem
Just like any other traditional retailer, Sears is finding it hard to come up with an effective strategy to combat pure Internet-retailers. Sales have declined by some 20% over the last four years to $43 billion last year. Although the company was still profitable in each of the last three years, cumulative profits for the three year period were a mere $400 million.
The company is using a lot of assets (its inventories balloon to some $12 billion ahead of the holiday season) but asset efficiency and profitability are poor. At this trajectory, despite the measures being announced today, the company remains on a path to destroy shareholder value.
Wouldn't touch it
Although shares trade at roughly half their level as recent as October I would not consider them to be cheap. Investors pushed up the stock on initial signs of good holiday sales (link) however it became all too apparent that it came at the expense of margins in recent weeks. While advocates of value investing would point out that shares trade at a mere 0.7 times book value, I don't see any drivers which could push up the stock in the short term. For Sears there is no quick fix like returning excess capital or divesting certain divisions.
Any value creation should come from comparable sales growth in combination with expanding margins, something that I don't see happening under current management.
As long as Sears cannot come up with a viable long terms strategy taking into account the changes in its landscape it will continue to require short term expensive solutions which act as a "quick patch." Such a strategy does not create value for shareholders in either the short or the long term.
Disclosure: I have no positions in any stocks mentioned, and no plans to initiate any positions within the next 72 hours.