Google's (NASDAQ:GOOG) mission to organize the world's apparently infinite amount of information is reflected in its name, a play on the word "googol," which is a term for 1 followed by 100 zeros. It's such a large number that the universe does not contain a googol of anything, not even atoms. But there is only one Google, a universally recognized brand with more than 31,000 employees (at September 2011) and offices around the world operating in multiple languages, each language with a new verb, to google. Searching for information with relevance, comprehensiveness, freshness and speed is still at the heart of the business model of Google\; but advertising services is its core revenue earner, backed up by an ever-growing suite of secure and constantly updated enterprise and individual user applications.
Radiating out from the Googleplex, the corporate headquarters in Mountain View, California, Google's tentacles reach into web browsing, mapping, phones, e-mail, messaging, documents, blogging, images, photo sharing, social networking, merchandising, language translation, publishing, newspaper digitizing, music, airline information, library scanning and more. This has partly been achieved through astute and timely acquisitions such as Pyra Labs' Blogger, Applied Semantics to enhance AdSense, Keyhole, the precursor to Google Earth, Writely, which became GoogleDocs, and of course YouTube and DoubleClick.
Does all this innovation translate into revenue and profits? It certainly does. Total revenue for the year ended December 31 2010 was $29.3 billion, an increase of 24% on 2009. Expenses increased by a slightly lower percentage, leading to net income of $8.5 billion ($26.31 per diluted share), more than 30% up on 2009. 96% of revenue was derived from advertising. The remaining 4% is generated by operating systems and platforms (Android, Google Chrome, Google TV and Google Books) and enterprise products like Google Commerce Search and Google Checkout in conjunction with Google Apps (Gmail, Google Docs, Google Calendar &c).
In 2010 $3.8 billion was spent on research & development, and this level of expenditure is expected to continue as Google tries to out-innovate its competition. Such a diverse business model inevitably attracts a wide array of competitors. They include the search engines Yahoo (NASDAQ:YHOO), privately owned Mozilla, and Bing (owned by Microsoft (NASDAQ:MSFT)); e-commerce websites such as Amazon (NASDAQ:AMZN), eBay (NASDAQ:EBAY) and PayPal (also owned by eBay); social networks like Facebook (IPO expected in 2012) and privately-held Twitter; and commercial software companies like Microsoft and Apple (NASDAQ:AAPL), which is of course also a mobile apps and smart phone competitor. Google competes not only for customers and revenue with these companies, but also vies with them in recruiting and retaining technical staff.
Google is apparently planning on competing with Amazon's "Prime" $79/year service by teaming up with major retailers and providing one-day shipping for products purchased after they were found using via Google search.
Google's business is surprisingly seasonal, with a slowdown in Internet usage in the summer months and a traditional spike in commercial business in the fourth quarter of each year, and this needs to be borne in mind when comparing quarterly results. The reliance on advertising for 96% of revenue is inherently risky, since it is a source which is dependent on the ebb and flow of the global financial situation. However, Google appears to have weathered recent financial storms surprisingly well, and it seems for the moment to be surviving the adoption of small screen Internet access which could have seriously threatened its business model. The fact that its revenue and profitability have grown in the face of this challenge may be the result of the company's ability to predict and lead the market rather than follow it. 48% of revenue came from the United States in 2010, 11% from the United Kingdom, and 41% (a growing percentage) from the rest of the world.
Latest results in the current year are from the third quarter, which ended on September 30 2011. Revenue for the nine months to September 30 was $27.3 billion, up 31% when compared with 2010. However, expenses rose by 42%, partly as a result of a $0.5 million charge related to a now completed Department of Justice investigation into the use of Google advertising. Consequently, net income of $7.03 billion was up by only 18% on 2010. Significantly, revenues from 'the rest of the world' jumped to 43% of the total in the nine months, compared with 40% in the comparable 2010 period. This was partly the result of the weaker US dollar. Among recent developments is the news that Google will acquire Motorola Mobility (NYSE:MMI) for $12.5 billion in the near future.
During the October 13 2011 earnings call to discuss Q3 results, CEO Larry Page reflected on the success of the recently launched social network site Google+. One of his remarks was particularly noteworthy, and could be applied to Google's entire business model: 'Our ultimate ambition is to transform the overall Google experience, making it beautifully simple, almost automagical because we understand what you want and can deliver it instantly'. He also emphasized that we are still at the very early stages of what technology can deliver, and made it clear that Google intends to be the provider of the technology of the future.
As advertising transactions continue to shift from offline to online with the evolution of the digital economy, Google appears to be in a position to continue to benefit from the transition. Although the revenue growth rate has declined from the heady early days, the growth is definitely still there. The rate may become increasingly difficult to maintain in the face of increasing competition and the sheer volume of the revenue.
Google's stock has a resistance level around $630, which it has tried to break through three times in the last two years as shown below:
An investor in Google over the last three years tiring of Google's roller coaster stock price may be considering on exiting, but an alternative to consider is a collar. A collar may be entered by selling a call option against an existing or purchase stock and using some of the proceeds for purchasing protection via a put option. A nice feature of some collar positions, is the insurance does not require additional capital to realize, as it can be paid for by the income generated from selling the call option.
Using PowerOptions search tools, a collar was found for Google with a potential return of 2.4% and a maximum potential loss of 4.7%. The time frame for realizing the potential profit is 25 days. The specific call option to sell is the 2012 Jan 640 at $21.20 and the put option to purchase is the 2012 Jan 595 at $6.10. A profit/loss graph for one contract of the collar position is shown below: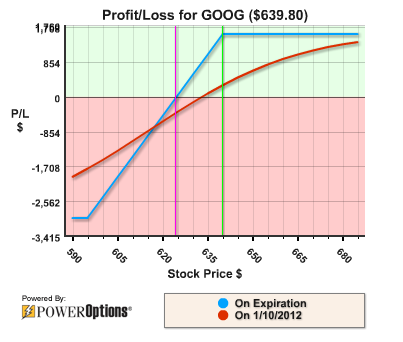 As long as Google sustains its position at the forefront of innovation, whether through internal development or shrewd acquisitions, it will remain a significant player in the technological future of the planet, however its stock price may cause some investors some heart burn which can be somewhat alleviated by a collar position.
Disclosure: I have no positions in any stocks mentioned, and no plans to initiate any positions within the next 72 hours.