With 2012 there are some stocks that looked poised to make a turn into bullish territory. One sector that offers some choice stocks to look at is the Basic Material sector. Here are two stocks that appear ready to break out in 2012 that an investor can research. Both stocks offer opportunity for long term investing or optionable strategies.
Dow Chemical (DOW)
The Dow Chemical Company manufactures and supplies products used as raw materials in the production of customer products and services worldwide. The company offers materials for chemical mechanical planarization pads and slurries, chemical processing aids and intermediates, electronic displays, food and pharmaceutical processing and ingredients, home and personal care ingredients, hygiene and infection control, photolithography materials, printed circuit board materials, process and materials preservation, and semiconductor packaging. It also provides sticking and bonding solutions; insulation, housewrap, sealant, and adhesive products and systems; construction chemical solutions and building-integrated photovoltaics; and as well as supplies various coatings.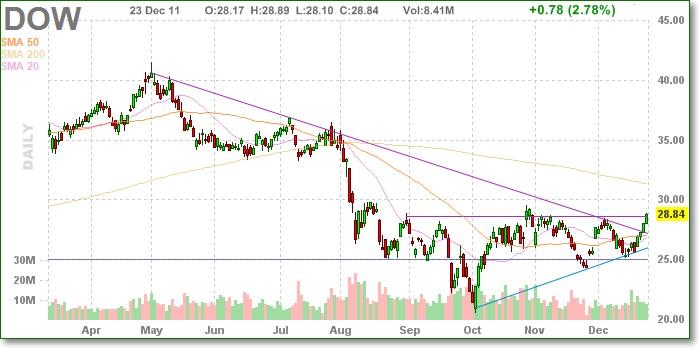 As of this morning, DOW is trading at 28.91. With an Ascending triangle formation in place we have a good opportunity to invest in DOW either the stock or an option position. Analysts have targeted DOW in the median range of 33.50 and a high target of 40. This gives it a good opportunity to move. At the end of a bearish pattern, ascending triangles are considered strong reversal patterns.
One of the ventures DOW has put together to enhance its portfolio of lithium-ion battery components is a joint venture with Ube Industries. Together they will form "Advanced Electrolyte Technologies" that will manufacture electrolytes for lithium-ion battery cell manufacturers. This is expected to help DOW Energy Materials, a division of Dow Chemicals. This division was established in 2010 to develop what they call next-generation battery materials.
Investing in DOW
As DOW is set to grow in 2012, it looks like it is ready to break out on the bullish side and reverse direction. Here are two options: First, invest in the stock now solely. Second, invest in a long term option. A debit spread would be a good strategy at the median price range. Buy a June 2012 call (presently at $1.14) and sell a June 34 (presently at $0.87) for a debit of $.027
Georgia Gulf Corp (GGC)
Georgia Gulf Corporation manufactures and markets chlorovinyl and aromatics chemicals, and vinyl-based building and home improvement products in the United States and internationally. It operates through three segments: Chlorovinyls, Building Products, and Aromatics. The Chlorovinyls segment offers an integrated chain of electrovinyl products, which includes chlorine, caustic soda, ethylene dichloride, vinyl chloride monomer, vinyl resins, vinyl compounds, compound additives, and plasticizers. The Building products segment manufactures window and door profiles, including frames, sashes, trims, and other components; mouldings, sidings, and pipes and pipe fittings. The Aromatics segment offers cumene, and the co-products, phenol and acetone.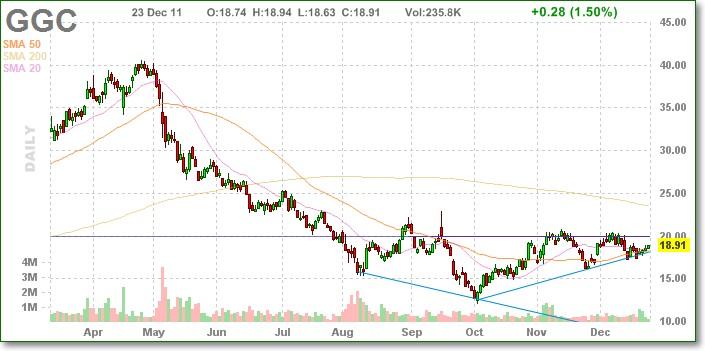 Presently trading at 19.16 GGC is also set for a breakout with this Ascending triangle reversal pattern in place. Analysts have its median target range set for 26.50 so it has plenty of room to move for a profit for the savvy investor.
In a year plagued by near global recession, GGC had an operating income 57% higher in 2011 than in 2010. This is phenomenal news, but they were not immune to the bad economy. With the construction industry lagging, so did its exports into the end of 2011. Its Aromatics segment also had to lower its inventory because of falling benzene and propylene prices this year. But overall, its performance in 2011 increase almost 20% over 2010 and with 2012 around the corner, it is ready to breakout.
Investing in GGC
There are two strategies that we can take with GGC. If we invest in the stock, we have a nice profit level to ride for it just to reach the median forecast. Another strategy using options would be a debit spread using the median price as a reference point. Going into May, buy a May 2012 call (presently at $2.00) then sell a may 25 (presently at $1.35) for a debit of $0.65.