As we move into 2012, there are numerous ETFs out there to study to invest in. Here are two that are preparing for bullish growth in 2012 that are also optionable. These are two good Exchange Trade Funds for investors too take note of. Powershares Water Resources (PHO). The investment seeks results that generally correspond (before fees and expenses) to the price and yield of the Palisades Water Index. The fund normally invests at least 90% of total assets in common stocks and American depositary receipts that comprise the Palisades Water Index.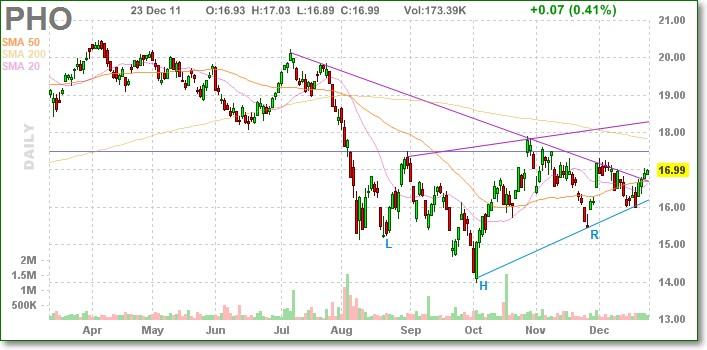 PHO is presently trading at 17.02. How hot is will this ETF be? Willem Buiter is an economist for Citigroup. He believes it will be a commodity hotter than oil real soon. He says that he;
...expects to see in the near future a massive expansion of investment in the water sector, including the production of fresh, clean water from other sources (desalination, purification), storage, shipping and transportation of water.
We do have a symmetrical triangle pattern that could be a continuation or a reversal pattern. But we do have a breakout on the bullish side in this pattern already. One could invest in the stock now or wait and confirm the breakout on increasing volume. If you are interested in options along with (or as an alternative) long term investing in the stock, try buying a February 2012 18 call for $.35.
Shwab Emerging Markets Equity (SCHE) The investment seeks to track as closely as possible, before fees and expenses, the total return of the FTSE All-Emerging Index. The fund invests at least 90% of net assets in stocks that are included in the index. It does not hedge its exposure to foreign currencies. The fund may invest up to 10% of its net assets in securities not included in its index.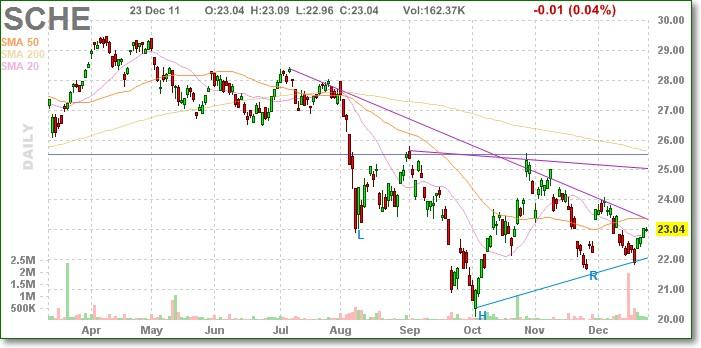 Presently trading at 23.03 SCHE is also rebounding. U.S. News named this ETF its top ranked ETF for the emerging markets. And the outlook is not too bad for 2012. Emerging markets are considered the stabilizing factor for an economy in 2012 that looks to be down in the developed world. This may be a good time to invest in this ETF long term or one can wait until it breaks out above its bullish trend line. When a symmetrical triangular pattern is identified as a reversal, investing in the stock as it breaks through its upper trend line must have higher volume in order to confirm a true break out pattern. So we would wait for this to occur before investing. If one is interested in options, look at buying a January 2012 call option at 24. Presently it is priced at $1.00
Disclosure: I have no positions in any stocks mentioned, and no plans to initiate any positions within the next 72 hours.