Life insurers have been a disappointment this year. In spite of increasing book values, respectable earnings, and carefully crafted presentations covering their hedging programs, share prices have languished. The KBW Insurance ETF (NYSEARCA:KIE) trails the S&P 500 by 12.8% year to date, with most of the underperformance attributable to life insurers. After reviewing their price action for the year, it appears that the biggest driver has been volatility, as measured by the VIX.
Here are three charts: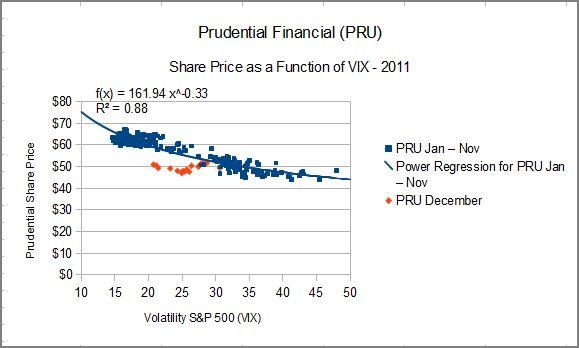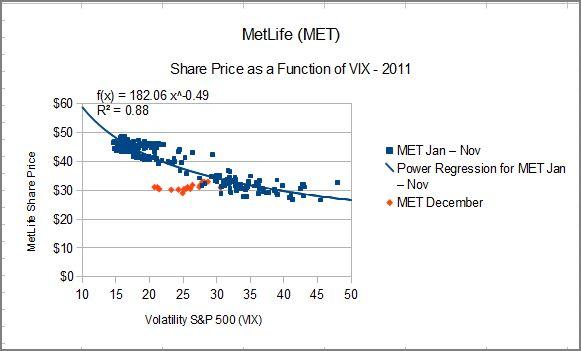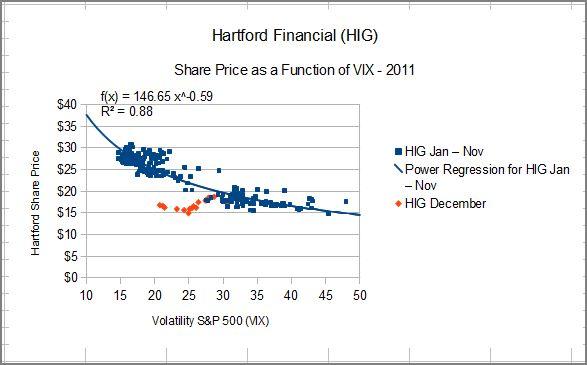 In each case, the company's share price has been plotted against VIX for the year 2011, with the month of December shown separately. The regressions all have R2 of 0.88, demonstrating strong correlation.
Visually, this makes a strong case that these shares are not trading on their fundamentals, but instead are being driven by volatility. Hartford Financial (NYSE:HIG), Prudential Financial (NYSE:PRU), and MetLife (NYSE:MET) are all writers of variable annuities, which makes their results sensitive to the S&P 500, and to the VIX.
The Fundamentals
There has been a multitude of articles pointing out that these stocks are very cheap by all the standard metrics. Here are their valuations:
| | | | |
| --- | --- | --- | --- |
| Metric | HIG | MET | PRU |
| Share Price | 16.80 | 31.10 | 50.92 |
| Book Value | 51.13 | 57.06 | 78.39 |
| Price/Book | 0.33 | 0.55 | 0.65 |
| P/E TTM | 7.81 | 5.88 | 8.02 |
| P/E Forward | 4.99 | 6.16 | 7.28 |
December VIX
Volatility has come down fairly rapidly for the month of December, reflecting seasonal factors combined with some improvement in the perceived outlook for the eurozone debt crisis. Strangely, after tracking the VIX closely all year, the life insurers have not responded as expected, and have not fully participated in recent gains.
A possible explanation is that the decline in VIX is an artifact of seasonal trading, and will revert early in the new year.
What if the VIX Reverts?
Using the regression formulas, it is possible to project share prices based on the level of the VIX. In this case, it has been done using quartiles.
| | | | | |
| --- | --- | --- | --- | --- |
| VIX Quartile | VIX | HIG | MET | PRU |
| Minimum | 9.31 | 39.32 | 61.01 | 77.55 |
| 1st Quartile | 14.62 | 30.13 | 48.91 | 66.82 |
| 2nd Quartile - Median | 19.09 | 25.74 | 42.92 | 61.19 |
| 3rd Quartile | 24.18 | 22.39 | 38.22 | 56.60 |
| 4th Quartile - Maximum | 80.86 | 10.98 | 21.16 | 38.00 |
Other Considerations
Accounting for deferred acquisition costs (DAC) will be changing as of the first of the year, resulting in charges in the 4th quarter. When variable annuities are sold, the sales expenses are capitalized in a DAC asset account, and amortized over the life of the contracts. However, the DAC asset is reduced if expected future earnings decrease. In practice, this has led to fluctuating earnings, since future earnings are dependent on the level of the S&P 500.
Under the new standards, the types of expenses that can be capitalized will be reduced, reducing the existing DAC assets substantially as a one time charge, and reducing future earnings because more expenses will be taken as incurred, rather than being capitalized. It's possible Mr. Market is reacting negatively to the need to write down assets.
To my way of thinking, the early recognition of expenses is conservative accounting and improves the quality of reported earnings going forward. As such, a higher P/E multiple would be warranted.
MET has done a wonderful job hedging itself against the low-interest-rate environment. PRU has had considerable success in making its variable annuity products less sensitive to market extremes, by redesigning them to force policyholders who want guarantees to bear part of the cost by changing their allocations according to a conservative formula. HIG has put their Japanese annuity business in run-off and is hedging it very carefully to ensure that tail risk is contained and controlled within manageable parameters.
Investment Implications
I've formed the impression that these companies have reduced their sensitivity to market fluctuations, and greatly reduced their tail exposures. Life insurers should be able to add value by managing longevity, mortality and investments risks for policyholders, rather than by applying leverage to investment returns. I believe the business is moving in that direction.
That having been said, if VIX declines to somewhere between 15 and 19, and if share prices for MET, PRU and HIG respond to the decreased volatility, I plan to exit my positions.
Disclosure: I am long MET, PRU, HIG.