This information is posted for premium subscribers only. The heavy insider buying has continued at Opko Health (NYSEMKT:OPK) throughout the holidays.
This time, CEO & Chairman Phil Frost has purchased nearly half a million dollars more of the stock as prices have been consolidating in a very tight range since we reported the previous round of buying earlier this month.
Again, presumably the only reason an insider would take their own cash and use it to buy stock of their company in the open market, is that they expect to make money — maybe they find the stock very undervalued, or maybe they see exciting progress within the company, or maybe both.
Here is a glimpse of the latest action.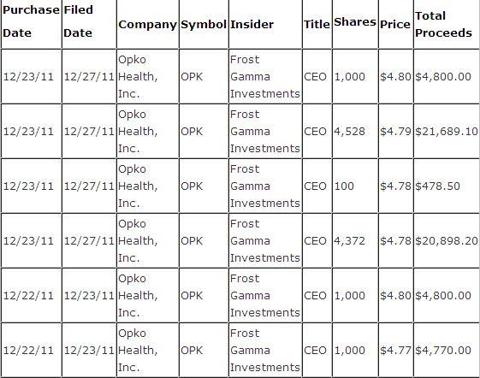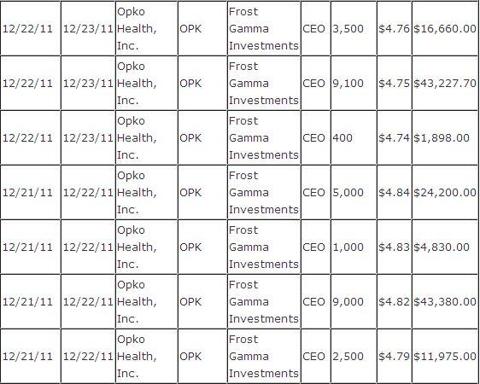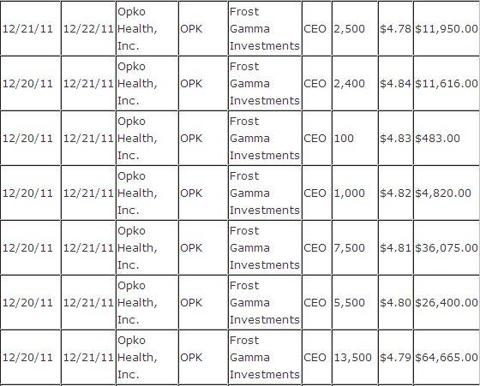 OPKO Health, Inc. is a publicly traded healthcare company involved in the discovery, development and commercialization of pharmaceutical products, vaccines and diagnostic products.
Days ago, the company announced that it has entered into an agreement to acquire FineTech Pharmaceutical Ltd., a profitable Israeli company which develops and produces high value, high potency active pharmaceutical ingredients (APIs). The transaction is expected to close on December 29, 2011. FineTech, established by Arie L. Gutman, Ph.D., possesses proprietary technology and know-how in several important areas of organic synthesis. The company offers a full range of services from paper chemistry and laboratory scale development to pilot scale and commercial production; it is staffed with a team of highly qualified chemists with vast experience in synthetic and analytical chemistry, as well as expertise in multi-step syntheses, new polymorph development, and chiral and prostaglandin chemistry. FineTech's FDA registered facility in Nesher, Israel, is equipped with state-of-the-art laboratory, production and quality control equipment. FineTech's business model has been to develop complex and problematic APIs for sale or license to pharmaceutical companies in the U.S., Canada, Europe and Israel.
"This acquisition is a good strategic fit for OPKO," said Phillip Frost, M.D., OPKO's Chairman and Chief Executive Officer. "FineTech's significant know-how and experience with analytical chemistry and organic syntheses, together with its production capabilities, will play a valuable role in the development of OPKO's pipeline of proprietary peptoids and other molecules for diagnostic and therapeutic products, while providing revenues and profits."
Disclosure: I have no positions in any stocks mentioned, and no plans to initiate any positions within the next 72 hours.