In this article, we'll try to show that the main benefits of the euro are related to the perfection of a single market, and the main cost is the lack of adjustment mechanisms to country-specific shocks and developments. The latter now seem to far outweigh the former.
A little history While the economy was booming, the benefits manifested themselves while there was no need for adjustment (at least not initially). But when the 2008 financial crisis struck, it exposed the area to large unbalances and an urgent need for adjustment. It seemed a good idea at the time; complete the single market by removing a major obstacle to the integration of national markets, the existence of national monies. In the process, the Single Market would become truly single, the price transparency, economies of scale would increase competition, spurring efficiency, innovation and growth. Weak countries would get a one-off shot of credibility for their monetary policy, and would see their exchange risk premiums removed, and the resulting reduction in interest rates would provide an additional boost to their economies. Indeed, that's exactly what happened.
Germany would no longer alone have to bear the brunt of any US dollar weakness, which in the past used to trigger a currency crisis within Europe, with investors fleeing into the German mark, pushing it up and making life hard for the German export machine. It afforded countries like France and Italy to have at least some say in their monetary affairs; previously, they had the proverbial hour of monetary independence after their central banks had to follow Bundesbank interest rate setting or else they would put the link of their currencies to the Deutsche mark as they had previously, before the euro existed. All of this happened, and for a decade or so, the euro seemed like a raving success. With the removal of the exchange rate risk and the one-off shot of credibility in their monetary affairs, peripheral countries experienced an influx of capital. This was supposed to lead their economies to converge with those in the center, so many observers argued it was something beneficial.
The cost of the euro
However, this was not the case.The capital inflows led either to a private (Ireland, Spain) or a public (Greece, to a lesser extent Portugal) debt explosion. Normally, these countries would have had to put up interest rates to cool their economies, but they were not the masters of their own interest rates anymore and had to accept the one-size-fits-all monetary policy of the European Central Bank [ECB]. Equally if not more important, those capital inflows led to a growing loss of competitiveness, for which there are few adjustment mechanisms.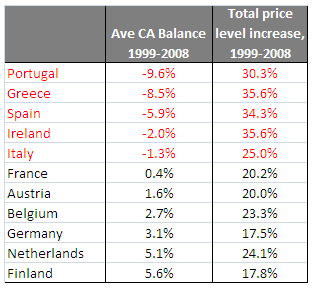 Then, with the 2008 economic crisis, the capital flows stopped, and the real estate bubbles in Spain and Ireland burst, but the decade-long accumulation of competitiveness differences stayed. This created quite different economic conditions in different parts of the European Monetary Union [EMU].
The lack of adjustment mechanisms
In a true currency union, like the US, booming parts automatically generate more tax income for the central budget, and these are automatically redistributed to the parts which are struggling (as these automatically generate less tax revenues and receive more subsidies and welfare pay-outs). But the EU budget (at 2% of GDP) is way too small to serve as such an automatic adjustment mechanism. In the US, people who lose their jobs in a struggling part of the country can move easily to other states where there are more employment opportunities, but in the euro zone, there is little of such labor mobility. Prices and wages are also less flexible, making 'internal' devaluation an extremely painful happening (ask the Greeks, Portuguese, Irish, Spanish, and soon the Italians..). This means that the euro zone doesn't really have working adjustment mechanisms. This means that country specific shocks are a big problem. The implication of that is that the euro zone should be much more homogeneous in terms of economies compared to the US, but the opposite is true. These are separate countries with their own language, culture, traditions and political independence. Basically, the choice for these countries is to become like Germany or experience great problems. But it is pretty difficult for countries to become sufficiently like Germany to minimize economic divergence for which there are no adjustment mechanisms.
The benefits of the euro
Since the euro has now created so many problems for so many countries, it's worth while to revisit the supposed benefits. There are a couple:
It was supposed to complete (or at least be an extension of) the Single Market initiative
It was supposed to lead to convergence in economic performance
The Single Market initiative was one to remove as many cross-border barriers to trade and investment as possible. This is supposed to provide a bigger market, leading to increased competition, which produces economies of scale and scope, and increases efficiencies, leading to faster economic growth. To a considerable degree, this has indeed happened, but one can wonder how essential the monetary union was for achieving these benefits. The removal of exchange rate risk has made cross-border trade and investment easier and cheaper, but there are a couple of caveats. The economic literature has serious doubts whether exchange rate risk functions as an important trade barrier. Here are Marc Auboin and Michele Ruta:
As argued by Taglioni (2002), "it is customarily presumed that the adverse effect of exchange-rate volatility (on trade flows), if it exists, is certainly not large". Two surveys produced by the IMF (1984, 2004), at the request of both the GATT and later the WTO, come to similar conclusions.
So in fact, without the euro, there still is a single market, albeit one that is a little less perfect. With respect to capital flows, one could easily argue that the way the EMU was designed, these capital flows have become perverse. That is, they go in the wrong direction. For ten years, they went from the center to the periphery overheating economies that were already overheating, and leaving them uncompetitive after a decade. Now that the capital flows have reversed, countries with otherwise still manageable public deficits and debts see their savings disappear to the center while these could easily be enough to finance these deficits and debts.
The exodus of Italian, Spanish, Greek, Portuguese savings, bank deposits and investors to the center where they can invest in safer instruments in the same currency has created a self-fulfilling prophesy that leaves the center with an inflow of capital which they don't need and the periphery in a severe slump with no end in sight. This clearly isn't working, especially if one considers that the euro zone as a whole only has a budget deficit of 4% of GDP. Without the euro, there wouldn't really have been a problem. Not even Greece would have been able to get into the mess it is in at present, let alone some of the other countries.
So if cross-border trade flows will only experience a mild setback from abolishing the euro, and capital flows are rather counterproductive, destroying more wealth than they create, what is the point of the euro? Well, abolishing the euro would bring back some of the fun and games we used to have in the form of regular currency crisis. Central bankers would have to lock themselves into some French Chateau on certain weekends to decide new parities for currencies, and decide whether to call it a lira devaluation or a mark revaluation. Like in the good old days. And what would that achieve? Well, the German mark and associated currencies (Dutch guilder, Austrian mark, etc.) would without a doubt be revalued considerably.
While Germany is indeed a sort of pay-master (having put up most funds for several bail-outs, simply because it's the biggest economy), one should not forget that they have benefited enormously from the euro. It would also achieve the goal that the loss of competitiveness in the periphery could be a thing of the past. If they have their own currency, these would surely devalue and restore competitiveness. However, the pressure would be significantly reduced to reform their economies. Devaluation, in a way, is an easy way out, although in this case, it would have to involve introducing a new (or better, re-introducing their old) currency, a daunting task in itself. So they'll muddle through. It's a race between how much the reforms can transform the peripheral economies in little Germanies and thereby restore confidence with investors (reducing yields on government bonds) and the negative effects of austerity (reducing growth and tax receipts).
The latter are still winning, hence increasing yields and capital flight continues unabated, with enormous strain on the European banking system and the ECB. If this self-reinforcing negative spiral continues, we will soon have to chose between: 1) Large scale ECB intervention in bond markets 2) Socialize debt and make EMU a transfer union. Call it an interesting experiment, but terminate it, as it's clearly outlived its usefulness. Continue it with countries that indeed do resemble Germany economically, and have no need for adjustment mechanisms.