I did a lot of taking in 2011. I took money from a group of amazing investors who backed my vision in building Estimize. I took a ton of advice from some brilliant people who will have little to no tangible benefit in my success beyond the relationships they are building with me. I took introductions from people who spent social capital of their own in making those connections for me. I took time and energy from people by asking them to give feedback on what we we are building. I took a great deal of effort and understanding from my friends, family, and team in starting a new company. I took a lot this year.
I gave back as well. My participation in the collaborative consumption ecosystem was a great benefit to more than two dozen cash strapped travelers. I spent a good share of social capital myself making introductions for others, though I always wish I could do more. I shared what knowledge and experience I have the best I could with those who reached out to me for advice. I gave to charity or the less fortunate in several different ways.
But the one way I wish I could have given back more, is in sharing ideas around the market. My participation in the stream and on this blog as it concerns specific trades and investments is a fraction of what it was the previous two years. I'm not sure how often people say that they've had to "sacrifice" giving something back, as in, I feel like I'm losing something myself by not being able to do so. And that's how I know I love sharing this type of information, because it feels like I'm sacrificing something when I'm not able to do it. It feels like I'm losing something, not the other way around.
Giving feels good, especially when you enjoy doing it.
I hope to be able to give more in 2012, especially in this regard. I hope to build back up some of that social capital I spent this year, through sharing on this blog, my stream, and providing the community with a great platform in Estimize.
So to kick it off, here are my 10 favorite stocks heading into 2012. This is not a list of holdings for the full year, nor should it be seen as a holistic portfolio. I have a great deal of conviction in some of these stocks longer term, and some not as much. If you're interested in the strategy that I use to select positions and manage risk, you can hop over to the Surfview Capital web site and read the process and philosophy sections. The following are presented in no specific order.
Under Armour (NYSE:UA)
The next major global sporting apparel brand is Under Armour, and at a $3.8B valuation this story is only getting started. It is doing everything right in expanding the product line while sticking to the core strategy as a company, something not easy for apparel brands at its stage of growth. It continues to innovate in the materials used and is seen by both the market and customers as providing a superior product. You can count me as one of the believers as I wear its compression shorts when I play hockey. It also doesn't have a lot riding on non specialized shoes yet, which in my mind is a positive as the trend in barefoot running expands this year. It would be smart to buy Vibram or come out with its own line of minimalist shoes.
I also like the apparel industry in general right now as consumers are spending money on the little things, not the big things. Better sports equipment is something people can afford, and they are willing to pay up for quality.
The stock trades at 42X earnings, but at 40+% year-over-year revenue growth that's a number it can easily maintain. Profit margins are still expanding and should for quite some time as Under Armour benefits from scale and lower fabric costs recently.
The Q3 earnings report beat the street by a wide margin and produced a big move in the stock. The market still doesn't understand this brand and how strong it is, producing a huge opportunity.
I wouldn't own the stock under $63 but odds are it doesn't get back down to support at that level in the near future anyway. The stock should give you some time to build a position between here and $85, it isn't going anywhere in a hurry, but longer term it's giving you a great entry point. Technically we could be seeing a real nice inverted head and shoulders, similar to many good setups right now. UA is also finding good support at the 200 day. I also like the volume profile a lot, the big institutions are still building their positions.
(Click charts to expand)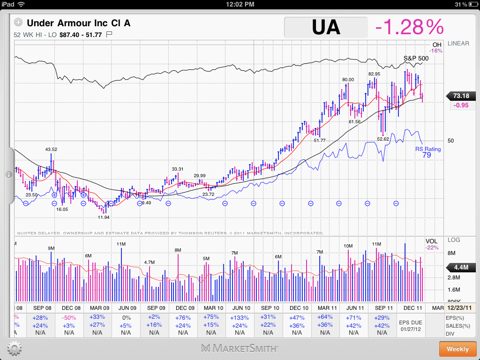 Click to enlarge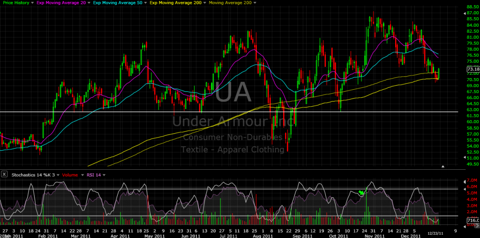 Liveperson (NASDAQ:LPSN)
RNOW and Assistly were taken out in this space recently and LPSN isn't far behind. The stock is going to be bid up not only on the back of its fundamentals but the general trend in customer relationship management. Properly interacting with your customers is the new advertising as social word of mouth is far stronger for a brand than any TV commercial. This company has just started to turn the revenue stream on, now growing at over 20% YOY.
At a $690M valuation, I can see a takeout happening at around $1B. Before then, look for the stock to run out of its weekly consolidation pattern.
Your stop is $11.50, I would be building a position here and adding aggressively above $13.50.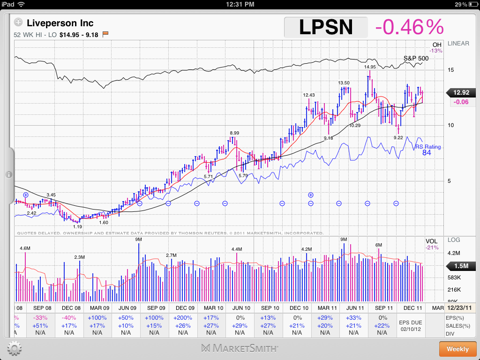 Click to enlarge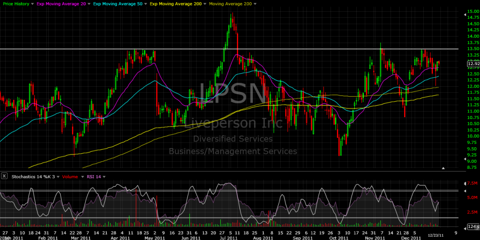 Ceva (NASDAQ:CEVA)
This semiconductor company has been on my radar for quite some time after the run it had in 2010. The company had some very difficult comps to beat in 2011. which stalled the stock. My belief is that 2012 gets this one going again in a big way. It is growing revenue at about 40% YOY, and at 32X earnings this one has a lot of room to grow with some multiple expansion to boot.
I like it right here as it's broken a short-term downtrend and found support at the 200 day moving average. It may take a little while to get this stock moving above its trading range, but building a position here with a stop below $26 looks like a smart play. I would be aggressively adding on high volume moves above $32.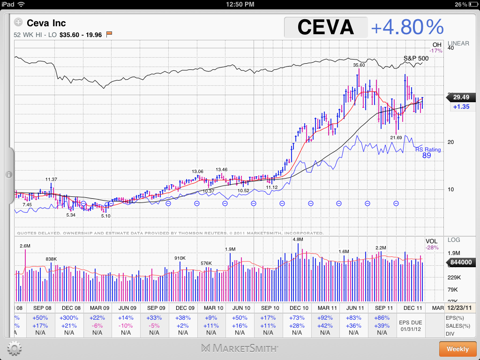 Click to enlarge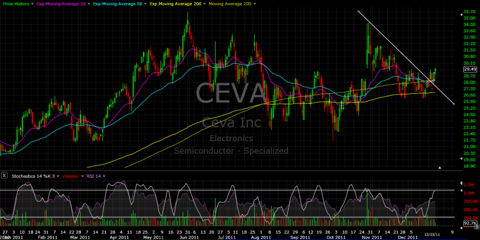 MasterCard (NYSE:MA)
What can you say about MasterCard that hasn't been said. The financial sector is a mess and capital is flowing into the payments industry largely because money has to go somewhere and this is the only piece of growth to be had. I like Visa (NYSE:V) as well but MasterCard looks better positioned in mobile payments with the partnerships they've made. Mobile payments are going to be huge, and MasterCard is at the center of this revolution.
The stock has been trading in a beautiful channel for almost a year now. Look to buy it on dips to the 50-day moving average and keep a keen eye for a few large distribution candles. The stock isn't expensive, but just remember, this is a play on asset flow into the stock due to the rest of the sector being crap. If for some reason the financials turn around here, you could see MA underperform. I don't see that taking place, but it's something to look out for.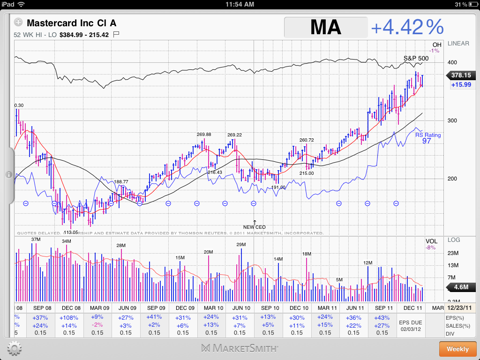 Click to enlarge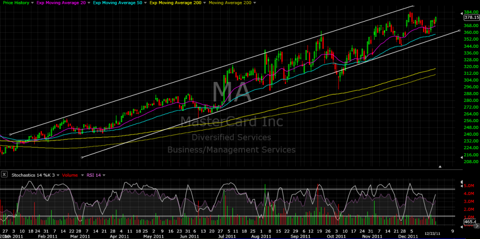 Newpark Resources (NYSE:NR)
Oil has been strong and many other energy names are running, but I've always liked the energy service space better than the producers, the stocks trade cleaner and are not as correlated to the movement of crude.
While the stock has gone nowhere for a year and a half now, underneath the covers the company is executing flawlessly. It trades at just 12X earnings making this seriously cheap.
Back out to the monthly chart and you'll also see that the stock is pushing up against a major long term resistance level. I believe it's about to break through and go on a tear.
Build your position here and add very aggressively above $10. Big institutions are coming after this stock, evident in the volume profile. You can call the pattern a cup and handle, you can call it whatever you want, it's bullish and so am I.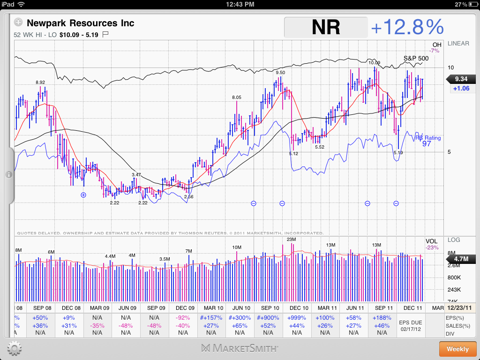 Click to enlarge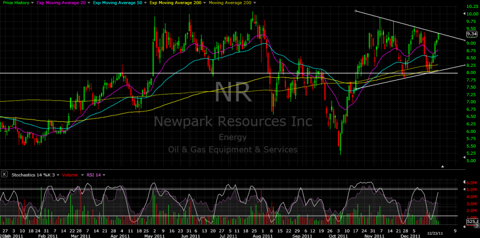 Sourcefire (NASDAQ:FIRE)
Internet security is a huge theme of mine for 2012 and Sourcefire is at the center of it. Warefare is moving online, between both countries and corporations. This trend is not necessarily about the profits that security companies are going to make, but more about asset flow into this space as we're going to see more m&a activity here and a lot of publicity.
I love the longer-term pattern as the stock has been in consolidation for about two years and is now breaking out on big volume. Buy it here aggressively as this stock is going to move quickly. Also keep an eye on the rest of the group, Allot Communications (NASDAQ:ALLT), Check Point Software (NASDAQ:CHKP), Fortinet (NASDAQ:FTNT) and newcomer Imperva (NYSE:IMPV), this year as I believe we're going to see major volatility from the group as a whole.
Use $29 as your stop and buy it off the 50 day moving average.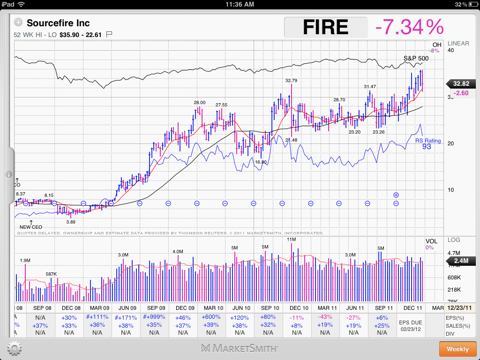 Click to enlarge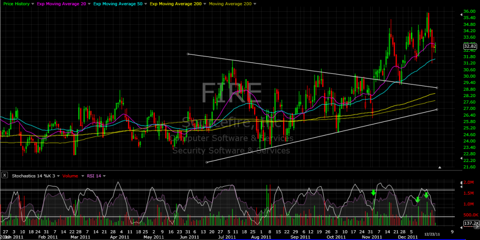 On Assignment (NASDAQ:ASGN)
This is an interesting and lesser known name in the staffing industry. At a 430M valuation and only 22X earnings this stock is just getting started.
Revenue growth is really starting to ramp here as companies want to test before they hire permanently. This is the new paradigm in human resources. This company is also in exactly the right space, healthcare which is growing quickly. I don't see overall employment numbers improving, but companies like On Assignment are going to clean up in this environment.
The pattern here couldn't look any better. A beautiful inverse head and shoulders has just been confirmed on high volume. The stock has broken through its neckline and is a buy right here aggressively. Use $9.50 as your stop.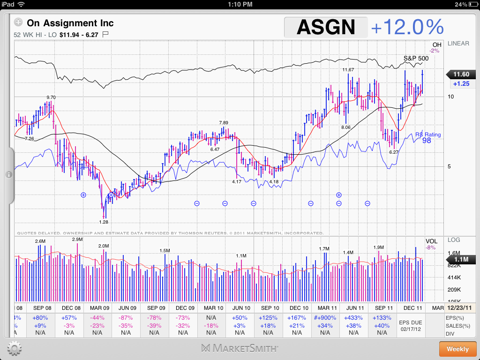 Click to enlarge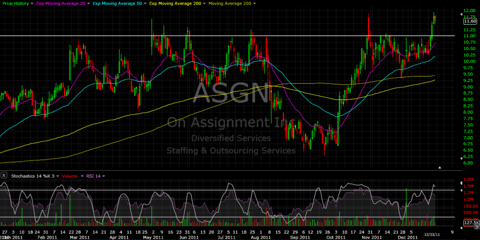 Wabtec (NYSE:WAB)
I like the transport sector, especially rail, but many of the names are just a bit slow for me. Wabtec takes advantage of the trend in more rail traffic due to higher fuel prices and has a lot of growth left in the tank. I like Wabtec's business, selling parts to the rail industry, making everything more efficient. Growth is solid here and we're just at the beginning of this cycle for the company.
The pattern is even better as we've seen great consolidation up near the highs for the past 8 weeks. Another inverse head and shoulders pattern and I'm a buyer here and aggressive buyer on a high volume break of the pattern.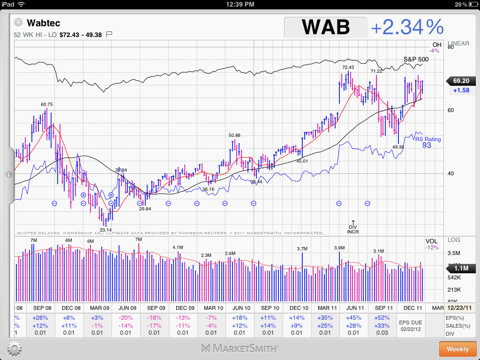 Click to enlarge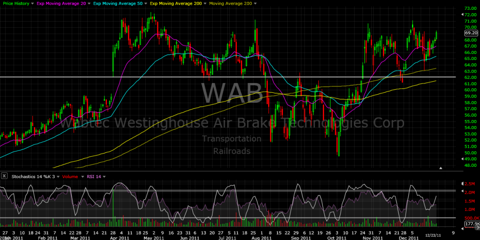 Healthstream (NASDAQ:HSTM)
Healthstream is the most speculative of the 10, but I love the story here. Healthcare 2.0 is going to be a huge trend in 2012 and this company is positioned very well to take advantage of the asset flow. Web based training for healthcare professionals is this company's bread and butter, so you get two great trends, online education and healthcare. This company is also going to benefit from large valuations for private venture backed healthcare 2.0 firms. A lot of venture money is flowing into this space, so consider it the TravelZoo of 2012.
The stock has moved quite a bit already but still provides a good short term entry here on a nice flag. The longer term buy point was back at the end of October, but if this company is the winner I believe it will be, you'll look back on the $4 between there and here and laugh. It's a 480M company trading at 60X earnings and growing quickly.
And most of all, I love the volume profile. Big institutions are leaving their mark on this stock, they are coming after it hard. This is what you want to see from young companies in emerging spaces. Just be quick to bail if the technicals here fall apart, this is a speculative name.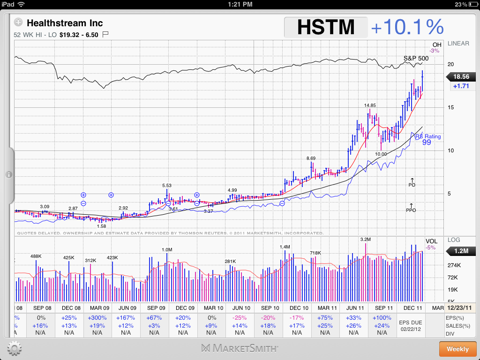 Click to enlarge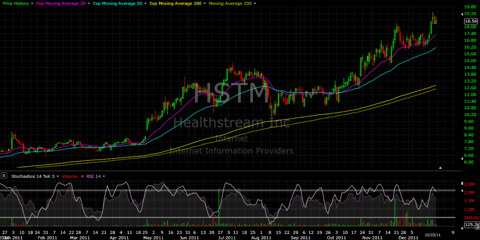 International Business Machines (NYSE:IBM)
Last but certainly not least, I still love IBM after pounding the table for over a year and a half on this name. IBM is a cruise ship for sure, and it takes a while to get these stocks moving, but boy is it moving now. IBM is innovating at a monstrous pace and scale with both Watson and the chip that acts like a human brain. The company is at the center of the big data trend and is going to capitalize on the information revolution better than anyone.
The area between $174 and $178 is support and I'd be a buyer above the low end of that range.
Look for growth to surge past 15% YOY in the second half, but the short-term picture could get a little hairy with the trouble Oracle (NASDAQ:ORCL) had in the 4th quarter. Either way, the stock is a buy especially at only 14X earnings. Bid data is a high margin business.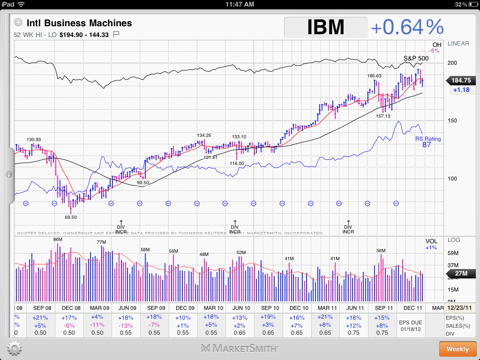 Click to enlarge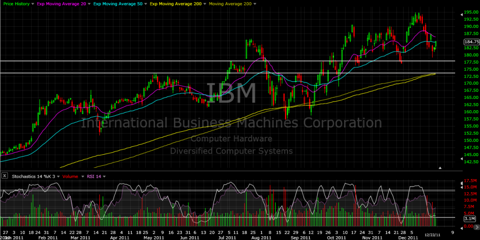 I also want to throw out one big short idea, Strayer Education (NASDAQ:STRA). I have been a bear on this company and this stock since the $170s, and you know what, it's going to $20. This company is a flat-out fraud. I've done the research and spoken to people who have extremely detailed knowledge of just how bad it is over there, how much fraud they are committing. It's bad.
Over the past few months STRA has worked off some oversold technical readings and is set for its next move to the downside. In order to get this stock to $20 we're going to need some movement from the government on student loans, which may or may not happen this year, but believe me, as budgets get slashed it's coming. Either way, the threat of regulatory action regarding the fraud this company is committing will take the stock lower in the mean time.
If you aren't willing to be directly exposed to how dumb our government can be at times, use STRA as the short side of a pair trade and get long Apollo (NASDAQ:APOL), the least bad of the group. Or, buy some STRA leaps, lock them in a closet for the next year and a half and forget about it.
Remember, without a broader market trading above its rising 50-day moving average and above the 200-day, none of these positions should be heavily entered. 60% of any stock's movement is determined by the broader market, buying strong stocks in a weak market is a recipe for disaster. The market as a whole still has a lot to prove before a large amount of exposure can be placed on these positions.
That said, while I've been bearish to neutral on the market for the past seven months, the market seems to be getting its act together a bit here. Going into the new year we could see some good opportunities in these names, and many others.
I wish everyone a happy, healthy, and prosperous new year.