Since the financial markets begin their collapse in late 2008, one industry in particular has been beaten to a pulp. Many of the largest players in the industry have seen their market capitalizations cut by 70, 80 even 95%. With 2011 coming to a close, and hopes for a rejuvenated 2012 abounding, will the shipping industry lead the market higher?
Market indicators have been mixed in forecasting signs of recovery. The consensus GDP estimate has the U.S. growing at a rate of approximately 1.8%,slightly slower than previous estimates of 2.0%. More importantly however, employment is beginning to pick up with continuing claims and initial claims both falling over the past several months. Capacity utilization, having grown month over month from July through October with a small downtick in November, is another positive sign for the economy and the shipping industry in particular.
While the outlook will remain hazy, the best method for successful investing is to find those companies that are selling at discounts to the present value of their future earnings. It would make sense that a company that is projected to earn $10/share, in today's dollars, over the next 5 years, should be valued at a minimum of this cash flow. The method I use is as follows:
Determine the forwards 5 years' worth of earnings based upon analyst growth consensus. Once the forwards earnings are calculated, they need to be discounted relative to today's dollars. After all, $5 in 5 years, is not the same as $5 from now. (This is a discounted cash flow model for those of you familiar with the method of valuation.) For myself, I know I can make a return of 10% with moderate risk and so I'll use this rate as the discount rate.
Once we have the value of the 5 year forwards earnings, this will then be divided into the current price to obtain a multiple that the company is trading at. Any multiple below 1 would indicate then that a company is trading below "intrinsic" value.
Going through the shipping industry, their are numerous companies that exhibit price to 5 year earnings ratios below 1 which may indicate that investments in these companies may in fact be strong investments for 2012. Below is a list of companies and how they are trading relative to their 5 year forwards earnings.
Shipping Industry Price to 5 Year Forward Earnings Ratios
| | | | |
| --- | --- | --- | --- |
| Company | Current Price | NPV 5 Year Forward Earnings | Price to 5 Year Forward Earnings Multiple |
| DryShips Inc. (NASDAQ:DRYS) | 2.09 | $2.27 | 0.91722 |
| Diana Shipping (NYSE:DSX) | 7.75 | $2.62 | 2.94978 |
| Navios Maritime Holdings (NYSE:NM) | 3.64 | $3.32 | 1.09444 |
| Safe Bulkers (NYSE:SB) | 6.03 | $6.84 | 0.87983 |
Note: For all companies listed above, analyst estimates were obtained through Finviz.com.
As visible by the chart above, two companies could be deemed highly under valued. The first, DryShips, has fallen 98% from its all-time high however garners much support from industry analysts who have a consensus price target of 5.10 on the stock, which is equivalent to a 140% increase in share value. If you are looking for a cheap way to gain long term exposure, consider the January 2013 2.5 strike Calls trading for 0.46/contract or the January 2014 Call options which trade for 0.55/contract at the 3 strike.
The second potentially undervalued company is Safe Bulkers. The company has maintained a dividend despite seeing the stock price tumble 67% since its high in 2009. What may ultimately choke Safe Bulkers is the large debt that the company carries, which is equivalent to 1.4 times the companies total equity. While this debt has been used to expand fleet size and lower the average age of the fleet, the company will need to see shipping rates rebound to continue making dividend payments.
Diana Shipping and Navios Maritime on the other hand trade at a premium to their 5 year forward earnings. This may not be unwarranted however as both companies operate 8 and 10 capesize vessels respectively, more than either DRYS or SB, and the Capesize vessels have begun a rebound in shipping rates which is promising for all the shipping companies. Shipping rates for the Handysize and Panamax vessels have yet to show any change in price trend. Below I've included charts for shipping rates of the three vessel types, courtesy of InvestmentTools.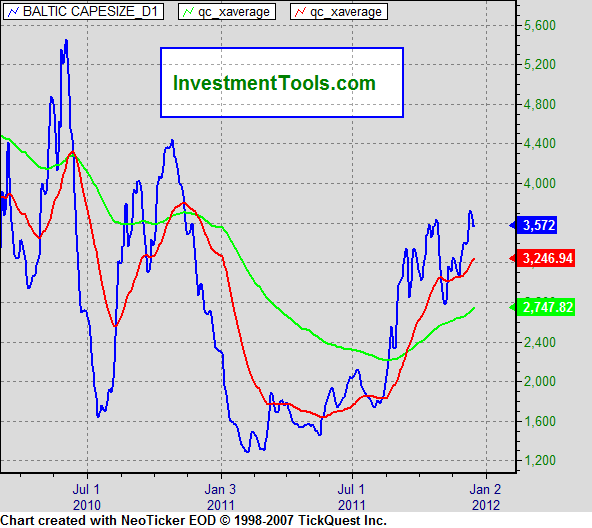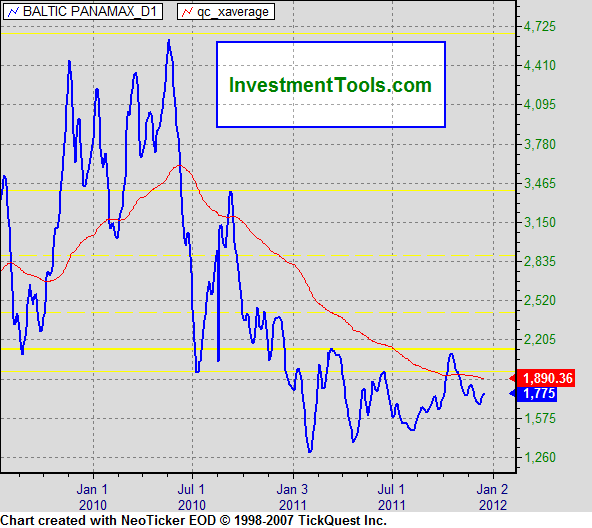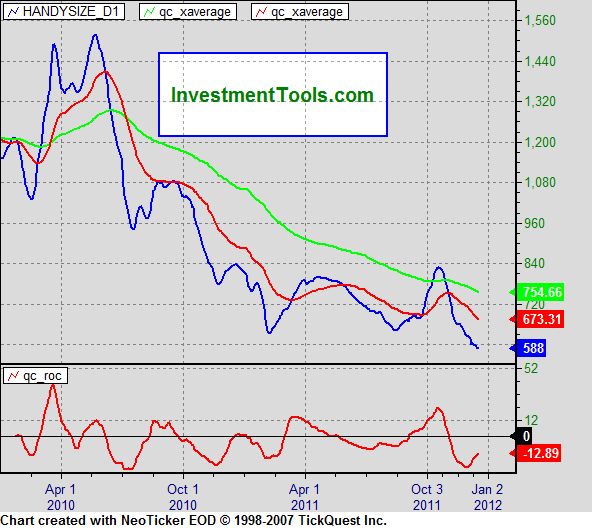 If you believe in a strong rebound in manufacturing and the economy as a whole, then being long the shipping industry is certainly a wise position to be in. While there is no certainty in the market, at these valuations, it would be difficult to see some of these companies trade any lower. My recommendation is to be long both DRYS. I like DRYS because of its former position as an industry leader and the potential for a rebound in Capesize shipping rates.
I would prefer Safe Bulkers if they decided to cut their dividend and lower their debt load. While interest rates may be at very depressed levels, to me it is irresponsible of the management to deliver a dividend when it still has creditors to pay.
The management over at Diana Shipping has been wise in waiting to expand their debt load which gives the company some leverage in the near future in terms of acquisition or fleet expansion.
Navios Maritime also looks like a safe choice, though similar to Safe Bulkers, they may be better off eliminating their dividend and paying off some of their debt load. Navios is also significantly undervalued in regards to book value, which has the company valued around 10.27/share.
Disclosure: I have no positions in any stocks mentioned, but may initiate a long position in NM, DRYS, SB over the next 72 hours.