For many investors, 2011 will be remembered as a year of white-knuckle volatility. This year, the S&P 500 experienced one-day swings in value of greater than 2 percent on almost 15 percent of trading days, compared to less than 9 percent of trading days in 2010.
Amid such volatility and uncertainty, making one-year predictions about the economy and markets is a fraught enterprise. The dynamic and ever-changing market quickly humbles stubborn investors who refuse to adapt. Nevertheless, all investors should establish their basic expectations for the year ahead and devise a broad strategy for their portfolios.
The US economy enters 2012 with momentum. Initial claims for unemployment benefits dropped to near post-recession lows in December, indicating that the labor market is slowly improving.
A better unemployment picture and lower energy prices have supported a modest recovery in retail spending. This momentum is likely to carry into early 2012; first-half growth should come in near the top end of my forecast range of 2 percent to 3 percent (see below):
Click to enlarge.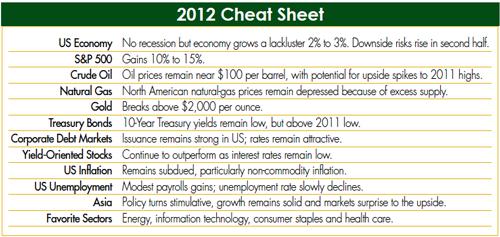 Click to enlarge
The second half of 2012 worries me. The economy in 2013 will slam into a wall of new taxes if the federal government fails to pass legislation to delay or cancel planned tax hikes (see below).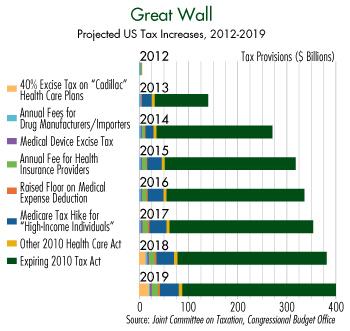 A compromise extending the George W. Bush-era tax cuts or postponing planned tax increases related to the Patient Protection and Affordable Care Act looks highly unlikely. As I stated in The Politics of Uncertainty, the future of US tax policy will be a major issue when the presidential election cycle heats up next summer. I expect the economy to slow significantly in the second half of 2012.
Normally, the stock market loosely follows the economy. But in 2011, global markets were driven primarily by politics -- the high-profile US debt-ceiling debate this summer and the EU's ongoing struggles to address the continent's sovereign debt crisis.
These uncertainties complicate our 2012 outlook. Based on corporate earnings and economic fundamentals, the S&P 500 should rally by 10 percent to 15 percent next year. But continued uncertainty in Europe and a contentious US election will result in significant volatility.
Europe's economy should muddle along while the EU slowly introduces measures to reduce borrowing costs for Italy and Spain. The European Central Bank will ultimately accede to market demands and purchase European sovereign debt in larger quantities.
Asia and the emerging markets are a wild card. Although growth in these regions is likely to slow in the first part of the year, China and other countries may reinvigorate their economies with substantial fiscal and monetary stimulus measures. Given this outlook, my favorite sectors for 2011 are energy, information technology, consumer staples and health care.
Disclosure: I have no positions in any stocks mentioned, and no plans to initiate any positions within the next 72 hours.