With the European problems still lingering into year 2012, the market has been discounting solid companies with robust earnings growth. If one wholeheartedly believes in a particular company's fundamentals and growth prospects, then covered call option strategies could help one weather the volatility storm caused by Portugal, Italy, Ireland, Greece and Spain. The following are some discounted value stocks and an ETF that have upside potential in the next year: Haliburton (NYSE:HAL), Home Depot (NYSE:HD), General Motors (NYSE:GM), United States Oil (NYSEARCA:USO), Amgen Inc. (NASDAQ:AMGN), Vodafone Group Plc. (NASDAQ:VOD) and Wynn Resorts Limited (NASDAQ:WYNN). Before you dive into the options chart below, there are few important items that should be stressed.
It is imperative when comparing option premiums to realize that on a per-day basis, the shorter term options are more expensive despite the fact that the nominal dollar amount is lower. This is not always the case, due to theoretical pricing and implied volatility is constantly changing.
Even though shorter term maturities are often picked by option sellers so there will be less time to be wrong, at times, it is also warranted to pick longer term maturities as well.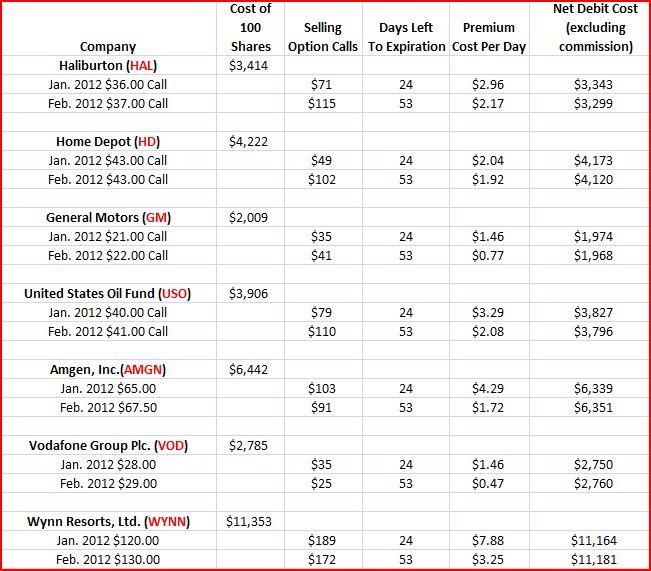 Click to enlarge Disclosure: I am long USO.