High-risk, high-reward investors looking for an investment opportunity should consider Nestragel from Antares (AIS). The company offers a new product with unlimited potential to generate long-term revenue.
Nestragel is an alternative to currently available contraceptives. Unlike the pills and patches that are currently favored, Nestrogel is an innovative topical gel which is delivered by a single dose applied directly to the skin daily. Dr. Paul Wotten, the CEO of Antares Pharma explained that the gel "will enable women to utilize contraception by incorporating into their normal morning hygienic routine and schedule."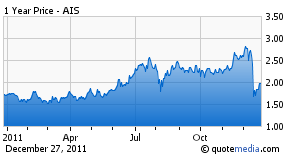 The new method of delivery isn't the only groundbreaking claim that Nestragel brings to the market. Traditional oral contraceptives and their transdermal patch counterparts carry significant health risks for the patients who rely on them. Johnson & Johnson's (NYSE:JNJ) Ortho Evra birth control patch has recently come under scrutiny by the FDA for possibly causing serious blood clotting in some women who use this patch as their birth control choice.
The fundamental difference between Nestragel and oral pills or transdermal patches is that Nestragel uses Nestorone and Estrogen which act as a natural barrier by preventing the ovaries' release of an egg during the menstrual cycle. Most pills and patches use Drospirenone, a synthetic drug that may be implicated as the root cause for blood clotting.
Phase II testing of Nestragel was promising. The 17 trial participants used the product for six months with no adverse effects. The efficacy in the trial was 100%; none of the participants ovulated while using Nestrogel. Phase III clinical trials of Nestragel are currently pending.

It is likely that Nestragel will be approved by the FDA within the next 5 years. It has the potential to be a revolutionary drug that makes the current PPS of Antares an extremely attractive investment. Antares has the potential to become a three to five billion market cap company in the next five years should Nestragel continue to be shown as safe and effective over the long term. It is likely, however, that Antares will become a buyout target for a much larger pharmaceutical company.
Some investors might shy away from pharmaceuticals for fear of losses that could result from poor management. This fear was realized in the progression of Dendreon (NASDAQ:DNDN). Provenge, Dendreon's FDA-approved treatment for prostate cancer, was highly speculative. Its speculation drove the company's stock from three dollars a share to over 54 dollars a share before it crashed to below ten dollars a share as a result of poor management.
Fortunately, Antares Pharma doesn't appear to be at risk of a similar fate. At this time, the company has no debt, 32 million USD cash on hand, a low cash burn, and excellent management that displays a clear, concise, and disciplined vision for the company's future. Once the progress on Phase III studies are released, Nestragel's speculative value will increase tremendously which could result in a run similar to that seen with Dendreon. The potential for Antares, however, is even greater. The market for contraceptives is vast and lucrative.
The future for Antares appears promising, and the current price of the stock presents a golden opportunity for an investor. The stock recently took a downturn and fell below two dollars a share as a result of Biosante's (BPAX) poor Phase II Libigel efficacy results. Antares produced Libigel for Biosante at no cost to Antares. For investors with high risk/reward tolerance who are willing to buy and hold for the long term, Antares Pharma may be an excellent opportunity.
Disclosure: I am long AIS.