The market has been so volatile lately that it is has been hard to pull the trigger on an investment. What can you do in this situation? One solution is to look at great growers in a secular growth industry. One such industry is the oil well services industry. Recent technological breakthroughs now allow oil and natural gas recovery from a plethora of new fields that had heretofore been commercially non-viable.
Not only do the oil well services companies have to grow to be able to provide for the huge growth in the new fields, but the number of fields is growing too. I have been talking about the US, but other countries such as Argentina with huge shale fields will need high tech services too. It is unlikely that they will manage to supply all the high technology equipment or the technological expertise themselves. They will want to make good use of US oil well services. There are many other countries, and there are many areas which are so far undefined. All of these will provide huge opportunities for growth.
Further, the oil well services companies cannot even keep up with the growth in the US oil shale fields, which are more profitable than natural gas development at this time. When you realize that the natural gas development is forecast to grow three times as fast as the oil industry over the next 20 years (BP Energy Outlook), you realize that you are only now seeing the tip of the iceberg in the oil well services long term growth prospects. This all means that small, fast growers in the industry are likely to keep growing quickly for many years into the future. It means that you can still invest in these companies even in this turbulent market.
Any or all of their stock prices could go down in the near term due mostly to economic problems in foreign countries. However, in the longer term their growth rates are likely to stay high or even rise. This means you can invest for the longer term in these companies with good confidence in a great long term result. The chart below (from Halliburton (NYSE:HAL)) shows some of the estimated natural gas resources by country. You can glean from this the likely huge amount of future work available in oil well services.
click to enlarge

Mitcham Industries Inc. (NASDAQ:MIND) is one of these high growth companies. Through its subsidiaries it engages in the leasing, manufacture, sale, and servicing of seismic equipment to the oil and natural gas industry worldwide. This includes both land and marine seismic equipment. MIND leases and sells geophysical and other equipment used by contractors to perform seismic data acquisition surveys (land and marine).
Its land equipment lease pool includes seismic recording land channels, geophones and cables, and other peripheral equipment. Its marine equipment lease pool comprises streamers, air compressors, air guns, streamer positioning equipment, energy source controllers, and other equipment. This includes a GPS tracking system to provide precise positioning of seismic sources and streamers (Mitcham Industries Inc.). Good seismic equipment and expertise certainly sounds like a growth industry for the future.
The current fundamentals confirm this growth in the present. MIND trades at a P/E of 16.58, and an FPE of 9.83. It has almost no debt (debt/capital = 4.19%). It's revenue growth in the most recent quarter was 40.29%. It is forecast to grow EPS at 417.60% for FY2011, 34.10% for FY2012, and 15.00% per annum over the next 5 years. With this market expecting an EU recession, the analysts have significantly raised both the EPS estimate for FY2011 and that for FY2012 over the last three months. These estimates have been raised 28% and 15% respectively. This sounds extremely promising, especially given the longer term fundamentals.
The two year chart of MIND provides some technical trading direction (see below).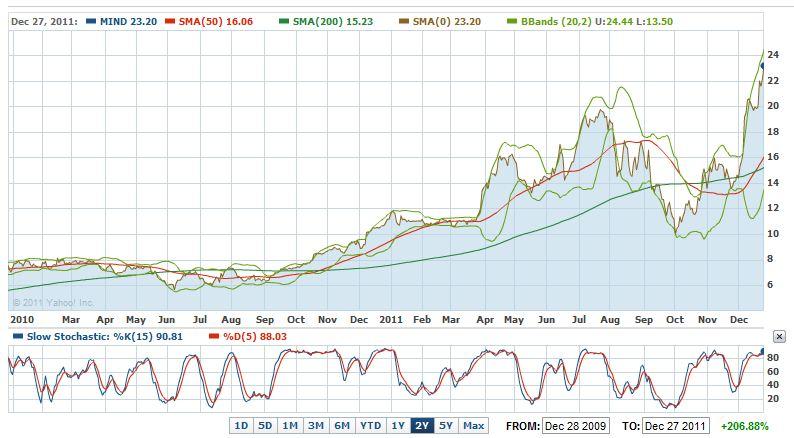 The slow stochastic sub chart shows that MIND is over bought in the near term. It is also far above its 50-day SMA and its 200-day SMA. This indicates that the stock can most likely be purchased for a better price by waiting a small amount of time. Given the way the overall market has been cycling up and down over the last few months, this possibility seems even more likely. The current price is $23.20. There is good support at approximately $20. There is stronger support at approximately $16. I would tend to start averaging in at $20 per share. This risks missing a good buying opportunity, but there will be many others. It is much better to avoid a possible large near term move downward than it is to buy in haste at an over bought state. The recent Q3 report beat by 136.40%. The stock has been rallying ever since. This rally is bound to wane soon. Then you can buy on a good dip.
Other small and micro cap stocks that largely fit this same description with great long term five year EPS growth per annum forecasts are: C & J Energy Service Inc. (NYSE:CJES) = 20%/year, Flotek Industries Inc. (NYSE:FTK) = 18.00%/year, and Newpark Resources Inc. (NYSE:NR) = 11.00%. All have good growth, but perhaps as importantly all have had their FY2011 and FY2012 EPS estimates raised significantly by analysts in the last 90 days. This has happened in a tough market, when most other stocks were having their estimates lowered. All beat estimates for Q3 significantly. All have revenue growth forecasts for FY2012 of over 15%. CJES has a revenue growth estimate of 54.80% for FY2012. It is easier to grow earnings under such circumstances. All of these are likely worth looking at.
Good Luck Trading.
Disclosure: I have no positions in any stocks mentioned, and no plans to initiate any positions within the next 72 hours.