With literally thousands of stocks for investors to sift through, here are two that have had strong bullish tendencies through the second half of 2011 and should continue into 2012. Both these stocks are optionable and offer either an opportunity for long term investment or sorter term option investing.
Oxford Industries (OXM) Oxford Industries, Inc. engages in designing, sourcing, and marketing apparel products primarily in the United States and the United Kingdom. The company's apparel products comprise a portfolio of company-owned lifestyle brands, as well as company-owned and licensed brands of tailored clothing and golf apparel. Its owned and licensed brands include Tommy Bahama, Lilly Pulitzer, Ben Sherman, Billy London, Oxford Golf, Nickelson and Arnold Brant. The company also holds licenses to produce and sell various categories of apparel products under the Kenneth Cole, Dockers, and Geoffrey Beene brand names.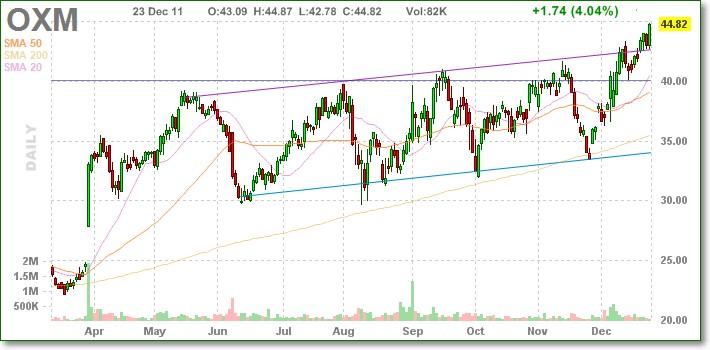 Presently trading at 45.71, OXM continues to move up on a breakout from its bullish channel. With a high target of 49, Analysts give OXM another 10% movement. A high class apparel manufacturer, OXM just purchased Sugartown Worldwide which owns the Lilly Pulitzer apparel brand. This popular brand features bright colored clothing for women ans children in a relaxed style. With this addition and the surge in stock, it is ripe to invest in and should continue its climb well into 2012. If you are interested in looking at options instead (or with stocks), try buying an April 2012 50 call (presently trading at $3.20). With the continued surge, one will have the choice to resell the option at a later date in 2012 as it increases in value.
NiSource Inc (NI) NiSource Inc, is an energy holding company, and through its subsidiaries, provides natural gas, electricity, and other products and services. It operates in three segments: Gas Distribution Operations, Gas Transmission and Storage Operations, and Electric Operations. The Gas Distribution Operations segment provides natural gas service and transportation to residential, commercial, and industrial customers. As of December 31, 2010, it owned and operated a total of 58,608 miles of pipelines and certain related facilities. This segment serves approximately 3.3 million customers in Ohio, Pennsylvania, Virginia, Kentucky, Maryland, Indiana, and Massachusetts.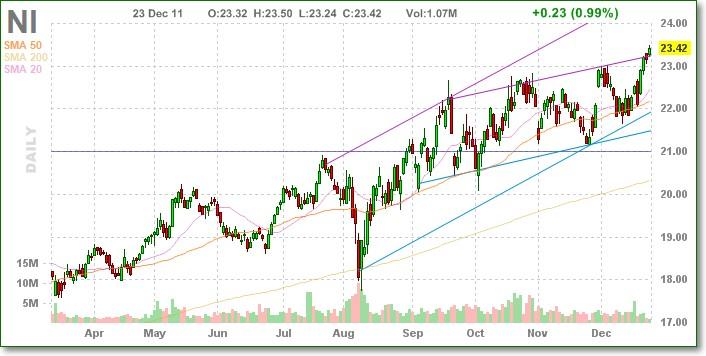 NI is presently trading at 23.66. Having broken through its bullish upper resistance trend line, NI might be a stock worth investing in right now with the ability to bring in a 10% growth rate by late winter of 2012. With an "investment-driven growth strategy," it is investing $1 billion from the Gulf Coast through the Midwest and into New England-- counting on growth through 2012. Ni should be a good investment on the next dip that comes in about the 24 level if it continues in its present pattern. A good investment for option hunters may be a February 2012 25 call presently selling for $.30. We expect the stock to continue its move up, and holding on to the option may offer a nice resale value in the next 30 days.
Disclosure: I have no positions in any stocks mentioned, and no plans to initiate any positions within the next 72 hours.