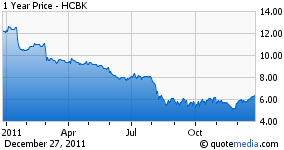 Several weeks ago I wrote about and recommended Hudson City Bancorp (NASDAQ:HCBK), so I figure it is a good time for a little update. On December 16th, HCBK announced that the company had extinguished $4.3 billion worth of structured putable borrowings as part of the balance sheet restructuring that was announced earlier this year. These borrowings had a weighted-average cost of 4.21% and the extinguishment was funded using the company's existing cash.
Although the extinguishments will most likely result in a loss for the 4Q 2011 due to an after-tax charge of around $441 million, net interest margin for the first quarter of 2012 will increase by as much as 20 basis points. Capital ratios will not be affected and the dividend, which as of December 27th yields 5.2%, will also be maintained due to improved earnings. The announcement by the company should come as no surprise to investors who have been following the story.
I still feel that HCBK is a very good investment for those looking to capitalize on the woes of the banking industry. There is still a chance that the dividend may be cut again if earnings decrease significantly as the company continues to extinguish more debt. However, I don't see this as likely. The economy looks to be steadily improving and, although we are unlikely to see rapid growth, it is also unlikely that we will see a decline, no matter what happens in Europe.
Overall, for a patient investor (I know that is a bit redundant) HCBK still looks to be a great bargain when it comes to the large regional institutions.
Disclosure: I am long HCBK.