Commodity producers really took it on the chin in the last half of 2011 on concerns on slowing worldwide economic growth and the crisis in Europe. Many are now significantly below consensus price targets, and could have a much better first half of 2012 if things stabilized in Europe and worldwide growth worries subside. Here are three with low valuations, which vastly underperformed the S&P in 2011 and with solid potential upside worth considering.
Teck Resources (TCK) –
"Teck Resources Limited operates as a diversified mining, mineral processing, and metallurgical company It produces copper and metallurgical coal; zinc, lead, and molybdenum concentrates; specialty metals comprising cadmium, germanium, and indium; precious metals consisting of silver and gold; advanced materials, such as low alpha lead, high purity copper plating anodes, and indium powder for semiconductor and integrated circuit, thermal interface, solar panel, and next generation technology applications; and chemicals and fertilizer products". (Yahoo Finance)
Performance YTD: -42.87%
Current Price: $34.77
Consensus Price Target: $55
Key value observations on TCK:
Teck Resources sells for less than 7 operating cash flow and just 20% over current book value.
The secular demand coming out of China and India should buoy Teck over the long term, and the stock is cheap at under 8 times forward earnings.
Teck grew its metallurgical coal production by over 20% in the last fiscal year.
TCK yields 2.4% and S&P projects the company will grow earnings at an average of 27% annually over the next 3 years.
Newfield Exploration (NYSE:NFX) –
"Newfield Exploration Company, an independent oil and gas company, engages in the acquisition, exploration, and development of oil and gas properties primarily in the United States. The company has operations in the Mid-Continent, the Rocky Mountains, onshore Texas, Appalachia, and the Gulf of Mexico regions in the Unites States, as well as in Malaysia and China". (Yahoo Finance)
Performance YTD: -48.19%
Current Price: $37.69
Consensus Price Target: $58
Key value observations on NFX:
Newfield is selling near the bottom of its five year valuation range based on P/B, P/E, P/S and P/CF.
NFX is building a technical base at these price levels (See Chart)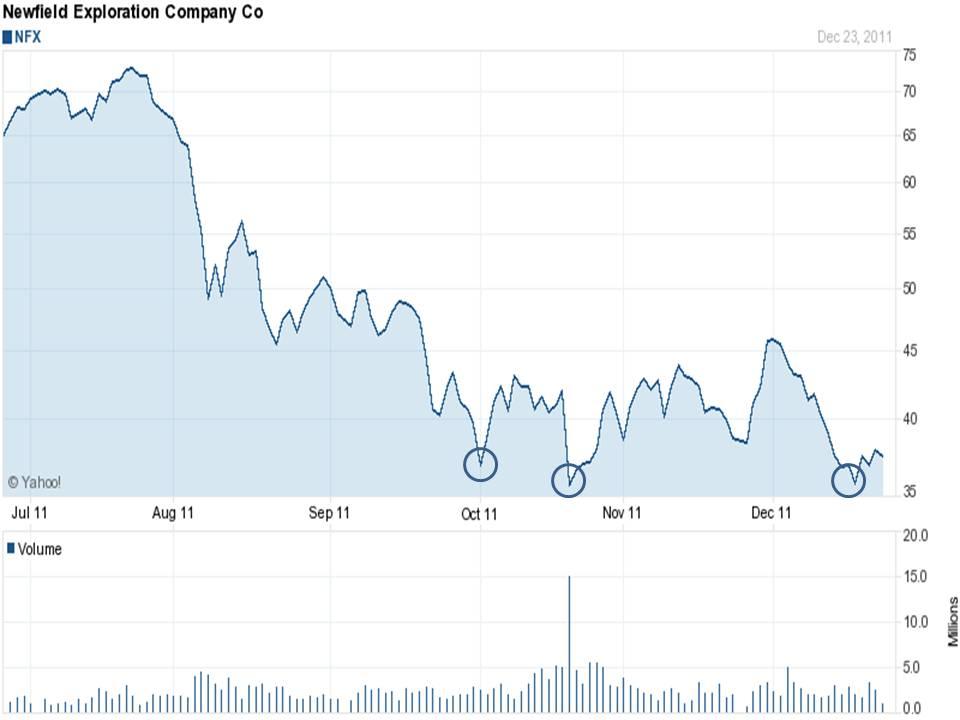 S&P expects Newfield to expand its domestic production by 50% in 2012. NFX also has a five year projected PEG of .86, so an investor is paying a low price for earnings growth.
Consensus estimates have NFX growing revenues and earnings at roughly 15% in FY2012.
Steel Dynamics (NASDAQ:STLD) –
"Steel Dynamics, Inc. engages in the manufacture and sale of steel products in the United States. It operates in three segments: Steel Operations, Metals Recycling and Ferrous Resources Operations, and Steel Fabrication Operations". (Yahoo Finance)
Performance YTD: -27.49%
Current Price: $13.37
Consensus Price Target: $16
Key value observations on STLD:
Steel Dynamics is selling in the bottom third of its five year valuation range based on P/B, P/S and P/CF.
Numerous insiders bought shares in the third quarter. STLD also sells for less than 8 times operating cash flow and 38% of sales.
The company's 3.1% yield should put a floor under the stock. In addition, STLD has raised its dividend payments an average of 12% annually over the last five years.
STLD has the advantage of a low cost structure and product diversity, which takes some of the volatility out of its earnings and margins.
Disclosure: I have no positions in any stocks mentioned, but may initiate a long position in NFX over the next 72 hours.