Last week, Dangdang (NYSE:DANG) announced the launch of its e-book platform in China. The company will initially provide 50,000 titles available for download via PC, Android, and Apple iOS devices.
According to Tech QQ, Dangdang's e-book platform will operate under a revenue sharing model via paid-reading and paid-download. Publishers receive 60% of the revenue and Dangdang receives 40%. Currently, over 50% of the publishers in China have partnered with Dangdang.
Entering the digital publication industry is an inevitable step for Dangdang as e-book begins to gain traction among consumers. The advantages of mobile availability, space saving, ease of translation and affordable price are appealing to the consumers. From 2009 to 2010, e-book is the fastest growing segment among online digital publications with revenue up 77% to Rmb 2.4 billion, while the overall industry saw revenue growth of 32% during the same period.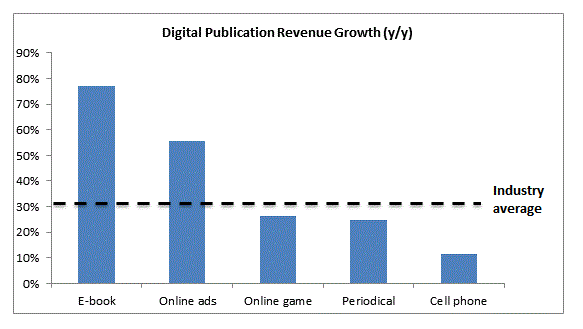 Click to enlarge
(Click to enlarge)
To replicate Amazon's (NASDAQ:AMZN) success with its Kindle, Dangdang will also introduce its own e-reader during Q1 or Q2 of next year.
In my view, e-book and e-reader business model will not have material impact on revenue growth for Dangdang in the upcoming year due to the product's early stage development, intense competition, and rampant piracy in China.
Despite entering a high growth and lucrative market, Dangdang will face formidable competition in both the e-book and e-reader segments. In addition to competing against the entrenched e-book providers, such as Shanda Bambook (NASDAQ:SNDA) and Fanshu.com, Dangdang will also face 360 Buy, which has partnered with 200 publishers and plans to launch its own e-book platform featuring over 80,000 titles.
In the e-reader segment, Hanwang and Shanda Bambook account for 60% and 20% of the market share, respectively, and the subsequent three players account for a little over 5% market share combined as of 3Q11, indicating a high barrier to entry.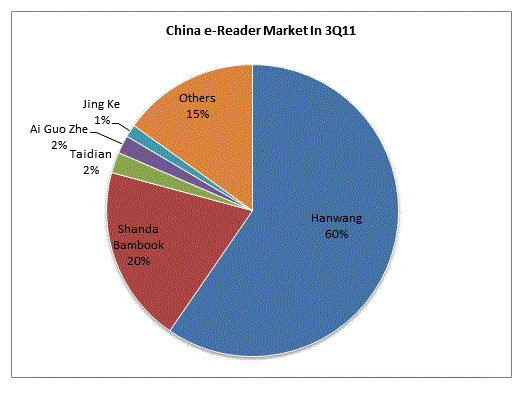 Click to enlarge
(Click to enlarge)
Finally, despite that the e-books are priced at 30% of the hard copies (on average $1 - $2 per copy), many consumers in China are reluctant to pay for downloads because they can easily obtain pirated copies on the internet at no cost.
As I mentioned in my November 13th note titled "Dangdang Q3 Earnings Preview: Short-term Pain, Long-term Gain", the company is still investing in logistics infrastructure and distribution so that it can improve its core business of selling hard copy books and general merchandise online. While I am positive on Dangdang's e-book initiative and believe that it will leverage its publisher relationship and brand equity to expand in the e-book market, investors should not be overly enthusiastic and expects near-term impact on the revenue.
Disclosure: I have no positions in any stocks mentioned, and no plans to initiate any positions within the next 72 hours.