Many of you still remember the days of Circuit City. The company faced bankruptcy after experiencing so many problems.
Circuit City's Problems
Lack of product offerings
Prices were too high
Overexpansion into competitive markets
Best Buy (NYSE:BBY) maintains the largest market share
Poor customer service
Poor store format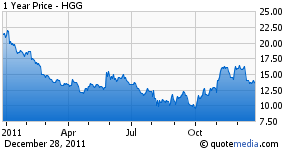 Something important to note about Circuit City is that its problems are very similar to hhgregg's (NYSE:HGG). hhgregg has been basically purchasing or leasing all the previous locations that Circuit City used to exist in. The company is not even trying to build up a reliable customer base, rather they are just expanding for the sake of expanding. They are going head-on with Best Buy and Wal-Mart (NYSE:WMT), which already offer much better pricing.
A big reason why I believe hhgregg will suffer a similar fate is due to irresponsible pricing. If you compare their prices of electronics such as TVs compared to Best Buy and Wal-Mart, you will find hhgregg is much more expensive. They also seem to have a lack of good discounts for their products. If you were shopping on Black Friday, some hhgregg stores had more employees than actual customers. Customers are not willing to pay up when they can eventually just go down the street to Best Buy.
Management at hhgregg has another issue, they are trying to expand the company way too fast. Growth is always good, but this is not the right type of growth. hhgregg is basically popping up anywhere it desires with little consideration for competition and the local economies. What management fails to see is that these stores they are opening are actually dragging the bottom line down. There is a large amount of overhead and fixed costs for these stores.
Reviews for hhgregg have been awful. Many customers are disappointed in their processing department as well as the lack of knowledge its staff has in helping them. Eventually these customers will take their business elsewhere and that means that's a loss of repeat business for the company. You can find reviews here.
Lack of product offerings and store format are another big issue. hhgregg does not make proper use of its store layout. They just stack items on the floor because they can. For example, an hhgregg near me has a pile of microwaves taking up a large chunk of room in the middle. While microwaves are nice, the company needs to understand they need to emphasize other products such as TVs and cameras, which have a higher chance of selling. The stores lack of products also makes the company very dull. When you have a store only caring three different types of Sony cameras or two Toshiba laptops, you may be better off buying from a store with more options. hhgregg lacks many products and many stores do not even offer a product as important as an iPad.
Based on how the business is being run, it seems management doesn't really care or doesn't notice that its making the same mistakes as Circuit City once did. Best Buy and Wal-Mart will continue to offer better products at cheaper prices. Both stocks are a buy compared to hhgregg. Wal-Mart has a forward P/E of 12 and pays a 2.5% dividend. Best Buy has a forward P/E of 6.2 and pays a dividend of 2.7%.
I recommend current shareholders of hhgregg sell as there is little value in the company and it seems management is more concerned with the amount of stores they have then the actual operations of the company.
Disclosure: I have no positions in any stocks mentioned, and no plans to initiate any positions within the next 72 hours.