Sirius (NASDAQ:SIRI) satellite radio has been on an interesting trip in 2011. The purpose of this article will to be to focus on the path Sirius has taken and where I think it is headed in 2012. As Sirius is one of the most polarizing stocks out there I hope to stir up some commentary that will help to broaden the discussion.
Brief Summary: Sirius merged with XM Satellite Radio in July 2008, after a lengthy regulatory review. The company provides a subscription-based digital radio service whose broadcast signals originate from orbiting satellites. Its primary means of distributing satellite radios is through the sale and lease of new vehicles. Sirius has agreements to offer its hardware with every major automaker as factory or dealer-equipment.
Fundamentals
Price to Earnings (TTM – F) = 44.75 – 26.1
Price to Cash Flow = 21.1
Debt to Equity = 4.4
Market Cap = 6.7 Billion
Revenue Growth (3 Year Avg.) = 45.1%
Beta = 1.52
2011 Share Price Recap: Sirius's share price took a very interesting path during the course of 2011. The stock opened up for trading on January 3, 2011, at $1.67. This is dramatically higher than its all-time low of $0.10, which it hit in the February of 2009. Coming out of the gate SIRI took a slight dip below $1.60 but quickly rebounded up to $1.80 by March. After it plateaued in the $1.80 area it quickly shot to its high for the year at $2.44 in May. From there it quickly dropped below $2.00 before bouncing back up into the $2.30 area in late July. After that the news wasn't good for Sirius. The price quickly fell off a cliff and by October it hit an intraday low of $1.27. It rebounded back up to $1.80 area and has traded in a range from $1.64 to $1.88 from late October to the end of the year. Below is a chart of the moves I described.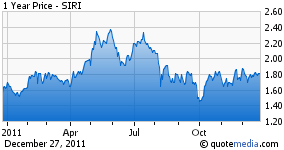 Now that we have taken a look at the price movements of Sirius I would like to examine some of the major events that affected Sirius throughout the year. This can most easily be done by breaking the analysis by SIRI's quarterly earnings statements.
Q1 2011 - Sirius ended the first quarter with $434 million of cash and cash equivalents after using $135 million to repurchase debt. This is an extremely positive move as Sirius works to get its debt under control. Subscription numbers were a nice surprise. It reported net subscriber additions in the first quarter of 2011 to 373,064, which was up 118% from 171,441 in Q1 2010. Sirius ended March with 20,564,028 subscribers. SIRI maintained its guidance of 1.4 million subscribers for 2011. This came as a surprise to some analysts and investors who were hoping for an increase. The company projected revenue to hit about $3 billion this year. Sirius also reported net income of $78.1 million, or 1 cent per share; a significant increase from $41.5 million, or 1 cent per share last year. This was an extremely positive quarter for Sirius XM.
Q2 2011 - Sirius announced its second-quarter earnings on August 3, 2011. Analysts and investors viewed the announcement as very positive. SIRI beat analysts' estimates on EPS by $0.02. It had a slight miss on the revenue side by posting 744 million against 752.6 predicted by the analysts. The increase still represents 6% revenue growth from a year ago. Another positive sign was the addition of 450,000 new subscribers. Sirius also raised guidance of full-year subscription additions to 1.6 million up from the previous estimate of 1.4 million. It also provided the statistic that 65% of all new cars rolling off US production lines are equipped with Sirius XM. Seeing that 2/3 of all new Sirius subscribers come from new car owners, this strategy is proving immensely effective. If the first quarter was good for Sirius the second quarter was great.
Q3 2011 - The third quarter was also great news for Sirius. The company ended the quarter with more than $600 Million of cash and cash equivalents. This means that in the first 3 quarters of 2011 Sirius XM has produced more cash than in all of 2010. Mel Karmazin, the CEO, was also very positive as he released the company's record quarter and set forth targets for 2012, including accelerated revenue and earnings growth as well as record free cash flow. Sirius is expecting $3.3 billion in revenue in 2012 and some $700 million in free cash flow. SIRI was also able to lower its debt burden to 3.4 times EBITDA, down from 4.5 at the same time last year. Through the 3rd quarter Sirius continued to show strong signs of growth. This was not reflected in the share price of the stock as larger macro concerns (Europe) really lowered all financial markets.
Q3 to the End of 2011
The third quarter for Sirius was one of the strongest in the company's history. Sirius added 334,000 net subscribers in the third quarter; this takes total subscribers to 21.35 million subscribers. Through Q3 the company stood at revenue of $2,230,786,000 for an average of $743,595,333 per quarter. If the company were to simply maintain its average it will hit guidance. This does not seem problematic as the fourth quarter has always been traditionally strong for Sirius.
These are recent public events in which officers of Sirius have spoken about the company's performance in the fourth quarter.
On November 17th, Mel Karmazin spoke at the Liberty Media Investor conference and showed a chart that projected year-end subscribers at 21.8 million, an increase of 1.6 million over year-end 2010.
In an interview on November 29th Karmazin stated that Sirius will "add 1.6 million this year".
On December 5th David Frear presented a slideshow at the UBS conference showing year end subscribers at "21.8 million," an increase of 1.6 million.
Sirius 2012 Outlook
The future of Sirius looks great. The company showed strong growth in the first three quarters of 2011. However, the share price of Sirius remains frustrating. SIRI's share price gets batted around by the bears and the bulls on a daily basis. It should not come as a surprise that it currently has a beta of 1.52. Analysts finally seem to be coming around to the strength in Sirius. This could be seen in the wave of upgrades to the stock.
One area of concern that I have in 2012 is the impact that European ineptitude in dealing with the sovereign debt crisis poses to global financial markets. Leaders seem intent on pushing the problem down the road instead of dealing with it. This has recently been reflected in the steady rise of Italian 10-year bond yields back to over 7% again (a figure that no one feels is sustainable). Stocks today are more highly correlated with the indices than ever before. Therefore, if the European situation continues to hamper global markets SIRI's share price will see the negative impact.
On a positive note, Sirius like many United States-based companies, is projecting solid growth for 2012.
2012 Guidance Numbers
Revenue of $3.3 Billion. (10% revenue growth from 2011)
Free Cash Flow of $700 Million
EBITDA for 2012 at 860 million (20% increase from 2011)
If you believe as I do that eventually the share price will reflect the underlying strength of the company then you should be bullish on SIRI. If this is something you abide by and you can stomach the day to day moves then SIRI could be a potential investment for you.
Things to watch for in 2012:
Liberty Media potentially increasing its stake in SIRI
Share Buyback Program
Q4 Earnings for 2011
Implementation of Sirius 2.0
The effects of the price hike over the next 18 months
Disclosure: I have no positions in any stocks mentioned, and no plans to initiate any positions within the next 72 hours.