2011 was clearly a mixed year for companies in the cell phone market. Consumer migration to smart phones continues to allow some companies to fill their bank accounts with riches. Investors who picked the winners witnessed their portfolios increasing with some companies reaching new highs, and those who picked the wrong companies in the space watched in horror as wealth vaporized right before their eyes.
Along with some consumers moving to smart phones, many consumers moved to free phones with free service. Yes free, well at least it's free to the users, but not totally free. Have you looked at all the fees and taxes on your cell phone service? One of the fees is the universal service fee. The taxes you pay are used to provide free phones and service to millions of users each month. One of the biggest recipients of our federal tax dollars is a foreign-based company called America Movil, S.A.B de C.V.A (NYSE:AMX). You likely know America Movil better by the names of "Tracphone" and "Straight Talk," the kings of prepaid wireless service. The richest man in the world is an investor of America Movil, Mr. Carlos Slim from Mexico, and Acerica Movil is also located in Mexico.
The biggest winner in the cell phone wars during 2011 arguably was Apple (NASDAQ:AAPL). Apple appears likely to hold on to the ability to receive a premium price for its products in 2012. Apple currently commands a market share of about 10% of cell phone users in the United States (about 30% of smart phone users). Consumer response to Apple's latest phone has been strong. So it's a safe bet Apple has a minimum of one more strong phone seller (about all any company can ask for).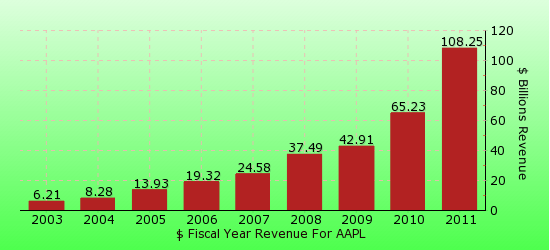 The bottom line has rising earnings year-over-year of $25.92 billion for 2011 vs. $14.01 billion for 2010. The company's earnings before interest and taxes are rising with an EBIT year-over-year of $33.79 billion for 2011 vs. $18.39 billion for 2010. Rising revenue along with rising earnings is a very good sign and what we want to see with our companies.
Google (NASDAQ:GOOG) is a very close second to Apple in the cell phone space for 2011. Many could argue based on growth and or perhaps number of handsets, Google should be No. one and they have a point. The difficulty in placing Google above Apple is the actual amount of money made.
Google for the most part (leaving Motorola parts and pieces aside) does not provide hardware or service to cell phone users. Google provides the Android platform that so many phone manufactures are embracing. This would be great if Google was monetizing the software, but so far (and everything indicates no changes on the horizon) it's a loss leader. Android is a means to an end.
Having control over the OS of so many advertising display devices (aka smart phones) will hopefully (for Google's sake) place Google in firm control over advertising, marketing and apps running on millions of cell phones. Google has to be commended for its ability to execute so quickly and so dominantly in the smart phone space. Google literally runs circles around the competition. For this reason I remain bullish long term with Google.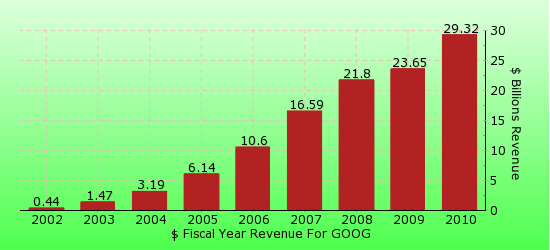 Research In Motion (RIMM) is a Canadian-based technology provider best known for the Blackberry brand of products. It would be a very hard sell to argue RIM had anything other than a year they would like to forget. Just a few days ago a multi-year low was put in at about $12.45 per share. For 2011 RIM investors were hit from every angle. Product delays, management over promising and under delivering, management mis-reading the market, product write downs due to an inability to sell what they did have, a large service outage, and staff issues made for a lot of sleepless nights for owners of RIM stock. News of a possible buyout months after the news hit the wire, and while the stock price was much higher it didn't make investors overly joyful either.
I believe RIM has a much better 2012 then 2011. Granted, that's not a high bar to overcome, but let's look at what may be a good year for investors looking at RIM now for the first time (and for investors hoping we have seen the bottom). Click here to see my first animation video about RIM. While I have written bearish articles about RIM, I believe even without a buyout offer currently discussed (that we know about) RIM is a very good risk to reward 2012 play.
While at the same time Apple is on fire and RIM appears to be circling the drain, it should not be forgotten that RIM currently commands about the same market share as Apple. Granted it equally appears they are meeting each other on the highway going in opposite directions, the Blackberry cart can be turned around to go in the other direction. Even if RIM is unable to gain market share in 2012, if they can end 2012 with the same market share as the end of 2011, investors will likely be handsomely rewarded.
RIMs biggest problems appear to be self made and likely self fixed from the point of view of investing now for the first time. For those who held on wishing the sold button had already been pushed, please read my loss aversion article here. Is RIM going back up to $70 any time soon? I very much doubt it and at even less than even money I would bet against it for 2012. What RIM can do in 2012 is double off the lows put in last week. While investors in at $40 may not jump up and down in victory with a bounce into the $25 range, investors at $15 will likely be pleased.
52 Week High: $70.54
52 Week Low: $12.45
Book Value: $19.77
Float Short: 9.02%
Part of the self made issues with RIM is the investor relations disaster left largely unchecked all year long. Of course when the board is sleeping at the wheel it doesn't help. Also, having two very large investors at the top of the RIM management food chain getting lost in the marketplace fog didn't help. Usually I am a big fan of management having skin in the game. Most of the time having the same financial interests as the management will work in favor of long term investors. Sometimes management investors consider the other shareholders as the bill payers for their expenses and it becomes a liability instead of an asset. Sometimes when management also has a large investment it makes it difficult to readjust management to changing requirements. I have read nothing to indicate management is not keeping the purse close to the chest, but I do question if management didn't own such a large stake if RIM would it still have the management team currently in place.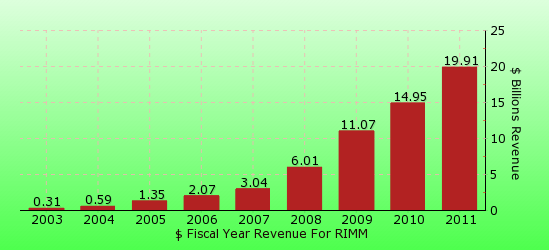 The good news for investors is it will not take much to lift RIM to higher ground. One article recently published is from CRN. While the article correctly blasts RIM for having new phones that look like the same phones from years ago, the article also correctly points out the enterprise level of security as a competitive advantage. I believe many have undervalued security and what the future market share of RIM will be. Even without the latest bells and whistles for a while, security buys RIM time to turn it around.
The downside if RIM continues to fall on its face is relatively small by my estimations. In an article I wrote (you can read by clicking here), I estimate a RIM buyout price with the wheels falling off the cart to be about $12.50 per share. At $14.50 a share the downside risk is likely about $2 per share or less (absent a really large unexpected negative material change). The upside if correct is about $10 per share.
2012 should see several events providing wind in the sails of RIM. BlackBerry 10 is slated to be released, and if RIM doesn't deliver, expect two people (or more) to be looking at the help wanted ads. RIM is also expected to make buckets of cash. Even with smaller earnings, RIM's valuation is so low; cash flow and earnings are almost totally discounted to zero.
RIM's options are selling on the cheap. OK, maybe not cheap, but considering the price drop it would not be surprising to see RIM's volatility priced considerably higher. For example, some April series call options have asking prices lower than theoretical pricing models, which suggest what the midpoint should be. This suggests a lot of covered calls being written. While covered calls are bullish, they are not nearly as bullish as calls priced higher, indicating a desire to get aggressively long. The lower price could also suggest traders believe RIM will not climb out and suggests a bearish bias, although not nearly as bearish as an outright short.
I will consider a pullback in price and increase in implied volatility as a possible opportunity to short back month near strike price put options, or to write covered calls.
Do you have a company you want me to review? Let me know in the comments below.
I use a proprietary blend of technical analysis, financial crowd behavior and fundamentals in my short-term trades, and while not totally the same in longer swing trades to investments, the concepts used are similar. You may want to use this article as a starting point of your own research with your financial planner.
Disclosure: I have no positions in any stocks mentioned, but may initiate a long position in RIMM over the next 72 hours.