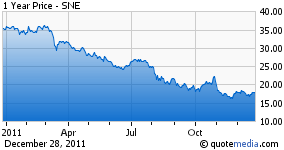 Here's something you might not know: Sony's (NYSE:SNE) TV business is not profitable. The Japanese electronics manufacturer has lost money for four straight fiscal years and the company's flagging television unit, which is set to lose around $2.2 billion this year, is largely responsible.
While the Bravia line of LCD TVs is the industry standard for quality, The New York Times notes that Sony's production costs are high and the "strong yen has ... weighed on (the company's) profit by eroding the value of its overseas earnings when they are repatriated to yen." Sony has lost money on its TVs for eight straight years, according to Reuters. This is a huge problem given that TV sales account for around 33% of Sony's total sales, according to Business Week.
In an effort to right the ship, Sony announced recently that it would sell its 50% stake in S-LCD, a South Korean operation the company set up in 2004 with Samsung (OTC:SSNLF), which will pay Sony about $935 million for its half of the business. The move will reportedly save Sony around 50 billion yen per year and will relieve it of the responsibility of running an LCD factory. Sony now expects to outsource around 93% of its LCD panels. It still manufactures some panels through a partnership with Sharp.
The move may be too little, too late for Sony's television unit. It is becoming harder to turn a profit making TVs as "a huge increase in manufacturing capacity ... has led to an oversupply and continued downward pressure on prices," according to CNBC. The increase in supply could not have come at a worse time. Seeking to capitalize off of the boom in flat screen TV sales, "manufacturers invested heavily in sophisticated new factories ... (which) became operational about the time the recession hit, creating a glut of televisions and forcing down prices." In Sony's case the problem has been compounded by a surging yen which is cutting into any money the company does manage to make.
Televisions haven't been Sony's only problem this year. A hacker attack on the company's Playstation Network cost Sony around $172 million, while the Japanese earthquake "caused an estimated $208.5 million hit on the company's profit for the fiscal year ended March 31, (2011)," according to the LA Times. As if all that wasn't enough, the Thai floods caused Sony to delay indefinitely the release of its NEX-7 camera and several other products including lens kits and headphones.
Analysts expect Sony will return to profitability in 2013, but just barely. On average, firms covering the company expect Sony to earn around .40 cents per share in 2013, meaning the shares change hands for around 45 times forward earnings - hardly a bargain from a P/E perspective. About the only thing the stock has going for it is the fact that it trades for about half of its book value (MRQ). While this fact alone might make it worth a gamble, I see no reason to own the shares going forward and fully expect further declines as the bad news will likely keep coming in the near-term. Sony could be a good short bet for at least another year.
Disclosure: I have no positions in any stocks mentioned, but may initiate a short position in SNE over the next 72 hours.