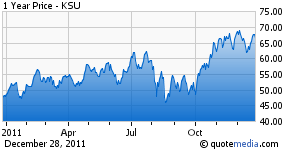 Across the railroad industry, coal accounts for just about 45% of all carload shipments. Demand for coal (NYSEARCA:KOL), however, has been sluggish as utilities work through record inventory and cheap natural gas (NYSEARCA:UNG) sways electricity operators to shift production. As a result, rail carload growth has been a tepid 2.1% in 2011.
However, at Kansas City Southern (NYSE:KSU) carload volume is far less tied to coal, which accounts for about 15% of volume. Instead, Kansas City's carloads are driven by the automotive industry and intermodal shipments, where rail growth has been strongest.
Kansas City's auto and intermodal success is tied to its Mexican operations, which account for 45% of its total sales after growing 21% in the first nine months of this year. Mexico's auto production is up 15.1% this year, well ahead of the 10% growth across North America. The production growth has boosted Kansas City's scrap and metals, chemicals and car and truck shipments. In automotive alone, revenue has climbed 47% this year from 2010, thanks to a 20% jump in volume. For comparison, industry U.S. auto carloads are up 9.5%.
The trend of combining rail and truck shipments is also helping Kansas City's results. Intermodal revenue, which accounts for 31% of all KSU's carloads, grew 30% this year. Intermodal carloads increased 17%, far higher than the industry's intermodal growth of 5%. The strength is tied to the company's exclusive deal to handle rail at Mexico's busiest Port. The Port of Lazaro Cardenas is one of the largest in the Pacific Basin and its 20-foot equivalent units ("TEU's") capacity has increased from 160,000 in 2005 to more than 2 million. Given the port's trade is geared to Asia rather than Europe, volumes should be better than ports on the East Coast next year.
The company's volume and revenue growth has led to double digit earnings growth and higher free cash, which is being used to pay down pricey debt. The company retired $200 million of 7.625% and 7.375% notes with a 6.125% issuance in May. And KSU planned a $123.5 million retirement of 13% notes in December using cash on hand, which had grown to $217 million from $85 million at year end. The company also saved $10 million annually in interest payments by converting preferred's in Q1.
As investors look for U.S. equities less directly exposed to Europe, they should consider Kansas City Southern. With Mexico expected to see GDP growth of 3.1% next year, it's likely carload volumes will remain shareholder friendly. Analysts expect earnings will climb 21% in 2012, after rising 29% this year, which suggests investors are likely to find themselves rewarded.
Disclosure: I have no positions in any stocks mentioned, and no plans to initiate any positions within the next 72 hours.