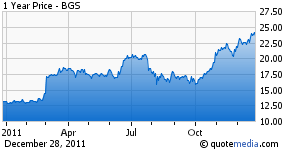 B&G Foods (NYSE:BGS) has been one of the top performing stocks this year. At its recent price of $23.56, it is up about 73% from the $13.73 price where it began the year. Not only has it shown substantial capital appreciation, but the company has also paid a sizable dividend. In 2010 the dividend was $0.68, and was yielding nearly 5% at year end. Since then, the dividend has been increased twice to a $0.92 annual rate, so despite the large run-up in share price, the stock still sports an attractive yield of nearly 4%.
B&G is a manufacturer and distributor of shelf stable food products with many recognizable brands, including Cream Of Wheat cereals, Ac'cent and Mrs. Dash seasonings, Ortega salsa, Polaner jellies and B&M baked beans. The company competes for shelf space with much larger food companies that also pay attractive yields including General Mills (NYSE:GIS) (3.0%), Kellogg (NYSE:K) (3.4%) and Pepsi (NYSE:PEP) (3.1%), although the yield on B&G is significantly higher. Does that mean you should run out and buy B&G? Well, I like and consume many of its products. I also like the stock, but it is not for everyone.
I recently wrote that many will find their current leverage of debt to EBITDA - in excess of 4x - is too high. Others might find its recent acquisition of Culver Specialty Brands from Unilever (NYSE:UN) on November 30 needs to be integrated and will want to see proof that it was a good move. Still others will want to own companies with a much larger market capitalization ($1.1 billion) or a higher P/E.
I find the dividend and owning the stock to be attractive and would be happy to keep the stock for the long term. For those that are sitting on the fence, but might want some current income with less risk, here is a strategy to grab the dividend, gain some downside protection and enhance your potential return. This can be done by engaging in a transaction where one buys the stock and simultaneously sells a covered call.
Currently the shares are trading at $23.56. The $25 August 2012 calls are offered at $1.65 Bid. Buying the stock and selling the call will result in a net cash outlay of $21.91. The $0.92 dividend would result in a current yield of 4.2% on the net cash outlay. If the shares are called away at $25 in August, there would be capital gains of $3.09 or more than 14% on the net cash outlay. In addition, there would be two dividends (the stock just went ex-dividend on December 28th) totaling $0.46. The total return, if called away, would be more than 16%. If not, new calls could be sold against the position and you can continue to collect those dividends.
Another, more conservative, way to look at it is as follows. You buy the stock at 23.56. You will have the option premium of $1.65 plus dividends as your return. Through August, 2013 you will have a total of $2.11, or 9%. If you still have the stock, you can sell additional calls and continue to collect dividends and your return will once again be in double digits. If it is called, you are also grabbing a double digit yield.
Summary
B&G has had an eventful year with dividend increases and product acquisitions. Investors have been handsomely rewarded with attractive yields and spectacular price appreciation. While I certainly do not expect the shares to come close to duplicating 2011 results in 2012, I do see a smooth product integration, continued earnings and free cash flow improvement and the leverage rapidly coming down. As investors wait for these improvements in the company's fundamentals, they will be nicely rewarded with an attractive yield.
Disclosure: I am long BGS, PEP.
Additional disclosure: I have no positions in the other stocks mentioned in this article. I have covered calls on some of my positions, and may close or roll them forward at any time.