The Federal Reserve's second phase of quantitative easing (QE2) is slowly becoming a distant memory. Signaled at the end of August 2010 from the annual confab in Jackson Hole, WY, and officially launched in November 2010, QE2 helped to arrest what looked like at the time a continuation of a steep slide toward 1,000 or so for the S&P 500. Instead, the stock market bottomed and raced almost straight up until hitting a brick wall in February, 2011.
Commodities also raced higher (and often faster) at the same time. Since then, the S&P 500 erased essentially all of its QE2 gains at its intra-day low this year (1,075) after marking a one-day bear market (at least a 20% loss from previous highs). Many commodity stocks have gone through several cycles of losing all their QE2-inspired gains and then some. Even with the S&P 500 bouncing back into resistance, up almost 18% from its 2011 lows, many commodity-related stocks continue to struggle (along with numerous cyclical stocks). Today's surge in the dollar index further pressured commodity stocks across the board.
The stark contrast between winning and losing stocks (S&P 500 index versus many commodity stocks) leaves the rules for profiting from a crash in commodity-related stocks at a crossroads. The anticipated crash did not occur in 2011 and increasingly it appears a crash will not occur in 2012 either (for example, see "From Destocking To Restocking, Joy Global Weakens Case For A Commodities Crash"). This is not to say commodities will not experience periodic sell-offs again.
Overall, 2012 seems to offer a lot more downside risk than upside opportunity if the moribund performance of many cyclicals represents a valid indicator of stagnant economic growth to come. Moreover, as the memories of QE2 fade, it becomes less likely those levels will serve as support or as an approximate valuation reference for future sell-offs. As a result, I will be much less aggressive and even more selective with commodity-related purchases until significant discounts emerge in enough of these stocks. If some catalyst forces a major bullish re-evaluation on commodities, I will be grateful to have a handful of stocks already in play (Jeremey Grantham's "no regret" positioning).
The simple rule triggering buys once QE2-inspired gains evaporated delivered very attractive entry points in 2011. I had little need to argue with the market about valuations or divine the intentions of central banks or factories scattered around the globe. This trading rule worked even better than expected as it clearly served as a fulcrum point on market psychology. Unfortunately, the subsequent bounces in commodity-related stocks were never strong enough or convincing enough to make them worth holding as a complete basket. I announced sales on most of these trades after the stocks hit significant or notable points of resistance (trades posted on my Twitter feed @DrDuru with the #120trade hashtag). The upshot is that these trades left me with profits and powder ready to apply to whatever opportunities are coming in 2012.
As the year changes, there exists a fresh slate of commodity-related stocks that have lost their QE2 gains. Some are even struggling to regain any traction. I have created below a list of the stocks that caught my attention and grouped them by the commodity. For stocks that cover multiple commodities, I list them under the commodity that is of greatest interest to me for the given company. Some of these stocks did not appear on my original list of candidates, and I am only interested in buying a sampling of these stocks. The specific execution will depend on how events unfold and any company-specific news. As usual, I will post the trades on my twitter feed.
I have placed the QE2 reference price next to each stock. Recall that I consider August 31, 2010, as the start to QE2 given that is the evening Federal Reserve chairman Ben Bernanke telegraphed the imminent implementation of the program. The stock market reacted the next day with an inspiring 3% rally and did not look back for months to come.
Aluminum (Bauxite)
Stocks: Alcoa (AA/$10.22), Century Aluminum Company (CENX/$10.00)
Description: I have yet to make a purchase in an aluminum-related stock, but I keep a constant vigil on these stocks, especially AA given it usually kicks off each quarterly earnings season. At current prices, AA in particular is starting to look attractive. Price-to-sales and price-to-book are well below 1.0. Forward P/E is still a bit high at 9.55. If that drops to around 7 or 8, I would be very interested in finally nibbling on shares. Alcoa is now at 2 1/2 year lows (a gut-wrenching 19% drop from the QE2 reference price). A break of these levels should send AA to lower P/Es relatively quickly.
Iron Ore
Stocks: BHP Billiton Ltd. (BHP/$66.50), Vale S.A. (VALE/$26.75), and Rio Tinto plc (RIO/$50.43)
Description: Iron ore is used in making steel so related stocks are primary plays on economic growth and the business cycle. I see red flags as these poorly performing stocks languish around pre-QE2 levels. Similarly, most steel stocks have performed extremely poorly this year with several trading at two-year lows and worse.
I recently restarted a purchase in VALE. On a deeper pullback, I will start building a position in BHP for the first time. I continue to prefer both BHP and VALE to RIO given RIO's balance sheet issues during the last recession. See "Rio Tinto Is Massively Undervalued" for a positive spin on RIO.
Coal, Metallurgical
Stocks: Alpha Natural Resources (ANR/$37.13), Walter Energy (WLT/$72.04)
Description: Metallurgical coal is very similar to iron ore as a play on the health of the industrial economy since this coal is used to smelt iron ore. ANR is one of the few commodity plays I have decided to continue to accumulate. It also happens to be one of the worst performers of the commodity-relative stocks relative to the QE2 reference price. ANR is now down 47% post-QE2. At one point during the summer swoon, ANR even traded near its 2009 lows. Obviously, I find the stock irresistibly and incredibly cheap (forward P/E is still double digits at 11, but price-to-book and price-to-sales are both well below 1). ANR is still swallowing its acquisition of troubled Massey Energy. Once this process finishes, ANR's upside prospects should dramatically improve.
Obviously, I think the stock is incredibly cheap at these levels, and I will continue to accumulate shares at these and lower levels.
I now follow Peter Epstein on Seeking Alpha for cogent analysis on the coal industry. Thanks to him I have traded in and out of several coal stocks with call options with great success. Epstein has discussed WLT at length. For example, see "Walter Energy: Selling March 2012 $40 Puts" from October 2011.
Coal, Thermal
Stocks: Arch Coal (ACI/$22.50), Peabody Energy Corporation (BTU/$42.79), James River Coal Company (JRCC/$15.82)
Description: I am not as much a fan of thermal as I am of met coal. Coal-fired plants remain essential to our energy mix, especially in China. But environmental imperatives compel us to reduce their use over time. I have even vacillated between buying these stocks on the cheap and fading rallies as hedges for the commodity portfolio. Today, these stocks are so far below their QE2 reference prices (and so close to 2009 lows) that I am compelled to target them as buys. BTU remains my preferred coal stock in this group. More creative traders could even consider pairs trades going long BTU and short ACI.
Copper
Stocks: Freeport-McMoRan Copper & Gold (FCX/$35.99), Southern Copper Corp. (SCCO/$30.23)
Description: Copper is another commodity highly sensitive to the economic cycle. The metal occupies a special and revered spot in the toolkit of economic forecasters. Copper prices appear to be stabilizing. If so, FCX is my strongly preferred option for playing copper; I am eager to get back into the stock. It tops my list for 2012 for starting fresh purchases on the next sell-off.
SCCO is very intriguing given its 9% dividend yield, but I need to spend more time studying the company. The company is also not as geographically diversified as FCX.
Palladium and Platinum
Stocks: Stillwater Mining Company (SWC/$13.70), North American Palladium (PAL/$3.26)
Description: SWC continues to languish over an expensive acquisition of copper mining interests in Argentina. I continue to keep SWC on my radar because I strongly suspect bearish traders are going to over-discount the SWC's palladium and platinum. I missed a great opportunity when SWC finally traded down into the single digits in late September and early October. I will not let the next opportunity pass me by. I am also on the lookout for insiders to finally start buying shares of their battered company.
PAL is one of the last (palatable) pure play palladium mining stocks. It has significantly underperformed the price of palladium though given very high production costs. PAL is not on my buy list, but I will use it as a relative yardstick for SWC.
Precious Metals: Gold
Stocks: Agnico-Eagle Mines Limited (AEM/$64.97)
Description: Gold stocks have been relatively resilient in all of 2011′s sell-offs. This good fortune could change in 2012 if the dollar's strength continues. In the meantime, AEM is the only gold miner on my list to trade below its QE2 reference price. Goldcorp (NYSE:GG) is my preferred play for gold mining stocks given its strong management team. I do not closely follow AEM.
I have written extensively on my opinions about gold. See my archives for past references.
Precious Metals: Silver
Stocks: Pan-American Silver (PAAS/$24.76), Silver Standard Resources (SSRI/$17.61)
Description: Silver has experienced sharper gains and losses than gold as hot speculative money has come and gone. The dollar's resurgence is taking additional steam out of silver, and it is now trading down about 13% for the year. Silver is also almost 50% off its highs for the year. I consider current levels to be excellent entry points for anyone who still needs to build some exposure to silver.
PAAS has been my favorite silver mining stock for a very long time (click here for partial archives on PAAS). I have stayed in accumulation mode as PAAS has suffered both from a drop in silver prices as well as geo-political uncertainties around its mining operations (for example, see "Pan American Silver Confirms No Need to Despair About Its Mine" from May, 2011).
I do not actively follow SSRI, but as the sell-off deepens in silver, I get more interested in diversifying my exposure to silver. Note well that SSRI is now incredibly trading at book value.
Uranium
Stocks: Cameco Corporation (CCJ/$24.37)
Description: I continue to prefer shorting CCJ as a hedge to a commodity portfolio. I closed out my last short position (puts) over a week ago, but I remain bearish on uranium given the overall decline in enthusiasm for nuclear power. The hurdles going forward for new power plants have certainly not gone down either. CCJ is now 29% below its QE2 reference price and is not a good short here. I am waiting to re-engage on the next sizable rally.
Other/Diversified
Stocks: Teck Resources Limited (TCK), Northern Dynasty Minerals (NYSEMKT:NAK)
Description: I erroneously left TCK off my original list of picks. It is a very interesting diversified commodity play. Here is the description from the company's profile:
"Teck Resources Limited operates as a diversified mining, mineral processing and metallurgical company. The company engages in a range of activities related to mining, including exploration, development, smelting, refining, safety, environmental protection, product stewardship, recycling and research. It produces copper and metallurgical coal; zinc, lead and molybdenum concentrates; specialty metals comprising cadmium, germanium and indium; precious metals consisting of silver and gold; advanced materials, such as low alpha lead, high purity copper plating anodes and indium powder for semiconductor and integrated circuit, thermal interface, solar panel and next generation technology applications; and chemicals and fertilizer products. The company also holds interests in various oil sands development assets; and owns or has interests in 13 mines in Canada, the United States, Chile and Peru, as well as one metallurgical complex in Canada. In addition, it is involved in exploration business in the Americas, the Asia Pacific, Europe, and Africa; and has partnership interests in a wind power project."
I love diversified companies like this, especially when they get as cheap as TCK does. I am salivating after its valuation near book value. TCK is also trading with a trailing and forward P/E around 8. After FCX/SCCO, TCK will likely be my next commodity-related purchase in 2012. TCK is not for faint-hearted investors: The stock plunged as low as $2.70 during the recession. The stock is still 13 times those levels now. TCK is likely trading under pressure from coal prices. Incredibly, the low analyst price target on TCK is $47. The median is $55. In situations like this, it often helps to wait for the analysts to (belatedly) mark down their price targets to reflect some "new reality." I will be focused on learning a lot more about TCK in 2012.
NAK is a very speculative play, but worth watching in 2012. NAK acquired its Pebble Project from TCK in 2001 and claims it "... is one of the world's most extensive undeveloped copper-gold porphyry systems with the potential to produce up to one-quarter of America's domestic copper supply for more than 50 years." NAK traded as low as $1.60 in 2008 and as high as $21.76 in February of this year. This is stomach-churning volatility, but at a steep discount, this stock could be worth the ride. I will be learning more about this company in 2012.
I end with a chart of the Commodity Research Bureau index (CRY0). It is a stark reminder of both the promise and the peril of investing and trading in commodity-related stocks. The collapse from 2008 to 2009 erased about six years of a bull run in a mere seventh months. In two more years, the index almost doubled off its lows. In 2011, the index has spent most of its time swinging widely in an overall downtrend, offering great trading opportunities along the way.
Click to enlarge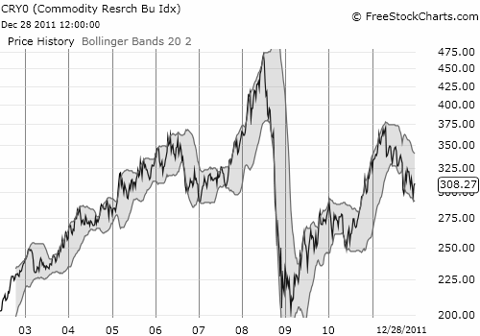 The large swings in commodity-related stocks are both their promise and their peril.

Source: FreeStockCharts.com.
Be careful out there.
Disclosure: I am long GG, GLD, SLV, PAAS, ANR, VALE.
Additional disclosure: I am also long the Fidelity Global Commodity Stock Fund (FFGCX).