Heretofore most of my articles have focused on finding value in dividend growth stocks that presented what I considered to be rare valuations worthy of current purchase in one's portfolio. However, there usually comes a time when price outpaces growth causing shares to become fully valued. Such times are not the backbone of superior performance.
First off, I wish to clearly state that I am not recommending that these shares be sold if owned. The primary point of this report is to suggest that the three MLPs selected for this report are not trading at points that are considered to be good valuations for current purchase. Those investors who have held these shares in a taxable for a long period of time should closely examine the tax consequences of selling as a large gain may present one with an unpleasant surprise on tax day due to the accounting in limited partnership cost basis rules.
Below are graphs of Buckeye Partners (NYSE:BPL), Kinder Morgan Energy (NYSE:KMP), and Enterprise Products (NYSE:EPD). All three companies have enjoyed great success over the previous ten years with each increasing income distributions on the back of rising earnings. However, during this time period the yields of each have declined from historical highs to current historical lows. Buckeye and Kinder are selling at high levels based on the current price to earnings ratio (PE), while Enterprise Products is selling at its mid-range of historical levels. Following are the PE and yield graphs of each.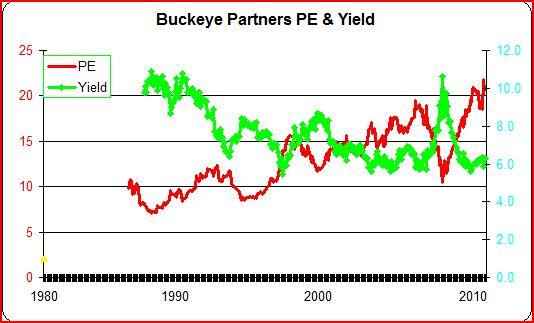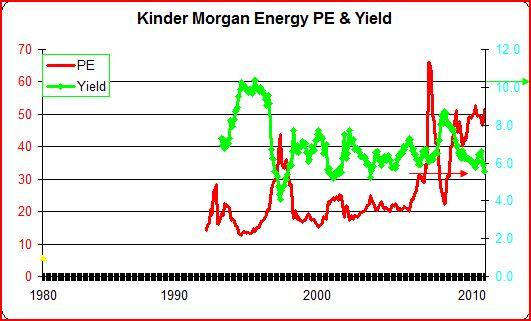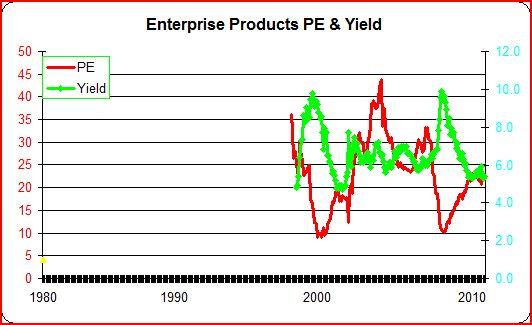 As seen on the charts the yield of each of these companies is trading at historical lows levels. While this does not mean each company will not continue to raise the distributions in the coming years, each is expected to do just that. However, the valuation is simply not at prime buying zones. I would stand aside and wait for better opportunities elsewhere.
Disclosure: I am long BPL, KMP.
Additional disclosure: While long the shares of BPL and KMP, the percentage of each is declining in my portfolio's due to reinvestment of income and additional cash contributions in other positions. I have no plans to increase either at current valuations.