Imagine a company that is a leader in its industry, sports a AAA credit rating, has a dividend yield of over 3%, profit margins of over 33% and over $47 billion of net cash. This company trades at a P/E of 9.68 times 2011 earnings, and 9.5 times 2012 earnings. Sounds like a great company right? Well what if we told you that this company was Microsoft (NASDAQ:MSFT)? Of all the companies in the technology industry, few are as historic, or as controversial as Microsoft. The company that is synonymous with the advent of personal computing has been called everything from an evil corporate empire to a relic of a bygone era. Microsoft is still a titan of the technology sector, earning billions each year. Below we breakdown Microsoft's financial performance for the past 5 years, as well as estimates for 2012.
| | | | | | | |
| --- | --- | --- | --- | --- | --- | --- |
| | 2012 (Reuters Estimates) | 2011 | 2010 | 2009 | 2008 | 2007 |
| Revenues | $74.700 Billion | $69.943 Billion | $62.484 Billion | $58.437 Billion | $60.420 Billion | $51.122 Billion |
| EPS | $2.74 | $2.69 | $2.10 | $1.62 | $1.87 | $1.42 |
| Operating Margin | N/A | 38.83% | 38.57% | 34.85% | 36.86% | 36.07% |
| Profit Margin | N/A | 33.10% | 30.02% | 24.93% | 29.26% | 27.51% |
| Dividends per Share | $0.80 | $0.64 | $0.52 | $0.52 | $0.44 | $0.40 |
Looking at this chart makes it seem like Microsoft is a screaming buy. The company is boosting dividends, and is steadily increasing revenues, earnings and margins. Yet none of this has shown up anywhere in Microsoft's stock price, which has fallen over the last 10 years.

How can this be? How can a company as strong as Microsoft have such a stagnant stock? The reason is actually relatively simple. The stock market is a forward looking entity, and no one seems to like what they see for Microsoft. The reason Microsoft has been so successful stems from the basic nature of its business model, which for years has been relatively simple. Developing software requires large upfront costs for R&D, but after that, each unit sold is almost pure profit. Add in the fact that Microsoft had (or has, depending on who answers) a virtual monopoly on the PC market. This is why Microsoft has risen over 25,000% since its IPO in 1986. The business model worked almost perfectly, making billions for shareholders and Microsoft employees, all while changing the way the world works and plays.

But the stock has flatlined over the last decade, and the days of stellar returns are long gone. Why? It is because Microsoft's business model is under attack from all sides. The very core of the company, desktop software, is slowly eroding. The inevitable shift to cloud computing will most likely lower Microsoft's margins and earnings, something the company readily admits to in its annual report. While 2011 profit margins may seem high, they are some of the lowest the company has seen in 22 years. Margins are set to fall in the years to come, and as Jason Maynard, an analyst at Wells Fargo said, "nothing will ever be as high as the old model." Cloud computing is simply not as profitable as traditional desktop software, and that is a cold hard fact that Microsoft will soon have to face. At the same time as it faces stagnating revenues, it must invest billions more into its cloud computing efforts to remain competitive. Costs related to cloud computing will consume 15%-25% of revenue, compared with 5%-15% for traditional software. Microsoft faces issues on all fronts. They include:
So what can Microsoft do? Can it overcome the myriad of challenges facing the company? It is doable, in our opinion. Microsoft has been investing into its Windows Azure platform for cloud computing. It has launched Office 365, taking the premier productivity suite into the cloud. Demand is growing for Windows Azure and Dynamics, Microsoft's CRM offering. And Microsoft has the world's best-selling video game console, a position that it will most likely hold for years to come. Microsoft will not be going anywhere, and it will be able to stake a place in the future of computing. So is the stock a buy at these levels? No. The reason for avoiding Microsoft is both very simple, and very complex. You should avoid Microsoft stock because everyone else is. Investor psychology is an extremely powerful force, both propelling companies forward (Netflix pre-summer 2011), and pulling them down (Bank of America & Citigroup in 2008-2009).
2011 has been dominated by investor group-think, which we have railed against many times. Investors sold off everything on fears of the European debt crisis, even companies whose earnings and sales are not affected by economic conditions in Europe or the United States. But with Microsoft, the psychology is too powerful to overcome. Management has lost all credibility with investors, and no matter what the company says or does, it gets no credit for it. We think that this belief in the incompetence of Microsoft's management will trump every other argument in the eyes of investors. It does not matter whether you believe that management is incompetent. What matters is what the broader market believes. When Apple passed Microsoft in market capitalization in May 2010, Microsoft CEO Steve Ballmer brushed it off, saying that,
no technology company on the planet is more profitable than we are. On any given day, the stock market is a voting machine .... in the long run is it a weighing machine.
Apple then passed Microsoft revenues and profits. Steve Ballmer is correct when he says that the stock market is a voting machine in the long run. Steve Ballmer became CEO on January 13, 2000. And it is pretty obvious how the market has voted since then.

Since becoming CEO, Steve Ballmer has presided over an almost 54% drop in stock value, while his company's 2 main competitors doubled their investors money many times over. While it is true that Steve Ballmer became CEO just as the dot com bubble was bursting, he is, at the end of the day, the person responsible for the stock price. Investors have no faith in Microsoft's management. We agree with David Einhorn when he says that Steve Ballmer must be ousted as CEO. Microsoft needs an outside CEO. Why? The company's culture has become poisoned. The reason Apple (AAPL) and Google are so successful is that they care little about profits in the development cycle. Google spends huge amounts of money to keep its engineers happy, who in turn churn out great products. Google offers most of its services for free, and in making them great, generates huge profits.
Apple is a more "corporate" company than Google, but it is a company obsessed with the user experience. Apple makes consumers want to hand over their money to the company, a rarity in corporate America. Microsoft, on the other hand, seems to design everything through an Excel spreadsheet of financial data. The company's obsession with financial performance and the protection of its Windows and Office products is slowly causing the company to rot. This is a sad fact, for Microsoft employs thousands of talented, brilliant, hard-working people who wish to make the world a better place.
An op-ed by Dick Brass, a vice president at Microsoft from 1997-2004, lays bare the corporate culture at Microsoft. The piece paints a picture of a company rife with internal competition between departments, despite boasting one of the world's best research laboratories. Microsoft developed the first tablet PC in 2001, long before the iPad. But the head of the Office division refused to modify Office for the tablet because he preferred a mouse and keyboard to a stylus. To this day, Office is not available on tablets. It is impossible to estimate how many millions in sales and profits this cost the company. Microsoft is mired in bureaucracy, standing in stark contrast to Apple and Google. At Google, engineers have essentially free reign, and Larry Page, being an engineer himself, understands what it takes to make great products. At Apple, there was no bureaucracy. What Steve Jobs wanted was what the company did. With the passing of the Apple's co-founder, CEO Tim Cook and top executives now lead the company as best as they can, working on whatever roadmap Steve Jobs left while molding the company into their own image. What is even more shocking is how much Microsoft spends on research and development.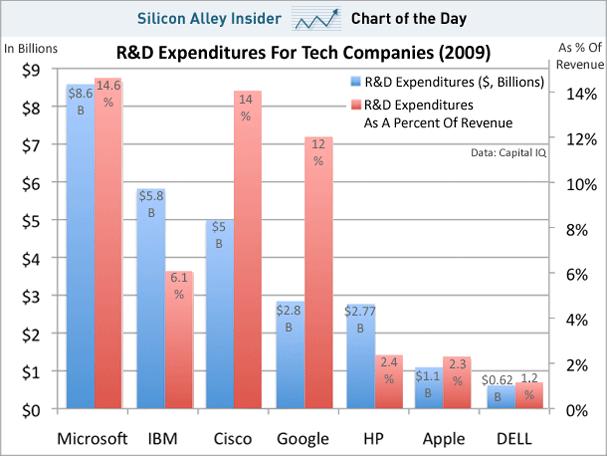 Apple spends around 5 times less than Microsoft on research & development (as a percentage of revenues), yet it has been able to come out with smash hit after smash hit. A Reuters report in 2010 noted that Microsoft's $69 billion in research & development spending in the last 10 years yielded little if any groundbreaking innovations. New versions of Windows have come out, and so have new versions of smartphones, as well as the Xbox. But there has been nothing as innovative, or as profitable, as the iPhone or the iPad. Microsoft is trapped in the innovator's dilemma, and must find a way out. Microsoft stock is not a buy right now, given the pessimistic investor climate. But as with the challenges to Microsoft's business, we think investors can be convinced to come back to the stock. Microsoft stock will be a buy, in our opinion, if and when the company does the following:
Oust Steve Ballmer and bring in an outsider: The first thing Microsoft needs is new leadership. When it comes to a new CEO, there are two things investors must know. The first is that Bill Gates will not come back and be Microsoft's Steve Jobs. He has occupied himself with his charitable and philanthropic work and we commend Bill Gates for the work he is doing to improve the lives of millions across the world. Secondly, Microsoft cannot promote from within for the new CEO to be effective. The Reuters report outlined the problems within Microsoft when it comes to internal executives. People are either adept at products ("Bill guys"), or they are adept at sales ("Steve guys"). Unlike the structure of GE (NYSE:GE) or even Hewlett-Packard (NYSE:HPQ) [who would ever come to think that HP would become a positive example of corporate governance?], Microsoft's various divisions are not semi-autonomous, and as such, their leaders have not had a true opportunity to develop their CEO skills. Furthermore, Microsoft's tainted corporate culture means it should find an outsider to serve as the next CEO. While the board has said that Ballmer has its backing, that is the only thing it would ever publicly say. Every CEO "has the full backing/confidence of their board", right up until that day that they are ousted. Supporters of Steve Ballmer contend that his vision for the company is longer than the time-frame of investors, and that they need to be patient. But Steve Ballmer has been CEO for over a decade, and aside from incremental updates to Windows and Office, the Xbox, and Kinect, what breakthroughs has Microsoft had? Investors must come together and call on the board to find a new CEO.
Double the dividend: Microsoft's current 3% yield on the company is respectable, but it is nothing to get too excited about. Microsoft has spend the last decade trying to define itself. Is it a growth company? Or is it a value company? Microsoft cannot have it both ways, and given that the company's best growth days are behind it, the company should accept that fact that it is a value company and double the dividend. Microsoft's latest dividend boost raised the payout by 25%, but it still lags its large-cap peers in terms of how much of its income it pays out. Microsoft pays out about 25% of income as dividends, while its large-cap peers pay an average of 40%-50% of income. Traditionally, Microsoft has raised the dividend in line with operating income. While operating income grew 13% last year, cash grew 43%, and Microsoft should pay out more. Heather Bellini, an analyst at Goldman Sachs, calculates that with half of Microsoft's cash flow generated abroad, it gives the company $15-$17 billion to spend on dividends and buybacks each year.
Go big or go home with buybacks: Over the past 10 years, Microsoft has spent over $84 billion on buybacks Microsoft's current $40 billion buyback program expires in September 2013. The buybacks have been a tremendous waste of capital, in our opinion, for Microsoft is not the right kind of company to be buying back stock. Buybacks are more for growth companies, which Microsoft ceased to be years ago. However buybacks can be successful if a company repurchases massive amounts of its stock. With so much cash held overseas, Microsoft cannot presently buy back stock in the tens of billions at a time, an amount we feel would actually make an impact. Microsoft should either limit its buyback program to offsetting the dilution of any new shares, or should leverage up its balance sheet with billions in debt to fund a massive expansion in share buybacks. If it costs the company its AAA rating, so be it. Triple A ratings are largely symbolic now, given that only 4 non-financial companies have a AAA rating. There is no real difference in borrowing costs between AA and AAA companies. $30 billion in new debt would still leave the company with $17 billion in net cash and allow it to buyback almost 14% of all shares outstanding.
Restructure the online division: Bing alone has cost Microsoft $5.5 billion, and the online division as a whole has lost over $6 billion in the last 5 years. While it would be impractical to shut down Bing given that it now powers Yahoo!'s search engine, Microsoft should at the very least stop buying market share with shareholder's money. Globally, Google has over 83% market share in search, and the few point in share Microsoft has been able to gain since launching Bing are not worth the billions it has cost.
Dramatic cuts in R&D: Microsoft has shown over the last 10 years that the billions it spends in R&D is largely wasted, and any new innovations are likely to be blocked from ever seeing the light of day. Until Microsoft's corporate culture changes, and incessant competition between divisions is reduced, we see no point in spending billions of dollars on research and development. To produce hits such as the Xbox and Kinect, Microsoft MUST change its culture from one of protecting Windows and Office sales at all costs to one where researchers are asked to discover what will help the company no longer rely on Windows and Office.
Acquisitions?: At the start of the millennium, Microsoft would have been blocked from acquiring virtually every technology company, on legitimate anti-trust worries. But any observer of Microsoft can see that the company has long since lost its control over the computing market. If Microsoft cannot develop a coherent strategy, it should buy one. Microsoft still has an incredible balance sheet, and it should use it to solidify its position with major acquisitions, such as a takeover of Citrix Systems (NASDAQ:CTXS) or Red Hat (NYSE:RHT). We think anti-trust issues will be far less of an issue in 2012 than in 2000, and Microsoft, if it chooses to pursue major acquisitions, should have little trouble getting them approved.
Some companies have stagnant stocks due to perception problems, like JPMorgan Chase. Others have stagnant stocks due to structural concerns, such as Intel. For other companies, like RIM (RIMM), their problems stem from both perception and fundamentals. While Microsoft is similair to RIM in that its stock is depressed due to concerns over both fundamentals and perception, we think that, unlike RIM, Microsoft will eventually do what is needed to revitalize its stock price. Microsoft will transition to a world of cloud computing, but investors should not buy the stock until the company does what we have outlined above. But should Microsoft do these things, we think the stock will be able to break of its long slumber. For the record, the Reuters average price target on Microsoft is $30.96, representing upside of 19.91% from current levels. Microsoft is a company that is battling a myriad of structural issues, but most of them can be solved. However, we think that repairing the psyche of investors is far more important to Microsoft. The stock may be a bargain on any number of valuation metrics, but until Microsoft repairs its tarnished image with investors, investors are better off elsewhere.
Disclosure: I am long AAPL, YHOO, GE. We are long GOOG and RHT via a mutual fund that assigns the companies a weighting of 3.18% and 1.85% respectively.