Not to long ago, I was a committed shareholder to ATP Oil and Gas (ATPG). The company does offshore drilling in the Gulf of Mexico, North Sea, and soon to be in Israel.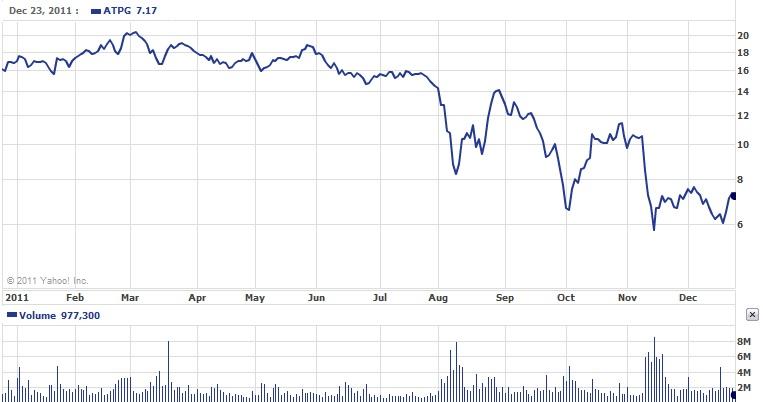 While the company is growing revenue at a rapid pace, the company is hemorrhaging money. A few months ago, Moody's came out and stated that ATP did not have sufficient cash flow to cover its bond payments in the future, which would eventually lead to default. Moody's said the the company was not pumping enough oil and did not have enough assets to cover its liabilities. This would require a restructuring of the company's debt.
The problem with ATPG is that management has a tendency to overestimate and underdeliver. This causes an issue with investors who have a difficult time believing the company's potential. Management has been citing a 40,000 BOE/pd target, however, it has had a tough time even crossing the 30k mark.
The problem with ATP is that the interest payments on the debt alone stops the company from achieving profitability. Not to mention, management has not been upfront about the company's operations. A couple of months ago, an analyst asked a question to management regarding poor production on a well. It turned out, the well was taking in a large amount of sand, which caused production to be less than expected. The interesting point about this is that management should have communicated this to shareholders when the problem arised.
It's disappointing to see the company I believed in to have fallen so hard. There is a very strong chance that the company could go bankrupt within the next two years. The company is running out of financing options and all current options are either too expensive or will dilute existing shareholders. This year the company issued a $150 million of a preferred stock. The preferred yields 8% and has a conversion ratio of 4.5 shares. That's quite a hefty rate for a company that cannot even stay profitable. Even the bond market has been getting worried of a potential restructuring. The bonds have fallen so much that the YTM is around 30%.
ATP needs money in order to expand and with the lack of liquidity the company has, it may be at a standstill. In order for the company to maximize its Titan well production to 25k BOE/pd, they have to invest a large chunk of money. The company has one more chance to ramp up production before the next interest payment is due in May. If it turns out the next Telemark numbers are not up to par with expectations, expect a massive sell-off and a potential for restructuring.
ATP Oil and Gas is a highly leveraged company and a very speculative play. At this point there is a 50% chance of bankruptcy or restructuring, which makes the common very unattractive. If you are trying to seek exposure to small cap O&G companies, I know three that are much safer and profitable.
Energy XXI (Bermuda) Limited (EXXI), together with its subsidiaries, engages in the acquisition, exploration, development, production, and operation of oil and natural gas properties onshore in Louisiana and Texas, and offshore in the Gulf of Mexico.
EXXI has been growing at a rapid pace. The company has been primarily acquiring wells that are profitable from major players. Just like ATP, the majority of its exposure is in the GOM. The company is expected to grow at 10% annualy for the next five years. In its most recent quarter, the company beat expectations by 28%. The company currently produces 42,000 BOE per day and that is set to continue to rise. The stock has a forward P/E of 7.9.
Northern Oil and Gas, Inc., (NYSEMKT:NOG) an independent energy company, engages in the acquisition, exploration, exploitation, development, and production of crude oil and natural gas properties in the Williston Basin Bakken play, the United States.
The great thing about NOG is that not only do you get a oil play, but also exposure to its Bakken region. The Bakken region has been growing rapidly and is set to help make the United States a net exporter of energy. The company is growing so fast that the fourth quarter production numbers will be almost 30% more than the third quarter. NOG is still acquiring property rights and continues to invest its cash flows into its business. The stock has a forward P/E of 17, which is quite good for a company experiencing such a high level of growth.
W&T Offshore, Inc. (NYSE:WTI) engages in the acquisition, exploitation, exploration, and development of oil and natural gas properties primarily in the Gulf of Mexico.
W&T's management has done a great job for shareholders. The company is quick to implement proper strategies that would help maximize profit. Recently, when ports in Mexico closed, W&T was able to charge a premium on oil as management knew they could maximize profit. W&T also has a nice 4% yield and this month announced a special dividend payment of 3%. The company is generating plenty of cash and is making sure shareholders reap the benefits. The stock trades at a forward P/E of 10.4.
There are plenty of stronger companies out there besides ATPG that are less leveraged and very profitable. The issue with ATPG is that it is almost completely out of financing options. The only other methods the company can use to generate cash is by selling assets or rights. However, this is not feasible as asset sales would be less production, which means less profits. ATP is going to have a tough year ahead and 2012 will ultimately determine whether it can meet its bond payment or not. That's why I recommend investors to stay away unless you are really willing to take the risk.
Disclosure: I have no positions in any stocks mentioned, and no plans to initiate any positions within the next 72 hours.