Back in July I wrote a piece here on Seeking Alpha noting a 3-month divergence in the price of the SPDR Gold Trust ETF (GLD) and the two major gold miner funds, the Market Vector Gold Miners ETF (GDX) and the Market Vector Junior Gold Miners ETF (GDXJ). Over the previous three months, the spread between the returns on physical gold and gold mining stocks had diverged by seventeen percentage points. I speculated that the lagging performance of mining stocks might present a buying opportunity for gold mining stocks.
The spread did stabilize over the next few weeks, but the second half of 2011 saw a continuation of vastly different returns. Below is the 2011 chart for the three funds.
Click to enlarge: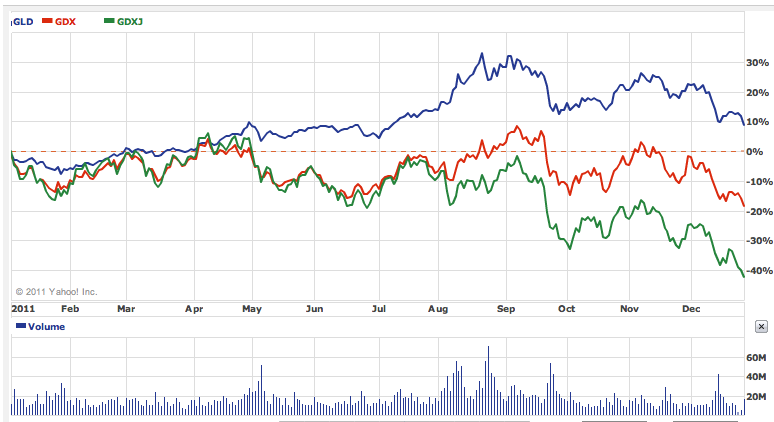 YTD 2011 chart: GLD in blue, GDX in red, GDXJ in green; chart courtesy Yahoo Finance
Physical gold has outperformed gold miners by nearly thirty percentage points, and smaller gold miners by over fifty percentage points. Why the lag in the mining stocks? The Wall Street Journal took a stab at answering the question on Wednesday:
But this year, gold miners have been hit by concerns that haven't tarnished gold prices. Investors have worried that mining costs are rising, and that governments around the world are becoming more aggressive in taxing resources companies. They're also concerned that gold miners might squander any windfall with ill-conceived acquisitions or other moves.
Their explanation was largely unsatisfactory, however. Mining costs have risen at major producers such as Barrick Gold (ABX) and Newmont Mining (NEM). But then again, so has the price of gold, which has limited the impact on margins. The increase in per-ounce costs is a natural byproduct of increased prices, as lower-grade (and thus more expensive to mine) ores become economically feasible. But the increased production leads to increased total profits (as evidenced by the record-setting third quarters at both companies). In addition, the price of oil, a key input cost, has stayed roughly flat for the year and shown no correlation to the relative sell-offs in mining stocks. In fact, over the summer, mining stocks actually struggled despite the price of gold climbing and the price of oil falling.
Click to enlarge: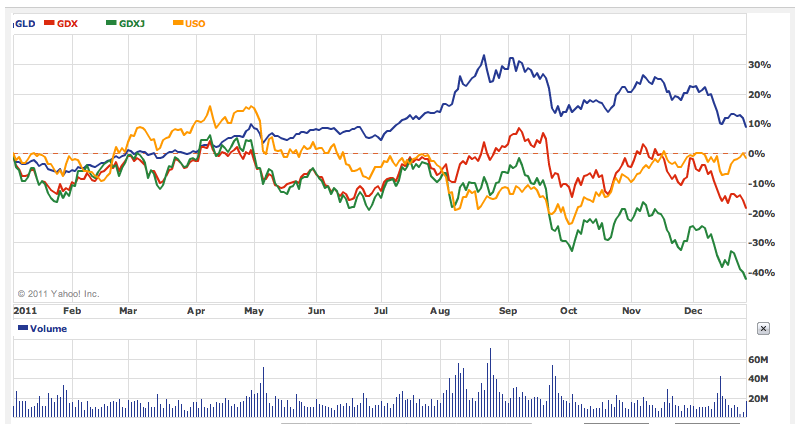 YTD 2011 chart: GLD in blue, GDX in red, GDXJ in green, USO in yellow; chart courtesy Yahoo Finance
The "fear of acquisition" explanation is particularly unsatisfying, as it cannot explain the extended decline in junior miners. Anticipation of M&A activity in the sector would be bullish for the smaller miners, the potential targets in the industry. Why would their stocks be off some 40% for the year if the market was anticipating industry consolidation? Such speculation would seem to impact the larger miners more negatively, yet they have outperformed their junior counterparts by over 20%.
Of the Journal's reasons, the fear of government regulation and taxation appears to be the sole valid concern. As the Journal noted elsewhere,
new or increased resource taxes have been introduced in China, Chile, Peru, Kazakhstan, Zambia and the Democratic Republic of Congo since the 2008 financial crisis, and a draft law is being worked on in India.
Strikes at copper mines in Peru and Indonesia have raised the specter of further political pressure, and a potential mining tax increase in Chile, a key metals producer, could impact miners with operations in that country.
But can this alone explain a fifty-point divergence between junior gold miner stocks and the price of their key product? Australia's new resource tax may not even cause an increase in net payout from its miners. Companies with operations in less developed nations often have the connections (legal, illegal, or between) to minimize tax bills and escape political pressure. In more developed nations -- as in Australia -- accounting procedures and tax "loopholes" can allow companies to pay far less taxes than projected. The political morality of mining tax avoidance can be debated, but as a practical matter it seems likely that new taxation would harm the sector far less than it would appear from proposed legislation. New environmental regulations may affect the mining sector as a whole, but would seem to have more impact on copper and coal mining stocks as opposed to their gold mining counterparts.
Beyond those factors discussed above, there seem few logical explanations behind the gold/equity split. Currency effects have been minimal; the Australian and Canadian dollars have been flat for the year, if volatile. The DXY (U.S. dollar index) has gained slightly, but its 4% rise year-to-date cannot explain equity weakness. The stocks in both ETFs are all U.S.-listed, seemingly limiting any possibility of industry-wide accounting or legal issues affecting the entire sector.
Indeed, as the Journal noted in its piece on Wednesday, the relative weakness in mining stocks confounds even the brightest investors. Seth Klarman, George Soros, John Paulson, and David Einhorn are just a few of the big-name fund managers who have put their money behind gold miner equities this year -- so far, unsuccessfully.
It may simply be that equities are seen as risky right now, and gold a "safe" asset, leading to vastly different market attitudes toward each asset class. If that is the case, fundamental-minded and/or contrarian investors can look to a "pairs" trade to bet on a convergence between mining stocks and the gold price. This arbitrage trade would entail going long GDXJ or GDX (given the larger spread for the juniors, GDXJ would be the more logical choice), while shorting GLD.
The goal of the trade is simply to bet that mining stocks will move closer in value toward that of the physical asset they produce. It is theoretically a market neutral trade (theoretical being the key word; in this volatile, highly correlated market, investors should not discount any possibility when considering potential profit, and more importantly, potential risk).
If gold drops, our long position in GDXJ will (most likely) decrease, but our short position in GLD will increase. If gold rises, our short position in GLD will lose, but (hopefully) the GDXJ long will gain. Obviously, a key risk is that the same market movements of 2011 will repeat in 2012; but the bet is on the relative movement of gold versus the gold miner ETFs. If the spread narrows, the trade wins. Given the immense nature of that spread right now, its growth over 2011, and the seeming lack of solid reasons for its magnitude, it's a bet that traders should consider strongly.