Altria Group (NYSE:MO) has been one of the hottest blue chip stocks of 2011. Shares of MO are up 20% year-to-date. The chart below shows shares of MO in 2011.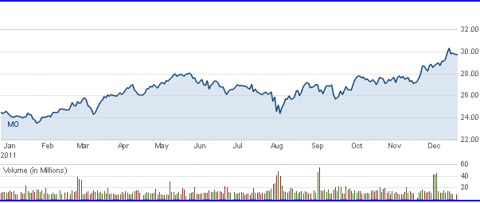 (cnbc)
click to enlarge
MO's strong performance in 2011 can be attributed to factors other than the strong performance of MO's businesses. In the stock picking world, 2011 was the year of the dividend. High yielding stocks across all sectors performed significantly better than low yielding stocks. The 2011 dividend story is discussed in more detail here.
MO's dividend of 5.50% made it a very attractive stock throughout a year of full of uncertainty. While this is a solid dividend, there are greater fundamental issues with MO that are being overlooked.
Core Business
At its core, MO is a U.S. tobacco company. MO owns Phillip Morris USA (50% of U.S. cigarette sales), UST LLC, and the John Middleton Company. The growth outlook for the U.S tobacco business is very weak. The U.S cigarette business is beginning to contract. Recently, smoking in both New York and California have hit record lows. (NY) (CA). This trend is not solely a New York or California thing, rather, it is a broader trend present throughout the U.S. For this reason, MO will face significant headwinds with its core business going forward. Ultimately, MO may have to reduce its dividend if business gets bad.
Alternatives
A better investment in the tobacco industry is Phillip Morris International (NYSE:PM). PM has a five year earnings growth rate of 8%. PM's growth rate compares favorably with MO's five year earnings growth rate of -14%. Interestingly, both companies trade for about 17 times earnings. PM should trade at a higher multiple than MO, but it does not. One reason for this is that PM has a smaller dividend. PM yields only 3.91% vs. MO's yield of 5.50%. The fact that both companies are trading at a similar P/E ratio is indicative of the market's obsession over dividends. MO is being rewarded for its dividend, not its fundamentals.
Smoking outside the U.S. is holding up better than smoking in the U.S. However, a better alternative might be high yielding stocks in other industries with better growth. Stocks such as AT&T (NYSE:T), Verizon (NYSE:VZ), Kinder Morgan (NYSE:KMP), and others with similar yields should be bought instead of MO.
Conclusion
The dividend rally of 2011 has lifted all high yielding stocks, but this lift should be looked at as a golden chance to sell companies that face real headwinds such as MO.
Disclosure: I have no positions in any stocks mentioned, and no plans to initiate any positions within the next 72 hours.