Earlier in December, Renren (NYSE:RENN) partnered with HTC to launch HTC Daren, an Android-based device that incorporates the Renren application and LBS feature.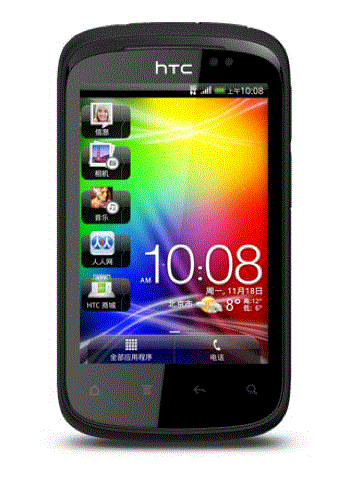 The deal with HTC is the second major handset partnership that Renren entered this year after the deal with Nokia (NYSE:NOK) in which Nokia's Asha 200 series will feature Renren's applications.
HTC Daren is priced at Rmb 2,000 (see table), or 33% cheaper than its closest competitor, Baidu (NASDAQ:BIDU) Yi, which I first outlined in my December 5th note titled "Baidu Yi Heats Up China's Mobile OS Market".
HTC

Daren

iPhone

4S

BB

9900

HTC

Desire HD

Samsung

Galaxy S2

Baidu

Yi

Price (~Rmb):

2,000

5,000

4,000

4,000

3,500

3,000
Source: Taobao, Jiang Zhang
HTC Daren could allow Renren to improve user stickiness and expand its LBS initiative.
Improving user stickiness in a small package
As the Renren's premiere mobile handset, HTC Daren features Renren's application on the main menu for easy access. Upon logging into the platform, users can immediately see social feeds and online friends who are available for chat.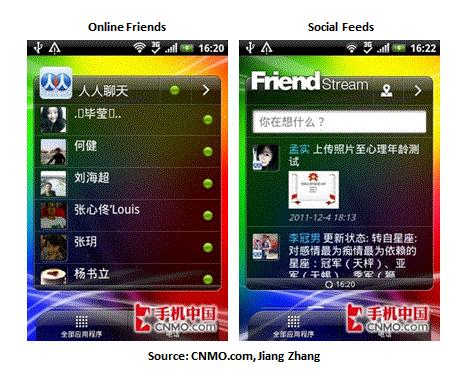 For an improved experience in delivering and displaying social feed, users can update their status on the phone's main interface, which automatically syncs with their Renren accounts. The device can also sync contacts with their respective Renren accounts so the address book can automatically display status updates.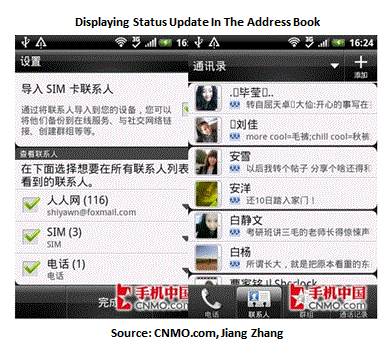 The device also features a 5MP camera that captures crisp images, which can be automatically uploaded to users' Renren accounts.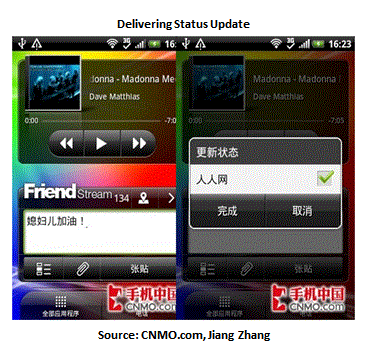 HTC Daren's price and the features are attractive to entry-level smartphone users and it will generate incremental user stickiness for Renren as its users who are currently using feature phones gradually adopt HTC Daren as their entry-level smartphone in my view.
Expand LBS initiative and strengthen Nuomi's leadership
Currently, over 35% of Renren's users visit the platform via mobile devices. The built-in LBS feature in the HTC Daren will likely expand Renren's LBS initiative and strengthen Nuomi's leadership in China's group-buying industry.
The LBS feature is similar to that of Foursquare in which Renren users can check in their current locations and find their friends nearby. In addition, users can also search for nearby destinations, such as restaurants, KTV, and malls. Renren capitalizes on this feature and growing base of mobile users to expand into location-based advertising, creating a new revenue stream for the company.
Renren's group-buying unit, Nuomi, can also benefit from the LBS feature as it delivers local coupons, discounts and promotions to the users whenever they check in, or group discounts to multiple users once it detects a sufficient number of people are within close proximity to the deal source. The LBS feature will greatly expand Nuomi's reach and strengthen its growth prospect as one of top group-buying sites in China.
Disclosure: I have no positions in any stocks mentioned, and no plans to initiate any positions within the next 72 hours.