Sunoco Logistics Partners LP Co. (NYSE:SXL) is a pipeline company that pays a great 4.26% dividend. It has the advantage that pipelines are expensive to build, and few want to build a competing pipeline that is at risk of going partially or fully unused. Therefore pipeline companies are often near monopolies.
SXL is one of these. It is a bit overpriced right now, as people have been buying high dividend stocks. However, it may be a stock you want to own. The five year chart shows it was little affected by the last recession (see below).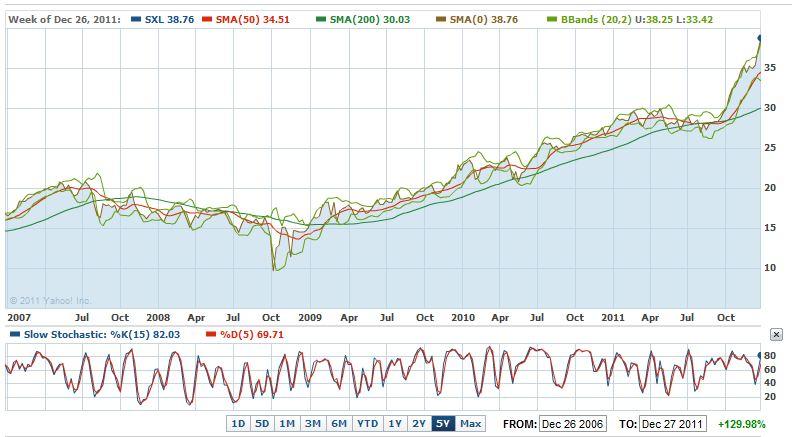 The slow stochastic sub chart shows that SXL is near overbought levels. With a retracement in oil due in the near term, it would make sense to wait for a pullback to buy this stock. There is support at $35. There is stronger support at $30. I would not buy above $35 at all in the near term. I might consider averaging in below that with the thought of trying to get as much as possible at or near $30.
Few doubt an EU recession is coming. Many economists think this will have an approximate -1% effect on the US GDP for 2012. An EU recession is bound to negatively affect China, which has a big export business to Europe. These negative effects are bound to cause a blip downward such as that in Oct. 2008. In such a blip downward, you might be able to get SXL at a price as low as $25.
However, as you can see from the five year chart that the price will likely not stay down for very long. This is a strong stock. That is a large part of the reason you want to own it. Even with a recession in 2008-2009, this stock has appreciated 130% over the last five years. That's roughly 20% per year in growth plus a 4%-5% dividend. If you could count on that all of the time, almost everyone would buy this stock. The future still looks good.
The most recent results show the strength of this stock. SXL beat in Q2 by 86% ($0.37) and in Q3 by 39.30% ($0.22). Analysts have raised their FY2011 and FY2012 EPS estimates significantly in the last three months, while most other stocks have had theirs cut. SXL has a five year EPS growth estimate per annum of 7.53% -- good for a high dividend payer. The only negative seems to be that FY2012 earnings are supposed to fall slightly from FY2011 levels. This may be good for investors. It may give investors a good opportunity to get into the stock. However, you shouldn't count on too much of a downturn.
Some highlights from the Q3 results are: $150M EBITDA, $109M distributable cash flow, $95M net income. SXL increased distribution for the 26th consecutive quarter. SXL completed three acquisitions during Q3 for year to date spending of $494M on expansion. It announced a three for one stock split of common and class A shares. SXL issued guidance for increasing the partnership's cash distribution by 7% in 2012. These all should help drive the stock price up.
As a better overall description of the business, Sunoco Logistics Partners LP Co. engages in the transport, terminaling, and storage of refined products and crude oil, as well as the purchase and sale of crude oil in the US. It operates in three business segments: the Refined Products Pipeline System, the Crude Pipeline System, and the Terminal Facilities. The Refined Products Pipeline System provides transportation services for refined petroleum products (including multiple grades of gasoline and middle distillates, such as heating oil, diesel, and jet fuel) originating from refineries in the Philadelphia, PA, Toledo/Lima, OH, and Beaumont/Port Arthur, TX areas.
The Crude Oil Pipeline System provides transportation services primarily in Texas and Oklahoma, and also services the Midwestern US. It delivers crude to refiners along the Gulf Coast and in the Toledo/Lima, OH area. The crude delivered includes domestic production as wells as Canadian and other foreign imports. Also included in this system is the SXL crude lease acquisition and marketing business, which makes use of the extensive SXL crude pipeline system.
The Terminal Facilities business unit consists of 42 active refined products terminals, the SXL Nederland Terminal (an approximately 21 million shell barrel of capacity terminal on the Texas Gulf Coast), several other crude oil terminals serving refineries in the Philadelphia area, and a 1.0 million barrel liquefied petroleum gas terminal near Detroit, Michigan.
2012 promises to be a rocky one for investing in equities. That should help provide buying opportunities for such great dividend stocks as SXL. I would not buy SXL above $35 for the near term. I might consider buying it below $35, but I will really be looking to buy it at $30 or below. The official announcement of the EU recession may not happen until mid year 2012 or later. It requires two consecutive quarters of negative growth, and the EU economy had positive growth last quarter (Q3 2011). This means mid spring 2012 will be the first possible time at which an EU recession can be announced. A more likely time will be in 2H 2012. Slightly after this announcement may be the best time (or one of the best times) to buy SXL.
A good plan might be to keep a good part of your money in cash next year. That will then allow you to take advantage when buying opportunities present themselves. If you have cash, you can put in a long term buy order at $30 for SXL. I might put in other long term buy orders at $27 and $25 for SXL.
If these two lower orders filled, I might only keep these holdings short term. I believe they will likely yield 10%-50% profits quickly. Then I would keep the shares bought at $30 longer term. In this way I would be more assured of buying the stock on the likely dip to $30. Plus I could profit from a bigger blip downward, if it occurred. I would sell the stock bought on that big blip because I would likely have too much of my capital in one stock at that point. It still pays to distribute your holdings.
If you are interested in looking at more pipeline stocks, you should consider Tesoro Logistics LP (NYSE:TLLP), Enbridge Energy Partners LP (NYSE:EEP), Enbridge Inc. (NYSE:ENB), Kinder Morgan Energy Partners LP (NYSE:KMP), Kinder Morgan Inc. (NYSE:KMI), enterprise Products Partners LP (NYSE:EPD), Energy Transfer Partners LP (NYSE:ETP), and TransCanada Corp. (NYSE:TRP).
Disclosure: I have no positions in any stocks mentioned, and no plans to initiate any positions within the next 72 hours.