I drew the ire of many Apple (AAPL) investors by suggesting that Amazon (AMZN) was on its way toward being its No. 1 contender. I said this even though I am long Apple and have been for quite some time.
Yet, I don't see it as some sort of offensive statement to give credit to any of Apple's competitors. So it is virtually impossible to hate all of them, especially considering the effect that its success has had on companies such as Research In Motion (RIMM) – one for which pity seems like the only logical emotion.
Fellow Seeking Alpha contributor Rocco Pendola wrote a very compelling piece recently and it was aptly titled, Kindle Fire Reviews And Apple Snobs Sell Amazon Short. As soon as I saw the headline I was immediately compelled to read it. I'm not sure if he deserves the credit for the title or if it was SA but regardless it drew me in as it did many others. Better yet, the content did not disappoint. His case was very clear and it hit home. As noted, I am long Apple and it caused me to reflect and consider if I became the elitist snob that he spoke of. I was never one to have a superiority complex, but then again maybe I was.
I took particular interest in a comment in the article in which a reader took exception to what Rocco considered were reviews that lacked objectivity – something that I have echoed a couple of times.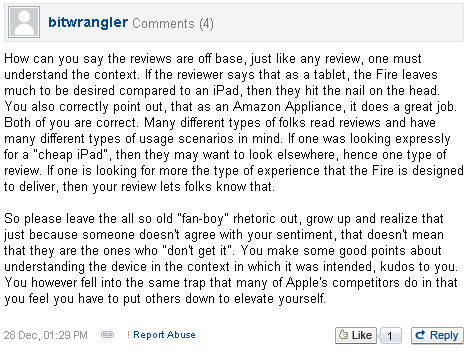 The reader was visibly annoyed with Rocco's position and some of the views that were raised, while at the same time offering evidence for the article's title and its points. What continues to surprise me is that many fail to realize that hating the competition offers no value within the investment landscape and only serves to increase the size of the blinders that we sometimes wear.
Amazon and the Kindle Fire should be appreciated for what they are and not what readers and investors think they compete with. It's very rare that a company becomes a bellwether in two separate sectors – namely technology and retail. But then again it is also very rare that a company such as Amazon comes along and disrupts the way we buy our products and then convinces us that we also need the company to use them. While it is true that it might offer an alternative to Apple's iPad, this is a great thing for both investors and consumers – regardless of how one feels about the other.
The long case for Amazon
There is no doubt that Amazon will continue to dominate the ecommerce space for many years to come. By the early success of the Kindle Fire, Amazon is showing not only does it have the ability to execute but is also keen on its evolution into untapped growth areas. And as always, that is what Wall Street craves and by its enormous P/E there is plenty of confidence that investors expect continuous growth. On that note the article also made a very compelling case for Amazon and reason to consider a long position. He said:
Between the Kindle Fire phenomenon and generally-rising e-commerce sales, expect Amazon to blow the doors off of Q4 from a revenue standpoint. Because uncertainty still surrounds profits and margins, thanks to Amazon's continued reinvestment, you place a speculative bet going long AMZN at these levels. That said, historically, investors have given Amazon the benefit of the doubt because it consistently generates ROI. If revenues jump hard enough, expect smooth sailing back to 52-week highs for the stock through the first quarter of 2012.
I agree completely with Rocco's points. In fact, historically, Amazon has had far more successes than failures and there is no evidence to suggest that this trend will soon end. It's not necessary or even accurate to see the unveiling of the Fire as Fire versus iPad, but to see its tablet as another thrust in a business channel for Amazon. The company should be gauged long term and its progression from a one-dimensional, though highly successful, online retailer, to a wide-ranging retail and technology device service and media provider.
Its sales growth has been nearly 40% in the last 12 months, its earnings growth nearly 28%. Some investors figure Amazon will continue to do well by its (admittedly) expensive P/E. The idea is that Amazon can afford the loss-leader and lower margin approach by selling with a view toward higher volume sales down the road. It's this long-term approach that Amazon has constantly deployed to gain its successes over time. This doesn't necessarily mean Amazon has the halo effect going with the Kindle Fire, but that the company continues to go in new directions with an eye on the longer view.
Summary
As in the example above, some readers continue to think that it is foolish to find any value in a stock trading at 13 times book value and 53 times its trailing EBITDA. It is hard to dispute this, but then again, companies such as Amazon are rare.
Despite its expensive price, the company continues to hit some demanding growth targets. So it begs the question, are the shares really that expensive at all? The company should continue to generate even more cash flow out of its business in the coming years and taking more and more business from traditional retailers, as well as expanding into new markets like e-books and on-demand media - all of which could produce much of the growth that the valuation demands. Amazon's approach is why it succeeds and why a company such as Netflix (NFLX) is being encroached upon and will eventually become prey.
Disclosure: I am long AAPL.