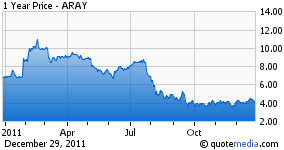 If the first six months are any indication, Accuray's (NASDAQ:ARAY) acquisition of TomoTherapy hasn't really pleased anybody. Investors have seen steady erosion in their position value, while clinicians seem unimpressed or even confused about the purported benefits of this tie-up. All of that said, these are early days. Accuray already seems to be effecting a turnaround in the Tomo service operations and given the overall med-tech weakness in 2011, it may well be too soon to declare this merger and this company a failure.
Bad News First – A Tough Market Getting Tougher
Accuray is a small fish in a tough pond. Radiation therapy systems are large, expensive commitments for hospitals to make and that makes it all the more difficult for a small would-be player like Accuray to unseat established giants like Varian (NYSE:VAR). Moreover, difficult financial markets have not helped hospital capital budgets and reimbursement pressures continue to constrain the radiation market.
Accuray has more than its share of work cut out for it. Varian already holds more than 70% of the installed market and is still actually a share gainer. Likewise, while Sweden's Elekta (OTCPK:EKTAF) holds a much smaller share of the installed base (around 10-12%), its order share is a more robust 20% or so.
Unfortunately, Siemens (SI) and Accuray have been the source of those share gains. While Accuray's share loss is not as bad as what Siemens has seen, the fact remains that order share has been shrinking and the combined Accuray-TomoTherapy risks slipping below the 5% share threshold. At such levels, it would be hard to argue that a company like General Electric (NYSE:GE), Philips (NYSE:PHG), or Hitachi (HIT) would seriously consider a buyout.
Not helping matters any is that clinicians and buyers are still unsure of Accuray's offerings. Whenever reviewing reports from therapeutic radiation conferences, the word "interesting" almost always pops up with respect to Accuray's CyberKnife system, but unfortunately so too does "niche product". Moreover, there's still plenty of skepticism about the Tomo Hi-Art system and it looks as though Varian's TrueBeam product may have closed the gap in terms of tumor tracking and adaptive therapy.
Still Some Good News To Hang On To
Against that bleak backdrop, all is not lost.
For starters, while the company's new reporting structure makes it harder to break out product-specific information, it is evident that there is progress in turning around the TomoTherapy service business. This had become something of an albatross for Tomo, but Accuray seems well on its way to making a profitable business of it.
Second, there's still a good opportunity to make CyberKnife more than just an interesting niche product. Although there are some throughput issues with the system, Accuray has been aggressive in funding trials to show the benefits of the approach. With clinical data coming in lung and prostate cancer, Accuray may be able to show real therapeutic benefit to the system. Granted, there is a risk that clinicians will read this across to all platforms (taking it as good news about the approach as opposed to the device), but it may be just the ticket in setting it up as a differentiated product.
Likewise, there are still real opportunities for Accuray to leverage good technology from both businesses and become a credible emerging alternative in radiation oncology. Siemens seems increasingly disinterested in chasing the market and Accuray would seem to have a technology/product edge on Elekta – provided that they can convince hospitals that they are here to stay. In contrast to Accuray's market share issues, if there were a reason for a larger healthcare company to buy Accuray, it would be to gain access to that technology.
Remember, too, that while reimbursement and hospital capital budget issues are real, there's an "aging America" play here as well. As more Americans get older, incidences of cancer are going to increase and so too will demands on radiation oncology. For as much as companies like Johnson & Johnson (NYSE:JNJ), Dendreon (NASDAQ:DNDN), Bristol-Myers Squibb (NYSE:BMY) or Exelixis (NASDAQ:EXEL) look to profit from new pharmaceutical therapies for cancer, the fact remains that radiation therapy still very much as a place at the table. That should mean more installations in the years to come and a growing (albeit slowly growing) market for Accuray.
The Bottom Line
As a TomoTherapy shareholder, I was not exactly ecstatic about the deal between Accuray and TomoTherapy and holding on to these shares has done me no favors in terms of portfolio performance. Still, there is value in this business and the market's current assessment of that value seems short of the mark.
Accuray has much work to do and a shrinking amount of time in which to do it, but initial financial results have been encouraging and soon-to-come clinical data could be an invaluable asset in the hands of the salesforce. Although Accuray is arguably fairly priced as a slow-growth/low-margin also-ran, boosting the free cash flow margins into the double-digits and regaining order share momentum would make this stock a double from here.
Disclosure: I am long ARAY.