Foreign stocks on the American market offer nice investment opportunities for the investor who knows how to find them. Here are two stocks that look like strong candidates for growth in 2012. They are also optionable for those who are interested in options along with long-term investing.
TeeKay Offshore Partners (TOO) provides marine transportation, oil production, and storage services to the offshore oil industry. It operates shuttle tankers, floating storage and off-take units, and conventional crude oil tankers, as well as floating production, storage, and offloading units. As of June 30, 2011, its fleet consisted of 40 shuttle tankers, including 5 chartered-in vessels and 4 committed new buildings; 2 FPSO units; 5 FSO units; and 10 conventional oil tankers.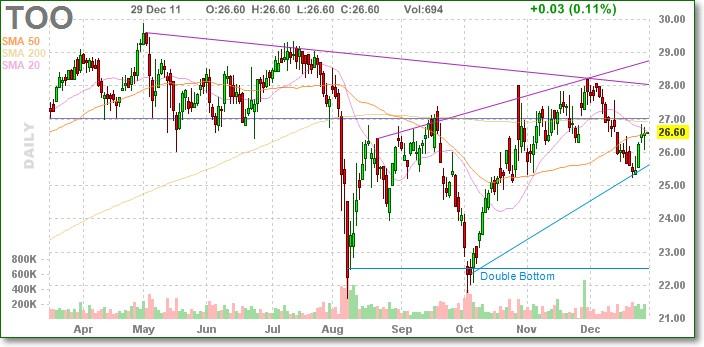 TOO is trading at $26.79 as I write. With a median price range of 30.00 given by analysts for growth in 2012, it has good growth potential for an investment. TOO had a 150% cash flow increase in the third quarter this year comparied to last year. This increase took place through acquisitions. TOO appears intent on growing based upon buying up more companies as it goes through 2012.
In late summer it reached a low point and again in early October to form a double bottom. Often, after a double bottom a stock rebounds. TOO has done just that. It is presently very bullish and continues to move up in a wedge pattern. With the acquisitions, momentum, and room for growth to reach the analyst's median price point, TOO looks like a stock worth researching to invest in for 2012. For those interested in option investing, use the median range of 30 and buy a May 2012 option. (Presently selling for $0.70) Use a resale strategy as the stock increases in value.
XL Group plc (XL), through its subsidiaries, provides insurance and reinsurance coverages to industrial, commercial, and professional firms, insurance companies, and other enterprises worldwide. The company operates in three segments: Insurance, Reinsurance, and Life Operations. The Insurance segment offers property, casualty, professional liability, environmental liability, aviation and satellite, marine and offshore energy, equine, fine art and specie, and excess and surplus lines, as well as other insurance coverage, including program business.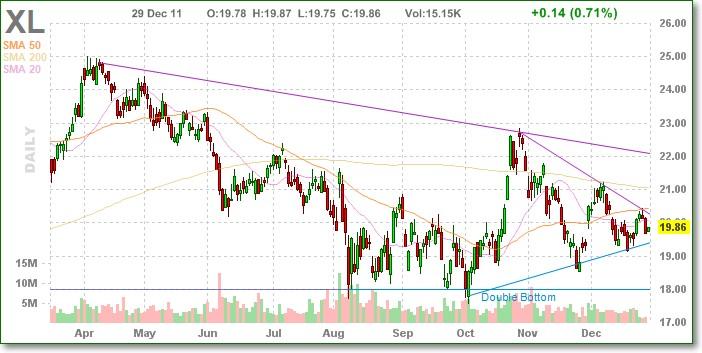 Presently trading at 20.07, analysts give XL a median target range of 25.00 so it has great opportunity for growth. XL missed its earnings in October by $0.07. One key to the growth of XL in 2012 will be its plans for expansion. Earlier in the year, XL received approval from the Brazilian Insurance regulator to do business in Brazil. Ina growing economy like Brazil, this is a welcomed additional income generating venture.
After developing a double bottom, XL has formed a symmetrical triangular pattern. Often when a pattern like this forms, it is a sign of a reversal trend about to begin with very good growth potential. Research into serious long term investing would be a good plan for investors interested in the stock. Investors that are also interested in using options to make money should use the analyst median target of $25. A vertical debit spread looks good here, offering low risk but high profit potential. Buy a July 2012 22 call (presently selling at $1.24) and sell a July 23 (presently selling for $0.91. This gives the investor a $0.33 risk with very good upside potential as the stock grows.