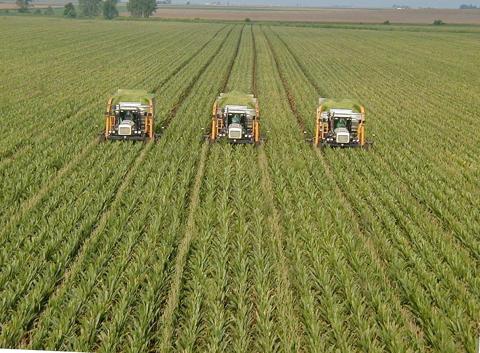 Commodities exchange traded funds started out strong in 2011 but have trended lower in the back half of the year on concerns over growth slowdowns in Europe and China.
Yet investors looking for a rebound may want to consider the $160 million Market Vectors Hard Asset Producers Fund (NYSEArca: HAP) as an alternative to commodities.
"HAP holds the most powerful names in the commodity production space and can be used as an alternative to futures-based broad commodity vehicles," wrote Abraham Ballin for Morningstar, in a fund analysis. "The equity securities that HAP holds don't suffer from the roll-yield drag phenomenon that has plagued futures-based contract products in recent years. Additionally, using equities to gain commodities exposure can introduce investors to levels of operational leverage that provide extra sensitivity to commodity price movements under the right circumstances."
The hard assets ETF is a one-shot tool that gives investors access to fundamental commodity growth. The ETF invests in equities rather than futures contracts,which eliminates the risk of contango.
The index the fund tracks is the Rogers-Van Eck Hard Assets Producers Index, which is comprised of a global list of companies engaged in the production and distribution end of hard assets and related services. The energy and agriculture sub-sectors dominate the index. The index was conceived with the help of Jim Rogers, the famous commodity investor.
Factors that can drive up the energy sector include higher agriculture prices, and growing demand, Morningstar notes. Demand has increased over the years and economic and population growth overseas in emerging markets is a major price catalyst. Future growth in emerging markets will continue to put pressure on the limited supplies of the Earth's natural resources.
Factors that drive up metals prices include a global economic resurgence that would drive up industrial metal equities. At the moment, precious metals are gaining support from the uncertainty coming out of Europe and the United States. HAP is exposed to the precious metals market at 7%, so the effect of this market segment is not as material as agriculture. Industrial metal equities are resting at good valuations and have steady demand, reports Ballin. [Agriculture ETFs: Major Shortfall Predicted]
Perhaps the largest threat to performance would be a slowdown in emerging markets, especially China. The correlation of HAP to emerging markets is becoming progressively higher.
"The nation is a chief demand-side driver of virtually all commodities. The communist nation has staked its legitimacy on sustained 8% GDP growth and has engaged in a tremendous infrastructure binge to keep up the pace. If that pace slows and the 'Chinese-bubble' pops, the lightened commodity demand could provide substantial headwinds for HAP's holdings," Bailin wrote.
Market Vectors Hard Asset Producers Fund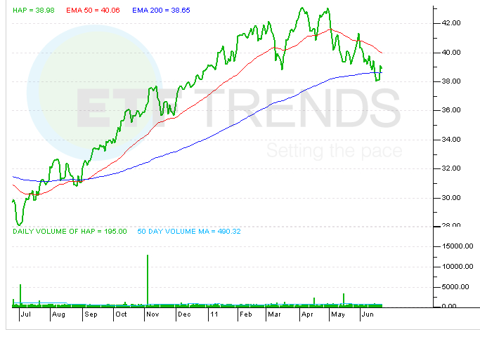 Tisha Guerrero contributed to this article.
Disclosure: None