In recent Seeking Alpha articles, I detail my investment strategy for 2012. Heading into the New Year, I intend to keep my real-life and $10,000 portfolio invested in dividend-paying growth stocks, such as HCP, Inc. (NYSE:HCP) and Verizon (NYSE:VZ), alongside a healthy speculative section of stocks and options.
If you follow me on Seeking Alpha, you know the reasons why I buy a company's stock. I tend to focus on a firm's competitive-strategic position within its broad space alongside strong multi-stream revenue growth, relative to its peers, formidable profitability or a clear path to get there. Companies raise red flags when they show signs that one or more of these or related factors could get hit, stunting growth and providing windows of opportunity to direct and indirect competition.
While I steer skeptical of anecdote, I do believe that if it happens to you, independent of it happening to other people, you should not ignore it. I do not put a ton of faith in the Peter Lynch style of investing - if you love a company's products or services and see others loving them, buy the stock - but it does make sense to pay attention to these types of trends. If something qualitative appears to be brewing in the marketplace and the social world, take note. On the bull and bear sides, however, you need to look beyond the surface.
That said, in 2012, I will stay away from the stocks of many companies that rely, almost solely, on revenue from media-related subscriptions. A dark cloud appears to be rising in segments of that space. Search social media and message board forums. Talk to family, friends and neighbors. Companies that deliver audio and video content via a subscription-based model are giving away the farm to keep you from moving on.
Of course, these things have become as ubiquitous as Andre the French Giant logos on urban telephone poles: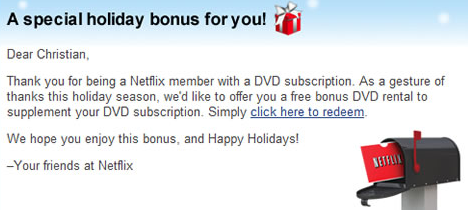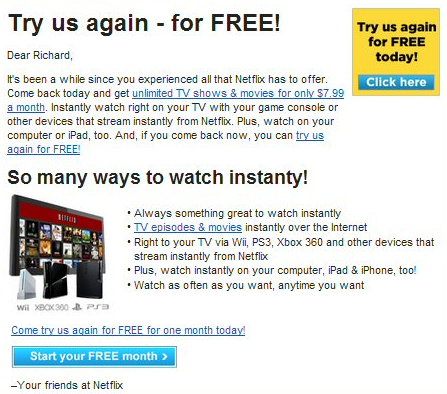 But it's not only Netflix (NASDAQ:NFLX) discounting and enticing with always-improving freebies. Other subscription services appear to be playing the game even more aggressively. Here's just two personal examples of companies acting to keep me on board:
Sirius XM (NASDAQ:SIRI). I had an Internet-only subscription that I wanted to cancel. I called, but was moved to reconsider thanks to two free months of service. When the two free months expired, I called back and the rep cut me loose without another offer.
DIRECTV (DTV). I called threatening to switch to DISH Network (NASDAQ:DISH) for a free DVR offer. The DIRECTV rep, without hesitation, gave me a free DVR and threw in free DVR service for a year. All I had to do is agree to a two-year contract. I was satisfied, however, the rep threw in a combination of bill credits that will take me through the two-year extended term. I did not even have to ask.
And, from what I gather online and via friends' experiences, I'm not even getting the best deals. For instance, my neighbor managed to pick up NFL Sunday Ticket from DIRECTV for a third of the sticker price.
Of course, I knew this guy who knew this guy who knew this guy who knew this guy who knew this guy's cousin does not necessarily work as an investment strategy. With that in mind, I'm not willing to bet against this particular anecdote. In fact, there's likely some real synchronicity happening here.
It's tough to see Netflix's Q4 and 2012 being anything short of an unmitigated disaster. And, while things likely will not get quite as bad at Sirius XM, DIRECTV and other companies that rely on the subscription model, expect to see pressure on revenues and profits, even if subscriber numbers stay in check.
Consider DIRECTV's subscriber picture. While not without bright spots, it's telling that these positives tend to ride the backs of retention offers and promotional smoke and mirrors.
From DTV's most recent quarterly report:
Click to enlarge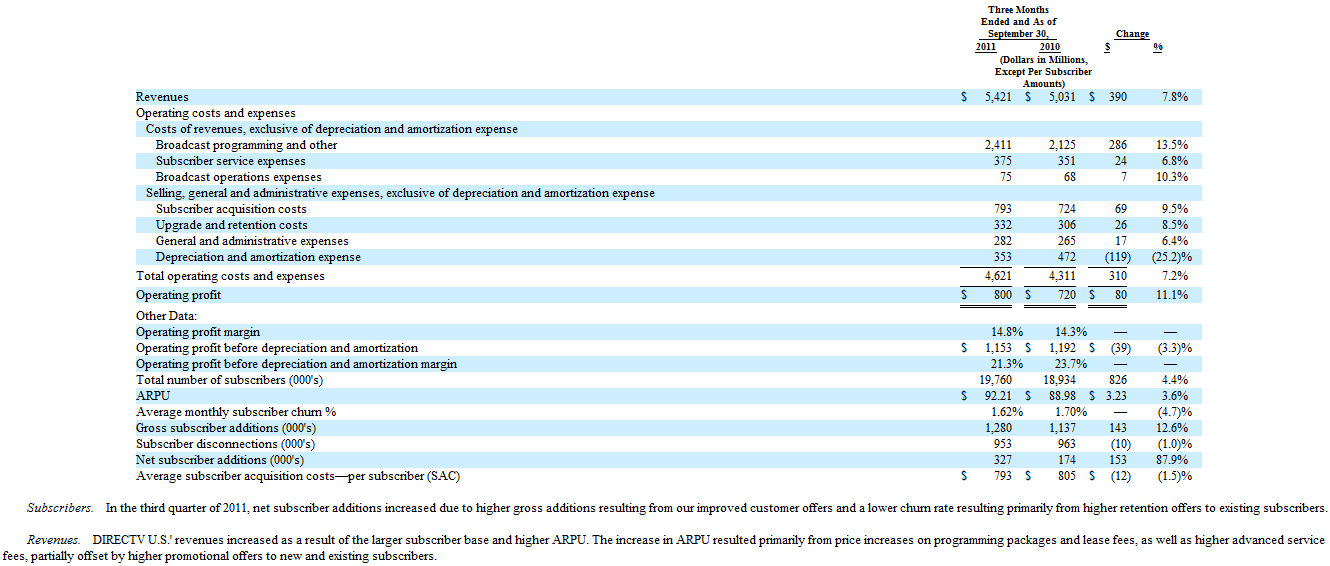 Click to enlarge
I'm just not sure why investors would want to take a chance on Netflix, Sirius XM, DIRECTV and companies like them when they run in competitive spaces that seem to require deep discounts and freebies. On second thought, I wonder if "require" is the right word. Maybe I'm exonerating these companies from responsibility for their shortcomings. Should they have to take these actions in the name of competition?
Consider Apple (AAPL). Do we live in a world where discounting is simply the norm or do very few companies exist with products and services that do not require freebies, trials, promotional offers and retention efforts to maintain and gain traction? Apple rarely discounts its products. When it does, the savings, relatively speaking, are meager. The company would never, nor does it have to, dilute its products.
Add to this the resiliency and diversity of Apple's revenue stream. The company does not rely on just one product, one service, one platform, one sector or one geographic region for the majority of its revenue. By contrast, Netflix, Sirius XM and DIRECTV are one-trick ponies that do not have meaningful revenue streams beyond their cores or have failed to maximize the other dribbles of income they do have coming in.
I realize that, to some extent, it's unfair to compare these and other mere mortals to Apple. But, face the facts, Apple deserves virtually all of the responsibility for making the smart phone and gadget spaces among the most competitive on the planet. As it forced intense competition, it has yet to compromise its strategy or the integrity of its products, thanks, largely, to inferior competition.
I can't give Netflix, Sirius XM and DIRECTV the benefit of the doubt simply because they operate in competitive consumer sectors. That lets them off the hook for failing to put themselves in the position to call the shots for their industries. While I don't expect these examples or any other company to be Apple, it certainly seems that, in such an apparently enterprising nation, more firms should exist that are even worthy of comparison.
Disclosure: I am long AAPL, HCP, VZ.
Additional disclosure: I am long NFLX June 2012 $40 put options.